After the horror show against England in 2014, it's redemption time for Virat Kohli

Sport360°
09-11-2016
Virat Kohli had a series to forget when India toured England in 2014 and here, Chetan Narula looks at the importance of the upcoming series between the two sides for the Indian Test captain.
A few years from now, when India and New Zealand clash in a Test series once again, people will remember the result with clarity. The history books will read 3-0, and the margins of those defeats will indicate the ease with which the Blackcaps were beaten. Except, that 'ease' will only feature on paper.
"It was a very hard fought series. The results may certainly show a 3-0 win to us, but we know exactly how hard we had to work to win that series," opined coach Anil Kumble.
It is an important pointer to how the international season would progress here. Visiting teams tend to struggle with the nature of the wickets, never mind the raging turners against South Africa last year. Those were an aberration, while the pitches against New Zealand were all different, both from the 2015 season and from one another.
Generally, a series here has bowlers licking their lips as home advantage kicks in. Indian bowlers adapt better – particularly the spinners. But England stand out, for they are the only team to win on Indian soil in recent times. In fact, they were the first team to win here since Australia conquered the 'final frontier' in 2004-05.
Back in 2012-13, the visiting English side boasted quality spinners in Monty Panesar and Graeme Swann, as well as world-class seamers in James Anderson and Stuart Broad, who are both expected to play important roles on this forthcoming tour as well. And then there were the batsmen, especially Kevin Pietersen and Alastair Cook.
Photos: 25 world records held by Indians in Test cricket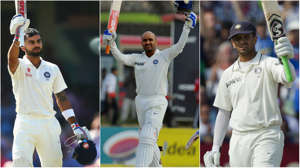 "Cook has been here on a number of occasions. They have Joe Root in their line-up as well. England are a quality side who know these conditions, and have troubled us in the past," added Kumble, ahead of the Rajkot Test.
Cook has visited India in 2005-06, 2008-09 and in 2012 of course. He has also faced India at home in 2007, 2011 and 2014. The latter two series – 2012 and 2014 – are of greater significance since he led the side too. On both occasions MS Dhoni was his counterpart, not a comparable batsman by any stretch.
Dhoni was limited in his attributes as a Test player, and certainly inhibited in his latter years of Test captaincy for the bowling attack he possessed.
Inevitably then, the focus for this five-Test rubber is on the man who leads India – Virat Kohli.
He has scored centuries against all Test nations barring Bangladesh [one Test], Pakistan [no Tests] and Zimbabwe [no Tests], he boasts of six hundreds in 12 Tests against Australia [avg. 60.76], and three in seven Tests against New Zealand [avg. 66.81]. There is only one hundred against South Africa [six Tests, avg. 47.20], West Indies [ten Tests, avg. 38.61] and Sri Lanka [three Tests, avg. 38.83], each.
KOHLI IN ENGLAND, 2014
Tests: 5
Runs: 134
Average: 13.4
Highest Score: 39
Kohli's record against England though is an anomaly – only 322 runs in nine Tests, an average of 20.12 with one hundred and no half-centuries. And it was on the 2014 tour there that he hit rock bottom as a batsman, scoring only 134 runs in 10 innings without even a single score above fifty.
"I can put it simply as a phase in my career when I didn't perform very well. I just take it as a setback in my career, and not motivate myself in way that I have to prove people wrong or I have to do something special against a particular opposition," the Indian Test skipper said in the build-up to the first Test.
It is crunch time for Kohlil, the team's star batsman and captain coming across an opponent that has troubled India consistently in the last five years. And within this succession of three poor Test series' results, is Kohli's individual blot.
How could the two not intersect? Immediately after that debacle in England, he led for the first time when India toured Australia as MS Dhoni sat out of the Adelaide Test owing to injury. At this juncture, it is necessary to take stock of Kohli's batting performance since he became skipper, as he made a remarkable recovery from that mid-year downturn.
Watch: Virat Kohli's debut ODI innings
Since December 2014, he averages 53.92 [inclusive of six hundreds and two half-centuries] in 17 Tests as opposed to his career average of 45.56. Of course, two double-hundreds against West Indies and New Zealand have helped these figures. But it underlines the point that the whole world recognises the importance of runs flowing from his bat, whilst leading the side, and for good reason.
That double hundred in Antigua encapsulated the ease with which India brushed aside West Indies. Kohli never needed to get out of third gear in that knock, and neither did his team during those four Tests. It was similar to the New Zealand series, wherein his second Test double hundred rounded off his team's domination over the Black Caps.
Until his innings in Indore, Kohli had struggled for seven innings. It signified how New Zealand had pushed India's pressure points at various instances during the series, yet Kohli and his team endured and came out stronger every time.
There is a parallel herein, with how Cook also suffered a downturn in form in 2014. A troubled Ashes series in England [2013] and then in Australia [2013-14] led to a further slump against Sri Lanka at home the following summer. It also marked a ten-match run wherein his team hadn't tasted victory, instead going on to trail India 0-1 after the Lord's Test.
Ravindra Jadeja dropped him in the first innings at Southampton and Cook broke free, taking England's fortunes upward. Lifted together, they won the series.
This phenomenon can be observed often when a side takes shape in the image of its captain, whether it is for a longer duration as in Cook's or Dhoni's cases, or even for a relatively shorter time period, like India's change in Kohli's 17 Tests. Time is irrelevant, the intensity of leaving an imprint matters more.
As a batsman, Kohli doesn't mellow down when the runs don't come, the distinction lies in when they do flow. He loves pulling the strings, at times in a confrontational mode, but mostly it is just a fired-up cricketer who wants to win.
As a captain, the same style and flair is seen in his field positions, the way he talks to his bowlers, or even gets the crowd going and chanting against the opposition. He pulls the entire team along with him, even those watching, and there is this stimulating urge to cross the victory line.
England don't want that to happen. They will have studied his failures, and marked his weaknesses, and thus the Indian skipper will have a target painted on his back. For, it is his failure that would break India's current sky-high confidence and pave the way for a 2012 repeat.
It raises the bar for Kohli, both as captain and batsman. This series is his biggest test, yet.
---
---