Amla, Axar keep Gujarat stuck in last spot

Wisden India
23-04-2017
Hashim Amla masked his fire with ice to guide Kings XI Punjab to a fine win over Gujarat Lions in their Indian Premier League 2017 contest at Saurashtra Cricket Association Stadium in Rajkot on Sunday (April 23).
Fresh from an unbeaten century against Mumbai Indians, Amla kept the good work going as he carved a memorable 65 from 40 balls. After Amla had worked on his canvas, Punjab's heavy-hitters peppered the smallish boundary to carry the side to 188 for 7 from 20 overs. Gujarat don't have Mumbai's batting might, but that didn't mean Punjab, who suffered a humiliating loss at the hands of Rohit Sharma's men while defending 199, could take it easy.
Also, Gujarat had scored 188 in 18.2 overs against Kolkata Knight Riders in their previous game. But that victory was achieved on the back of an assault from Suresh Raina, and for Gujarat to pull this one off their skipper was required to do the same. A repeat was shaping up but once Glenn Maxwell latched on to a stunner at deep midwicket, a large slice of Gujarat's chances went down the drain. Eventually, they only got to 162 of 7.
Cute pictures of AB de Villiers with his son
Not even Dinesh Karthik's 58 could get them closer. The way Punjab bowled when Gujarat attempted to free up with ten overs and 107 runs remaining should come under some praise in the dressing room later on, but they will have to wait their turn as Amla steps up and soak in his fill first. After all, if it weren't for Amla's ability to break scoring down to a science, Punjab's bowlers wouldn't be in a situation where they could afford to make a mistake or two and get away with it.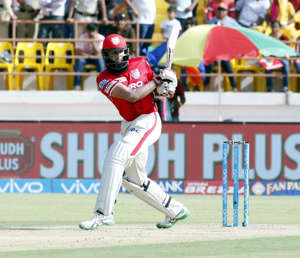 © IANS

Asked to bat, Punjab were off to a tentative start and they lost the returning Manan Vohra within the second over. As expected, Amla and Shaun Marsh kept it simple and ate into Gujarat's hopes of ending the second-wicket partnership quickly. Gujarat managed to send Marsh (30 in 24 balls) back but they had no answer to Amla.
In fact, if Shubham Agarwal, the debutant legspinner, hadn't held on to a tough caught-and-bowled chance, Amla might well have partnered those long-handle wielders and done some serious damage – another century perhaps. As it turned it, he had done enough. After his knock, Maxwell teed off to smash 31 from 18 and Axar played a 17-ball blinder that cost Gujarat 34 runs. On paper, Gujarat's batting line-up can chase a total of this range nine out of ten times.
Kings XI Punjab season preview
But they have been struggling to get big hands out of their batsmen consistently. They also haven't had two or three batsmen come good in one game. Having just one score upwards of 50 isn't enough in a run chase of over 150. Karthik, who earlier in the day became the first wicketkeeper to record 100 dismissals in the IPL, brought up his first half-century this season. A mixture of discipline and schoolyard playfulness yielded 58 unbeaten runs from him in 44 balls.
That, coupled with Raina's 24-ball 32, was good enough to bring Gujarat within 47 runs of a win in 18 balls. But a fine performance from Punjab's seamers – T Natarajan, Mohit Sharma and Sandeep Sharma bowled the last three overs for a total of 20 runs – meant Gujarat would only able to catch a glimpse of the finish line.
Nothing more. The result, Punjab's first away win this season, lifted them to fourth spot on the eight-team table, while Gujarat continued to languish at the bottom with just two wins from seven games.