An open mind O'Keefe's biggest strength, says Sriram

Wisden India
27-02-2017
According to Sridharan Sriram, who played eight One-Day Internationals for India and is Australia's spin consultant for this series, Steve O'Keefe's adaptability was his biggest strength as he set about dismantling India in the first Test with identical figures of 6 for 35 in each innings in Pune.
"India is such a big country, there's no one-stop solution," said Sriram. "If you say 'this will work', it is not going to work. So you have just got to adapt on the go. You have got to see what works for you on that day. I think that's where Steve O'Keefe really scored, because he was well prepared.
"He was prepared to experiment, he was prepared to sort of try different things in the nets. Which goes back to our time in Chennai in 2015. I think he knew that he had to come with an open mind for every day of a Test Match. What works on day one may not work on day three. He knows that. I think that's his biggest strength."
On that 'A' tour that Sriram spoke of, O'Keefe took eight wickets in the first game (a draw) and 6 for 118 in the second as Australia A won by ten wickets against an Indian side boasting Virat Kohli, Cheteshwar Pujara and Karun Nair.
Sriram kept tabs on him after that, as O'Keefe struggled to establish himself in the Australian squad.
"I have not been with him right through, I've seen him in patches after that," said Sriram. "But the good thing is, you can even follow him bowling in the Sheffield Shield game because I can see it on Cricket Australia's website. I can see what he's doing. So I've been following him quite a bit in that I have even watched some games live.
"I think he wanted it badly. He knew that he was the sort of subcontinent expert that the Australians were looking for and he knew that he had to play over here. I think he sort of stepped up to that beautifully."
---
---
© Getty

O'Keefe started poorly on the second morning, and there were some harsh words from Darren Lehmann, the coach, as the team trooped in for lunch. "I came down from the viewing area, and I knew he was a little disturbed," said Sriram. "He was walking around. I didn't know whether to really speak to him or not.
"But the conversation happened and he said: 'I think I need to have a bowl with you in the centre'. He told me he was a bit nervous to start off, and he was in his comfort zone and trying to bowl as he would do in Australia. But, I said: 'SOK, what do you think you need on this wicket?' and he said: 'I need to go a little bit rounder and quicker'. And I just said to him: 'go for it, mate', because you know what you can do and you know what you need to do. Just go for it. And I think he adapted beautifully.
"I mean, he's got to find out the pace to bowl, the different lengths to bowl, and he's got to be a lot more patient, which he knows he has to be because he's not going to get 6 for 35 and 6 for 35 every day in a Test match."
Sriram was keen that the spinners be patient, instead of getting carried away in conditions that were in their favour. "All you can do is set up a batsman and adopt on the go to what he's doing, throw different things at him, be adaptable, be open, but the wickets will take care of themselves," he said. "And that's the mindset they came in this Test match with, to be patient, to dry out the runs and to just play on the patience of the Indian batsmen."
In Sriram's eyes, the lessons learned from a 3-0 thrashing in Sri Lanka in 2016 and the presence of some new faces also helped. "I think the defeat in Sri Lanka has given them time to really go back and think," he said. "Six months, they've soaked in what happened, what they could have done differently, what they need to do to come to India and adapt. A couple of changes – new players without the scars of disappointment.
"(Matt) Renshaw and (Peter) Handscomb, they came in with no scar tissue. They came in with an open mind, they said we can do it in India. We've got the game, we'll try different things. The skipper's really helped in a big way. He's driven all the learnings from the Sri Lankan Test series into the entire squad.
Photos: Stunning cricket stadiums around the world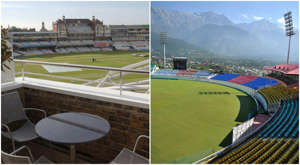 "Darren has been fantastic. The preparation in Dubai leading up to this Test match, speaking about different things we need to do, rather than harping on what we could have done there (in Sri Lanka). It's done and dusted. Just take the learnings out of it, be prepared for what you need to do."

Sriram also credited Lehmann for giving him the freedom to approach the group as a whole, instead of just pigeonholing him as a spin consultant. "I can chat to anyone if I feel there is something they should do," he said. "I go up to them and suggest, and it is up to them if they implement it or not.
"Everyone is clear in their plans. They have come to this level because they are very good. It's not about bombarding them with information, it's about speaking at the right time, just giving them little tidbits, seeing what space they are. These are the nuances of coaching that I have learnt. More than the skill, it is about the soft skills and the communication, about when to say what, because they go through so much pressure and the expectations, especially when you come to a foreign country.
"You have to find that right moment, and I was lucky to find that right moment with SOK."
The time spent at the ICC Academy in Dubai was also a factor, according to Sriram, insomuch that the Pune surface didn't catch Australia cold. "We prepared different tracks," he said of the time spent training in Dubai. "We made a rough. We made rank turners. We made slow and low pitches. I think it was great preparation in terms of trying different surfaces and being prepared for whatever you get."
Watch: 'Australia outplayed us'
He also declined to jump on the curator-bashing bandwagon, saying he had "seen worse than this", and he backed the Australian batsmen to cope when they encountered different conditions at the next three Tests.

"All I can say is that the Australian batsmen were prepared this time," said Sriram. "They worked a lot on their defence, they worked a lot on different scoring options. As I said, in India, there's no one way. You've got to go there, assess the conditions, see what suits you on that day.
"Bangalore could be totally different, Ranchi could be totally different. Sitting here, I guess it'll be difficult to answer that question. What we've done well in this Test match and what we can take away is that we've adopted on the go. And that's what I think we should look to do throughout the series.
"Bangalore is a good wicket, and I've been told it's a venue where Australia have won the most in India. So, hoping for the best."