Anil Kumble inspiring but I will miss Ravi Shastri, says Rohit Sharma

India Today
29-06-2016
Team India cricketers are all set to welcome new coach Anil Kumble into their setup when they leave for the Test tour to the West Indies next month. The young players in the team, led by their dynamic skipper Virat Kohli, will get the golden opportunity to work with one of the greatest Indian cricketers.
India batsman Rohit Sharma, who has worked with Kumble earlier at Mumbai Indians during the IPL, spoke very highly of the new coach and the time that he spent with the former India captain during his playing days for India.
'KUMBLE IS A FIGHTER'
"I have two years of experience working with him at Mumbai Indians and I know the kind of things we spoke about. I was the captain and he was the coach and mentor of the team. I got to learn a lot from him," Rohit said at an Express Adda event in Mumbai on Monday.
"I was fortunate enough to play with him during the last months before he retired. I remember in 2008, I was part of the Test squad to Sri Lanka and he was the captain. And he always had this attitude of never giving up, which as a young player is so inspiring."
Also read: Ravi Shastri slams Sourav Ganguly, says he should respect his job
Kumble was known to be a feisty character on the field throughout his career and that is what impressed Rohit the most about him.
"You have to keep fighting no matter what. If the game is slipping away from your hands, don't give up till the last ball is bowled. That's how he played his cricket. You get the feeling that he was someone who wouldn't let go too easily. That's the kind of message that he wanted to send across. That's the kind of message we also want as young players. He's very inspiring."
'SHASTRI CREATED A POSITIVE ATMOSPHERE'
Rohit also spoke about former Team Director Ravi Shastri, who was also one of the applicants for the coaching job. Shastri had presented his case in front of the BCCI's Cricket Advisory Committee comprising of Sachin Tendulkar, VVS Laxman and Sourav Ganguly. But Ganguly was not present during the interview which prompted a strong reaction from Shastri.
Shastri's tenure with the team lasted for 18 months during which time India briefly climbed to the top of the Test rankings and reached the semi-finals of the 2015 World Cup and the World T20 this year.
"He (Shastri) took up the responsibility when we were in shambles," Sharma said. "As soon as he came, he created a positive atmosphere around us."
Rohit concluded by saying that Shastri was "a big influence on Indian cricket for the past 18 months."
Slideshow: Unseen images of cricketers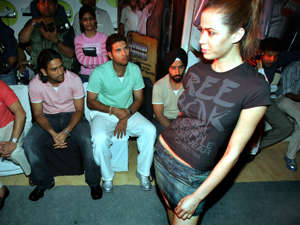 Watch: Sourav Ganguly was disrespectful, accuses Ravi Shastri
More from India Today

India Today