Announce Champions Trophy squad immediately, COA tells BCCI

IANS
04-05-2017
The International Cricket Council (ICC) had overwhelmingly voted to drastically reduce the BCCI's share of revenue at its board meeting last week. This has led to much heart burning among BCCI officials who are contemplating a pull out from the Champions Trophy scheduled to be held from June 1 to 18 in England and Wales.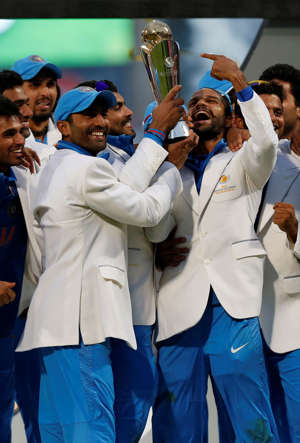 The COA however, asserted that the BCCI must not hurt the interest of the players in its dispute with the game's world governing body. In a letter addressed to BCCI Joint Secretary Amitabh Chaudhary ahead of the board's Special General Meeting (SGM) on Sunday, the COA demanded an immediate meeting of the selection committee to announce the squad for the Champions Trophy, which has already missed the deadline set by the ICC of April 25.
"You are aware that the squad representing India at the ICC Champions Trophy 2017 was to be submitted by April 25 but the squad has not even been selected as yet.
"Please convene a meeting of the selection committee for selecting the squad immediately. The squad can then be submitted to the ICC without prejudice to BCCI's legal rights," the COA said in the letter.
"It would be appropriate to make all necessary preparations for ensuring that team India can successfully defend its title in the ICC Champions Trophy 2017 which commences on June 1.
"There has been more than enough negativity surrounding India's participation in the ICC Champions Trophy and the sooner the same is put to rest the better. The players' interests are paramount and they must be given the best chance to prepare for, defend and retain the ICC Champions Trophy," the letter added.
"The focus should be on enabling our team to achieve even greater heights and further laurels, which will automatically attract higher revenues."
The COA also urged the BCCI to resolve its differences with the global body in the best interests of Indian cricket.
"We also believe that it is in the interests of Indian cricket that the possibility of a negotiated outcome be fully and constructively pursued before the BCCI takes any irreversible step/measure.
"Our discussions with the ICC and other cricket boards have revealed a trust deficit that the BCCI needs to do its part to address. At the same time, the ICC and other cricket boards have, during the said discussions, also expressed willingness to find common ground with the BCCI," the Supreme Court-appointed panel said.
"The General Body of the BCCI has itself recognised the need to adopt a collaborative/non-confrontational approach with the ICC and other cricket boards during the Special General Meeting held on February 19, 2016."
The letter further read that the BCCI appears to have lost sight of the fact that it attained a pre-eminent position in the ICC not by a combative approach but by building consensus and ensuring a positive image including by helping other cricket boards in their time of need.