Anurag Thakur backs India-Pakistan cricket series, shamed on Twitter

India Today
05-12-2015
BCCI secretary Anurag Thakur feels India should resume bilateral cricket ties with Pakistan and not pay heed to what is said on social media platforms. After Thakur expressed his view on the controversial series during a function, people took to Twitter and trolled the Indian cricket board's secretary for his comments.
BCCI is waiting for a word from the Indian government for the proposed series to go ahead this month in Sri Lanka. However, the Pakistan government has already given PCB the green signal.
Meanwhile, certain media reports said the Indian government has already rejected the resumption of cricketing ties with Pakistan.
There has been strong opposition to resumption of cricket ties between the two neighbouring countries on social media. But Thakur, who is also BJP's Member of Parliament from Himachal Pradesh, said that the comments made on social media do not necessarily reflect the mood of the entire country.
"I think when it comes to Pakistan, it's not that easy to take calls. And five years back, there was no role of social media. Today you see a lot of reaction from social media, but you still can't say it's the sense of the entire country. At times you can't go only by social media; you have to look at the interests of the nation," Thakur told The Indian Express on Friday.
"We play Pakistan in the World Cup. We played them in the 2015 World Cup, we'll play them next year in the Asia Cup. Then we'll again play them in the month of March in World T20. So when you play them in a multinational tournament in world events, then what stops you from playing them in a bilateral series. So that's the question we have to answer," he added.
#ShameOnAnuragThakur started trending on Twitter with people slamming Thakur and one particulat tweet read: "No cricket diplomacy can resolve Pak hypocrisy. We don't play with enemies who kill our own. Selfgoal thakur."
Thakur in August this year had tweeted that he is against resumption of cricket ties with Pakistan and now the U-turn may have come as a surprise. "Dawood (Ibrahim) in Karachi. NSA wants to meet separatists here. Are you really serious about peace and you expect we'll play cricket with you?," Thakur had tweeted.
Slideshow: India vs Pakistan: Classic ODI encounters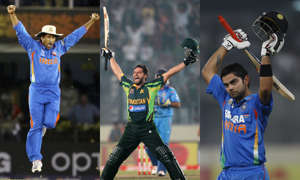 25 thrilling India-Pakistan matches
More from India Today

India Today