Anurag Thakur 'the original fixer', Rajiv Shukla a crook: Lalit Modi

India Today
07-10-2016
Former Indian Premier League chairman Lalit Modi lashed out at Board of Control for Cricket in India (BCCI) president Anurag Thakur and called him the "original fixer."
BCCI has been facing the heat from the Supreme Court for its defiance and resistance in adopting the Lodha panel recommendations. 
The Supreme Court has barred the BCCI from releasing any more funds to its state associations without compliance. Meanwhile BCCI chief Anurag Thakur has been asked file an affidavit on his conversation with ICC boss Shashank Manohar. The next hearing has been kept for October 17.
Modi, the brainchild behind the IPL and once a rising star in Indian cricket administration, was banned for life in 2013 over charges of financial irreularities in 2010.
In a series of tweets after the BCCI finally told the top court that it would not give any undertakings on the implementation of the Lodha refortms, Modi targeted Thakur and did not spare Rajiv Shukla, the current chairman of the IPL.

This #picture says it all - who would you rather #trust ? - I know who I would - #chiefjusticelodha 41st #chief #justice of #india 🙏🏾🙏🏾@BCCI pic.twitter.com/RzLPBb5Jpu

— Lalit Kumar Modi (@LalitKModi) 6 October 2016
The BCCI finds itself on a sticky wicket after it agreed to implement only part of a raft of changes recommended by a court-appointed panel, which was set up last year to usher in reforms at the world's richest cricket board.
Just like #Srinivasan - @ianuragthakur the noose needed around your neck is about to be executed. U are the original #fixer as I have said pic.twitter.com/NgzC2LvCnn

— Lalit Kumar Modi (@LalitKModi) 6 October 2016
The panel, headed by former chief justice of India RM Lodha, recommended, among other things, age and tenure restrictions for top officials as well as banning them from serving successive terms.
Now time has come to finally #bury all the #crooks - like former union minister #rajivshukla and… https://t.co/VgSoaknprI

— Lalit Kumar Modi (@LalitKModi) 6 October 2016
In his last tweet he slammed Rajiv Shukla for his inability to drive out corruption from Indian cricket.
Finally your time has come #dalal Ji - the original #crook and #politician @ShuklaRajiv - #cleanupcricket -#tied #naked & given 100 #lashes pic.twitter.com/pftu4kJMZz

— Lalit Kumar Modi (@LalitKModi) 6 October 2016
Photos: 26 most controversial statements by cricketers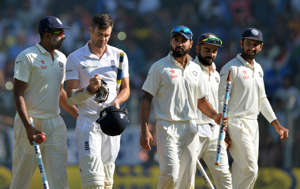 Most controversial statements by cricketers


More from India Today

India Today