Ashwin's rare double and Kohli's record run

Wisden India
30-11-2016
Mohali continued to be a happy hunting ground for India, with the home side bringing up their second win of the five-Test series there on Tuesday (November 29) to go 2-0 up.
India have not lost a Test match in Mohali since November 1997 after having lost the inaugural Test at the venue in December 1994. India have now also won four consecutive Tests on the ground – in 2010, 2013, 2015 and 2016.
Incidentally, India's best record for consecutive Tests without defeat at a particular ground stands at 13, at Brabourne Stadium in Mumbai (1948 to 1965): In those, India won three and drew ten. Since losing to Sri Lanka in Galle in August 2015, India have not lost any of their 16 Tests. During this period, India have won 12 and drawn four. India are now just one short of their own record of 17 Tests without a defeat between 1985 to 1987.
R Ashwin's performance with bat and ball has made him only the third Indian and eighth player ever to achieve the very rare double of 500 runs and 50 wickets in a calendar year.
India's spin trio of Ashwin, Ravindra Jadeja and Jayant Yadav aggregated 217 runs with the bat between them in India's first innings. In doing so, they became the first Indian No. 7, No. 8, and No. 9 to register half-centuries in the same innings. Overall this has occurred only on seven occasions.
Jonny Bairstow is by far the leading scorer in Tests this year with 1355 runs. He also recorded his 68th dismissal of the year in India's first innings, making him the wicketkeeper with most dismissals in a single calendar year.
Photos: 25 world records held by Indians in Test cricket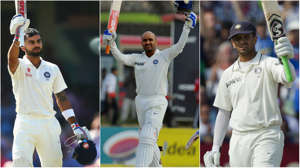 Parthiv Patel's last Test before the Mohali appearance came against Sri Lanka in August 2008, more than eight years ago. During this period, he missed 83 Tests, the most by any Indian player between two Test appearances. Only nine other players in Test history have missed more Tests than Parthiv.
Incidentally, Parthiv had earlier missed 43 Tests between October 2004 and August 2008.
He thus became only the fourth player in Tests to miss 40-plus Tests on two separate occasions after England's Brian Close, Fred Titmus and Australian Brad Hogg.
Twelve Indians have been run-out on their Test debut, of which six have had the misfortune of doing so in their very first outing in Test cricket. The list has some illustrious names, including the current Indian cricket coach Anil Kumble. Interestingly, Karun Nair is the only one, to do so in a winning cause.
Watch: Virat Kohli's debut ODI innings
---
---