Ashwin and Jadeja, spin twins on a mission

Wisden India
27-09-2016
Twelve Tests, 76 wickets in 586.2 overs, conceding 1427 runs.
The same 12 Tests, 60 wickets in 515.1 overs, with 999 runs conceded.
Do the math, if you will. Since Ravindra Jadeja's Test debut in 2012, he and R Ashwin have figured in 12 Tests together. The first line is Ashwin's numbers in those Tests, the second Jadeja's. Together, they have bowled 1101.3 overs for 136 wickets. Average? 17.84, good luck opposition teams. Strike-rate? 48.60 – how long did you say you want to last against these guys? Economy rate? 2.20 – aha, you thought you'd lose wickets but score some runs at least. Think again.
Let's get the disclaimers out of the way first. Yes, 10 of these Tests have been in India. Yes, one other was in the West Indies, the quality of whose Test team would probably not match up to the best Ranji sides. But merely having home advantage doesn't translate into winning nine of those 12 Tests together, a number that isn't 10 only because four-fifths of a match was washed out in Bangalore.
Tweak the model for just home Tests and the numbers – expectedly – only get better. Ashwin has 73 wickets at 18.05, Jadeja has 56 at 16.35. Together they have 129 wickets at an average of 17.32, a strike-rate of 46.81 and an economy of 2.22.
Look at other celebrated spin pairs India have had by comparison. Anil Kumble and Harbhjan Singh had played 14 Tests together by the time they hit the mark of 10 home Tests. Bishan Singh Bedi and Erappalli Prasanna had even more, so were even more experienced by the time they hit 10 Tests at home together.
Statistics across eras are only guidelines, and cannot be absolute, but given the figures, the Ashwin-Jadeja combination can be at least considered to be on a path similar to those who have gone before, an equivalence nobody would have dared think of even a year ago.
Photos: 25 world records held by Indians in Test cricket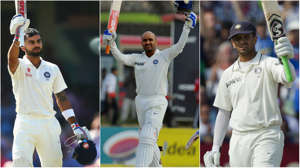 The Ashwin-Jadeja combination has clearly become irresistible in conditions that aid spin. Whether it can remain so when India travel, we will know later. But for now, fitness and other factors being equal, both are in the first half of their careers and could have several more fruitful years together.
They had certainly given Virat Kohli, the Indian captain, the confidence to not include Amit Mishra – a very fine bowler in his own right who makes for a terrific troika when drafted in – on a Green Park track that everybody knew would aid spin in accelerating degrees as the first Test between India and New Zealand wore on.
Ashwin, who also added his own bit to history with a 200th Test wicket quicker than anyone but one person in the world, had 10 wickets in the match. Jadeja had six, while the two Indian pacers combined for three. The two spinners bowled 80% of the overs India sent down across both innings.
"I like the fact that both of them, at times when they feel like we are trying too much as a team, can come back to you and say 'I'm trying to bowl to this one plan and let's see how that goes'," said Kohli when asked how he captains his two match-winners. "As a captain, it always gives you more assurance that both these guys obviously know what they are doing and they are going to pitch the ball in the right areas.
"But at times when they are tired, when they are not able to think as clearly – everyone needs suggestions, everyone needs a chat every now and then. Same with batters, same with bowlers. It doesn't matter how good a skill you have or how much you've played, you still need that reassurance at times, especially during the game. Because that's when a session can quickly go away from you. It's the right balance. Both of them are pretty open to hearing suggestions, but when they feel like they are very convinced about what they want to do, they tell you that. And I personally like that as a captain as well."
Kohli was effusive in his praise for the way the two had bowled, and said having a bowler like Ashwin in the team was 'priceless'.

"He's been outstanding for the Indian team," said Kohli of Ashwin. "If you see all the impact players in the world, he comes in the top three-four easily. There are quite a few players making a big impact for their respective sides, especially bowlers. Bowlers are the one I feel that win you Test matches and Ashwin is one of them. The rankings, although I'm not a big fan of them, they do suggest that Ashwin is the best at the moment. There's no doubt that he's been bowling wonderfully well for the last couple of years. He works very hard on his game. He's a very keen thinker of the game. He likes to talk cricket. He understands the game very well. Very smart cricketer, very intelligent.
"That shows in his batting as well. He understands the situation and plays accordingly. He knows when to get runs and when to play the situation out. So it's priceless to have a cricketer like Ashwin in your Test team. He gives balance with both bat and ball. I would wish him all the best that he keeps nurturing his skill so that we can keep dominating Test matches and keep winning Test matches as much as we can."
For Kane Williamson, the New Zealand skipper, picking Jadeja's variations – the threat of the straighter one amplified on a turning pitch – was as challenging as it got. "It is certainly difficult, particularly with the new ball there is that natural variation," said Williamson. "It is hard, some balls skid and some balls turn a lot more. Naturally, the slower one tends to turn a bit more. But they're both very good bowlers, they put the ball in a good area for a long period of time and they showed by doing that they got the rewards."
It is early days yet. Ashwin is 203 Test wickets old, and Jadeja has 77. But as the past year has shown, the two have cracked the code of how to be most effective on turning pitches – each using his distinctly different style from the other while forming a potent partnership. Ashwin, the classical offspinner who can defeat batsmen in the air, who can produce the occasionally unplayable ball. Jadeja, the supposed journeyman with the arm of a marksman, landing the ball on a shilling, varying pace and hustling batsmen who aren't quite sure which delivery will do what. With 12 more home Tests to come, it's a pair that could be at the start of a steep upward curve.