Ashwin can bowl out world's best XI in a single session: Kapil Dev

India Today
08-11-2016
Former India captain Kapil Dev feels Ravichandran Ashwin will be the big differentiator for teams in the India-England Test series. Barely hours before the first of the five-Test series begins in Rajkot, Kapil felt two factors tilted the battle in favour of India's spin ace - how well Ashwin has been bowling and how inadequate this English batting line up could be if India come up with rank turners in the series.
"The way he is bowling, Ashwin can actually bowl out the best XI batsmen in the world in a session, so England aren't going to find it easy to combat him," Kapil told India Today.
"And you know what Ravindra Jadeja can do on responsive pitches, and how Amit Mishra is such a big threat. I feel this English team won't find it easy if the pitches start helping spinners," he added.
While Ashwin has been on a roll, picking up 27 wickets at a mere 17.77 apiece in the three-Test series against New Zealand and while he was given rest during the ODI series, he has already upped the ante, saying he will try to better his figures against England.
"Not just the amount of wickets he has been picking, but I would judge him the way the ball is coming out of his hand. If their struggle against Bangladesh spinners is anything to go by, this will be a very long winter for the English batsmen against Ashwin and Co," Kapil said.
---
MORE ON MSN INDIA
YOU MAY ALSO LIKE
---
© AP Photo

His comments were echoed by another former Indian stalwart, VVS Laxman.
"Even though England hold the upper hand as far as the last three India-England Test series are concerned (England have won all three), I think their recent struggle and defeat in Bangladesh is of more significance. The English batting was exposed against spinners and they won't find conditions in India to their taste. And if you compare their team that won in India in 2012, now they don't have Monty Panesar and Graeme Swann in this team. And if Jimmy Anderson also misses out on a couple of Tests, then this bowling line up will add to the woes of their captain Alastair Cook."
Laxman advocates a big Indian win.
"I won't say 5-0 yet but the first couple of Tests will tell us. With slightly weaker spinners and with batsmen doubting their skill on turning pitches, it will be a very big surprise if England can win a game or two," Laxman said.
Like Kapil, Laxman too was in favour of playing three spinners in a five-man bowling line up, saying, "I will play all three - Ashwin, Jadeja and Mishra plus two fast bowlers. In a five-match series, India wouldn't want their spinners to get tired by bowling very long spells. In Indore when Ashwin was tired Murali Vijay bowled for seven overs. Against good sides, this can take pressure off batsmen so India should at every possible time be at England's throat."
Photos: 25 'greatest' spinners of all time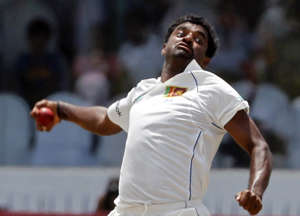 Watch: Jonty Rhodes' miracle catches
More from India Today

India Today