Ashwin, Jadeja haul India back to even keel

Wisden India
27-11-2016
Cricket is about the only sport where four hours of hard work resulting in decent gains accrued can be thrown away in 15 minutes of madness. The gains aren't necessarily immediately tangible, but the losses can be instant and irrevocable.
India traversed the damaging end of the four hours-15 minutes spectrum at the PCA Stadium in Mohali on an enervating Sunday (November 27), while England walked in the opposite path to throw the third Test wide open. Through the incisiveness of Mohammed Shami first thing on the second morning, and then on the back of the exuberance of Parthiv Patel, the enterprise of Cheteshwar Pujara and the remarkable discipline of Virat Kohli, the hosts had just moved into the ascendancy when that quarter-hour of mayhem, immediately after tea, rocked them on their heels.
From 148 for 2 after having cleaned England up for 283, India subsided to 156 for 5 in the space of 19 drama-soaked deliveries, the middle order courting disaster through means incredible, indecisive and farcical. Targeting a lead in the vicinity of at least 100 when Pujara and Kohli resumed after tea, India were left scrambling to stay on level terms with an England side that, as it has for the duration of this five-Test series, refused to take a backward step.
Scores (Day 2): England: 283 against India: 271-6
Despite playing just five specialist batsmen, however, India bat deep. R Ashwin has four Test centuries, Ravindra Jadeja has three first-class triple-tons, and Jayant Yadav as a Ranji Trophy double-hundred. India were in a big hole at 204 for 6 when Kohli was snared by Ben Stokes, but a hobbling Ashwin and Jadeja gave them a leg-up with purpose and intent as the shadows length.
Their unseparated, potentially game-changing seventh-wicket stand of 67 hauled India to 271 for 6 at close, just 12 behind, and perfectly summed up a fascinatingly yo-yoing day of cricket that this series seems replete with. Ashwin cajoled the ball to boundaries in various parts of the ground to ease to a third successive fifty, while Jadeja played with gusto and a singular lack of nerves that must have pleased the changing-room.
When they restart on the morrow, they will be mindful that the first few exchanges after a break, any break, are massively crucial. The need to switch on from the off is overwhelming; Pujara's concentration wavered for an instant even as his eyes lit up at an Adil Rashid long-hop that ought to have sailed over the deep midwicket fence. In that moment, this game attained a hue whose final colour will only become evident at some stage over the next three days.
The pull was very much on – it was with one such stroke that had taken him to his third straight hundred in Visakhapatnam last week – but in his eagerness to belt the ball out of the park, Pujara got more elevation than distance. Where the batsman wasn't entirely on top of his game, Chris Woakes was all too awake at deep midwicket, sprinting in and holding on to a tumbling catch to terminate a third-wicket association of 75.
Until then, apart from turning a few viciously but slowly, Rashid hadn't troubled the batsmen too much. Easily Alastair Cook's most preferred spinning option, the legspinner was in excellent rhythm but never too threatening, though the arrival of Ajinkya Rahane inevitably meant the googly would come out of relative cold storage.

Rahane is in the middle of a rare form slump, coming into this game with just 63 runs in the series. He failed to add to that tally, the googly smashing into his hesitant front pad that didn't go either too far forward or across. Marais Erasmus answered Rashid's impassioned plea in the affirmative, and even though it wasn't the worst review, DRS stayed with the umpire's call on impact and Rahane had to depart.
Kohli's face was a mixture of disappointment and pain. He was in the middle of one of his finest Test innings, an essay marked by great restraint as Ben Stokes packed the offside with six and sometimes seven men – a slip, a gully, a deepish backward point, a shortish square point, a short cover, a cover point and an extra-cover – and kept putting the reversing cherry in the channel outside off. If Kohli's frustration was mounting, it was nowhere in evidence as he didn't so much as look at the ball in anger.
It was a classic demonstration of supreme mind over fluffy matter, but after all, Kohli too is human and can make mistakes. His first mistake was in ball-watching and shutting off lines of communication after playing Woakes just forward of point. Karun Nair, the debutant, charged down the track as Kohli took a few exploratory steps; the Indian captain then stood his ground as Jos Buttler made a wonderful diving save, and then threw down the stumps as the non-striker's end when still semi-airborne. Nair, scrambling back to safety and looking to build on a peachy off-driven four against Rashid, was well short as the bail was dislodged. A cruel end to a first Test innings, the game situation magnifying the extent of the damage.
Slideshow: 27 cricket world records you must know about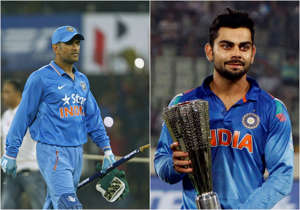 Until that 15-minute period, India had looked reasonably strong in their chase of England's score. M Vijay and Parthiv, their fifth opening combine in ten Tests since July, looked assured, the former typically unflustered and the latter enjoying his unexpected return with excellent driving down the ground. There was no swing worth the name for James Anderson and Woakes, the only little alarm coming when Erasmus ruled Parthiv caught down leg off shirt and Woakes, only for the batsman to successfully review the decision.

India had strung together 39 when Vijay, just put down by a diving Buttler at midwicket, played a poor half-waft at a wide ball in Stokes's first over and put Jonny Bairstow in business, reiterating his recent avatar as an all-or-nothing batsman. Pujara, the weight of big runs behind him, whip-drove his second ball for four and quickly hit his straps while Parthiv continued to flourish as India took lunch in a happy frame of mind.
Bairstow's insistence on a review even as Parthiv advanced down the track to flick Rashid and missed the line earned England their second breakthrough, but that was to be their only slice of joy for the entire session. Kohli began with a slashing square-drive off Rashid, checking his stroke just that fraction to beat backward point to his left, before the run-denying line and the crowded offside field forced him to sacrifice flair for substance.
India made no more than steady progress in the third hour as Stokes kept plugging away during an untiring spell of 6-1-20-0, but not long after Bairstow put down a difficult chance down leg from Pujara – on 35 – off Stokes, they upped the tempo. The arrival at the bowling crease, in as late as the 47th over, of Gareth Batty's offspin was the catalyst as Pujara and Kohli helped themselves to freebies, the tea break not coming a moment too soon for England.
In the immediacy of Nair's dismissal, India needed a steadying hand, and that came from Ashwin. He and Kohli enjoy each other's company and bat well – if not run well – together, and they provided a break from the thrill-a-minute excitement to gradually settle nerves. Ashwin was free-flowing, Kohli a little less self-controlled as 48 came in just 61 when Kohli finally, fatally flirted outside off to reward Stokes's persistence in his third spell of a really hot day. The captain marched off, kicking himself for that momentary lapse, but Ashwin and Jadeja ensured the smile was back on his face with their enjoyable association.
In the morning, India needed just 16 minutes as Shami got rid of Rashid, and then trapped Batty in front to finally pick up the rewards that he had so richly deserved on day one. And set the tone for a gripping six further hours.
Watch: 'Mohammed Shami most impressive Indian bowler'