Ashwin pulls rug from under New Zealand in 434-run chase

Wisden India
25-09-2016
Before India's jumbo home season of Test cricket began, there were some who voiced the opinion – considered optimistic even by fans – that the Indian team could target a 13-0 scoreline. On Sunday (September 25), the Indians showed just why the optimistic fans could have thought the way they did, seizing control of the fourth day's play by alternately battering, then squeezing New Zealand into submission.
At stumps, New Zealand were 93 for 4, with defeat looming. When they had been set an improbable 434 for victory after India had declared on 377 for 5 at tea, New Zealand's most realistic hope was of batting out a draw. But with R Ashwin turning it on, and some sloppiness from the batsmen contributing, even a draw seemed a miracle away. One session of bowling at the Green Park Stadium in Kanpur on the day was enough for Ashwin to get to the landmark of 200 Test wickets. In taking only 37 Tests to get there, he was quicker than anyone else in history save Clarrie Grimmett, the Australian legspinner who played from 1925 to 1936. Dennis Lillee and Waqar Younis had both taken 38 Tests, while Steyn has taken 39 in the sub-40 club.
The relentless Ravindra Jadeja, the man who had hastened India's pulling away from New Zealand after an initially even contest for the first two and a half days, didn't have the wickets to show but his 14-10-8-0 was almost as threatening as Ashwin's 16-1-68-3, and certainly more choke-inducing for the New Zealand batsmen.
Scores (Day 4): India: 318 & 377/5 decl against New Zealand: 262 & 93/4
A Jadeja war-dance – Lord's 2014 reprised – was the signal for India's innings to end, the batsman having pushed Mitchell Santner for a single to bring up 50 off just 58 balls. He joined Rohit Sharma (68 not out off 93) to be India's fourth half-centurion, in a batting display that was akin to a controlled demolition.
Slideshow: Most controversial statements by cricketers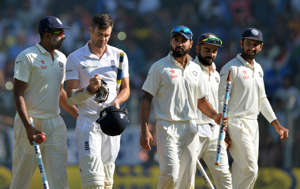 M Vijay and Cheteshwar Pujara resumed fluently as India built on their overnight 159 for 1. New Zealand's search for a wicket began to seem like a trek through the Sahara looking for a waterfall, when Santner finally found an oasis. The New Zealand spin trio of Santner, Ish Sodhi and Mark Craig were a lot more sharp than they had been on the previous day, but against two batsmen who are both supremely skilled players of spin bowling, being sharp after they were well set was going to be a game of patience. It paid off for Santner who rapped Vijay (76) on the pads with a straighter one.
© Reuters Image

Virat Kohli was the only one in the batting line-up who looked skittish at the crease, his insistence on feeling bat on ball on a pitch that had sharp turn and balls keeping low on occasion having him reaching for the ball. Kohli fell to an ill-advised sweep shot off Craig that went aerial and into deep midwicket's hands. When Pujara fell three overs later, a sharply turning leg-break taking the batsman's edge and flying to Ross Taylor at slip, India were 228 for 4. The lead was 284 – comfortable without being dominating – and the home team would have ideally wanted to avoid a repeat of the first-innings collapse. They could do that with Ajinkya Rahane playing a busy hand and Rohit putting the first-innings blues behind him to play with authority. Rahane became Santner's second victim, but that only brought Rohit and Jadeja together for the day's most rollicking stand. An even 100 were added in just 111 balls, both men contributing exactly 50 runs each. Jadeja had three sixes to only two fours, while Rohit stroked eight boundaries, as the New Zealand bowlers were run ragged. It was the sort of dominance India had missed out on in the first innings, but when it counted, they drove the boot into New Zealand's throats.
Having been set 434 to win in four sessions, New Zealand needed a solid base that would ideally aim to bat out time and if a few runs came along in the bargain so much the better. Ashwin, who took the new ball alongside Mohammed Shami, put paid to those plans in only his second over.

Martin Guptill's unconvincing form against spin continued, the opener sweeping onto his boot and into the hands of Vijay at silly point. In the same over, Ashwin hurried on straight and into Tom Latham's pads, the opener having planted his foot down as he had done in the first innings. This time, there was no heroically resistant half-century and New Zealand were 3 for 2.
The body blow was struck in the 18th over, another big-ripping off-break getting Kane Williamson out. Among all the top order, Williamson had looked the most assured, as was only expected from the New Zealand skipper, a class above the rest. But Ashwin got one to dart in from afar, not as huge turn as the one that got Williamson in the first innings, but big enough and quicker. That was also Ashwin's 200th scalp, a fitting one for creating history in getting to the landmark.
With Williamson gone lbw for 25, went a large chunk of New Zealand's hopes. Ross Taylor compounded matters by getting out in a manner calculated to embarrass a schoolboy, beaten by a direct hit from Umesh Yadav because he had not grounded his bat even though he would have been well in. Taylor hadn't looked the most comfortable against the spinners, but he had managed to hang in before throwing it away. Luke Ronchi though, just as he had done in the first innings, showed positive intent in taking the spinners on. He had some fortune with a skier dropped by a running Vijay off Ashwin, but didn't allow that to curb him and was unbeaten on 38 at the close. Santner preferred watchfulness to aggression, and both men played out the last hour unscathed.
However, with a full day beckoning tomorrow, they will need a miracle against the Indian spinners on a fifth-day pitch.