Ashwin rips India to commanding victory

Wisden India
26-09-2016
India's 500th Test began with the Board of Control for Cricket in India celebrating the past by honouring some of the country's greatest cricketers at Green Park. It ended on Monday (September 26) with the present celebrating a hard-fought 197-run win over New Zealand, having seized the key moments and used their greater experience and nous to pull away to a 1-0 lead in the three-Test series.
New Zealand had promised to go down fighting, and they did more than that, holding out for 50.3 overs on the fifth day before being bowled out for 236 in an innings that spanned 87.3 overs in all. R Ashwin was the wrecker in chief as he has been for the past several matches, engineering dismissals with his mastery of angles and pace, while throwing in the occasionally unplayable ball. Ashwin added to the four wickets he had in the first innings with 6 for 132 in the second, his 19th five-wicket haul in an innings and a fifth 10-wicket match haul. Partner-in-crime Ravindra Jadeja provided the breakthrough that opened the doors for India on the fifth morning, ending with 1 for 58.
Full scorecard: India vs New Zealand, 1st Test
The first hour was all New Zealand's. Luke Ronchi's timing was sublime, and Mitchell Santner's blade was broad. The day began with the skies overcast, and though the sun broke through at times, the weather stayed pleasant all through the first session – a change from the muggy heat that had dominated most of the first four days. But as the sun broke through the clouds, Ashwin broke New Zealand's resistance.
Photos: 25 world records held by Indians in Test cricket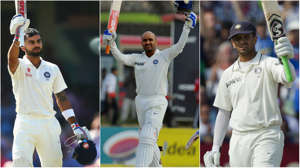 Ronchi and Santner had weathered the final hour of Sunday's play too, but they stepped it up a notch on Monday, with 65 runs coming in 20.4 overs, of which the first six brought only three runs. Both men began to open out once they had settled in, with Ronchi in particular hitting some powerful shots on the offside and down the ground. Ronchi skilfully negotiated Ashwin, often hitting the offspinner against the spin. The feature of Ronchi's batting was how well he timed the ball, with even a checked shot off Umesh Yadav finding the long-on fence with ease at one point.
As the Ronchi-Santner stand grew past 100, Indian shoulders hadn't exactly begun to droop, but there was occasionally greater deliberation between bowlers and captain. At the first drinks break, both batsmen were still looking solid, though the thought at the back of everyone's minds would have been that one wicket would bring several.
Ronchi obliged straight after, going after a Jadeja delivery that he wanted to slog across the line. But this one was a mite quicker, and turned slightly more, with the result that the batsman could only get a leading edge that settled into Ashwin's hands at point. India's two main bowlers had collaborated for the key breakthrough, and Ronchi had to depart for a very fine 80 – the highest individual score of the match. The fifth-wicket stand had yielded 102 runs, and while it wasn't enough to avert defeat, it did show that New Zealand had the willingness and skill to guts it out in the face of overwhelming odds – which should hold the team in good stead for the remainder of the series as they get a better feel of Indian conditions.
Santner, who had a personally memorable match with his best innings and match figures, also brought up his maiden Test half-century. He had played with a straight bat, and shown he was eminently capable of holding down the No. 6 spot as well as bowling plenty of overs. Across both innings, Santner faced 286 balls, easily the most by a New Zealand batsman. But while Santner stood firm, Mohammed Shami provided a double breakthrough that made victory only a matter of time for India. First BJ Watling, having recovered from his bout of dehydration the previous day, was rapped in front of the stumps by a delivery that came in sharply and would have hit leg to end a useful 36-run stand. Just seven balls later, Mark Craig was sent back to tend to his side strain. The injury perhaps hampered Craig's batting, with his feet rooted to the crease when Shami swung one in through bat and pad to send the stumps cartwheeling. 

Ish Sodhi joined Santner and proved that it was possibly for stout of heart to also last on this pitch even if they didn't have all the batting skills, stretching well forward to smother the ball and hanging on even when he wasn't quite reading the spin. The two hung on till the lunch break, but immediately after, Ashwin bowled a brute of a ball, pitching outside Santner's leg-stump, ripping across while jumping viciously and taking the outside edge into Rohit Sharma's hands at silly point. Santner had made a terrific 71 where temperament and technique shone through, but his departure left New Zealand 223 for 8.
After that, it was only a matter of time. Till the last man, New Zealand refused to give up but against a bowler who has been at the top of his game for more than a year in seemingly every match he's played, there just wasn't anything they could do.