Ashwin weaves web around New Zealand

Wisden India
10-10-2016
After a mostly barren first session, R Ashwin weaved his magic to induce a catastrophic collapse for New Zealand after lunch on the third day of the third Test, sending the visiting side crashing from a solid position to one in which they faced a battle to save the ignominy of a whitewash in the space of a little over five overs.
New Zealand had gone into lunch on Monday (October 10) on a solid 125 for 1, with Martin Guptill and Kane Williamson at the crease. They had added nine runs to that total when the collapse against Ashwin began at the Holkar Stadium in Indore. In the blink of an eye, Ashwin had Williamson, Ross Taylor and Luke Ronchi, while Guptill was run-out at the non-striker's end as New Zealand went from 134 for 1 to 148 for 5. The duo of Jimmy Neesham and BJ Watling arrested the slide somewhat, but at the tea break, New Zealand were on a precarious 216 for 6, trailing by 341 runs.
Neesham, in his comeback Test after having recovered from injury, was batting on 37 with Mitchell Santner on 6, while Ashwin had 4 for 65 against his name.
The match began to change complexion when Ashwin got one to bounce out of the rough more than Williamson had expected. The New Zealand captain had shaped to cut the ball, but could only under-edge it on to the stumps. In his next over, Taylor played for the turn to one that held its line and took his edge. Ajinkya Rahane, who had put down a sharp chance earlier, reverted to his normal mode of expert catcher to pouch the chance.
Ashwin had a hand in Guptill's dismissal too, literally. Ronchi hit the ball straight back, it took Ashwin's fingertips and hit the stumps with Guptill out of his crease. The tall opener had played his best knock of the series, but had to depart in unfortunate circumstances after making 72. There was no luck involved when Ashwin struck once again in his following over, dipping and drifting one enough to get Ronchi's edge for Rahane to take another good catch, off Wriddhiman Saha's right pad.
Photos: 25 world records held by Indians in Test cricket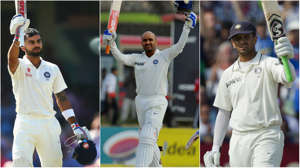 With the cream of New Zealand's batting gone and the team still trailing India massively, Neesham and Watling battled through for a 53-run stand that gave the visitors some breathing space. Neither man looked completely comfortable at any point, but they didn't allow themselves to get too bogged down.
However, Watling couldn't survive a Ravindra Jadeja fizzer when Ashwin's spin twin darted one into him that spun away enough for another outside edge to be gobbled up by the quicksilver Rahane.
It had all been very different for New Zealand in the morning, with Guptill and Tom Latham putting on a series-high 118-run opening partnership to put their team on solid footing after India had piled up a mammoth 557 for 5 declared.
Ashwin made the first breakthrough just before lunch, dipping an off-break into Latham who was fooled into giving a simple return catch via the leading edge. But at 125 for 1 at lunch, New Zealand would have entertained serious hopes of coming close to India's total.
Guptill and Latham might have been expecting an Ashwin-Jadeja combination to come at them sooner rather than later, but for the first ten overs of the day, Virat Kohli chose to persist with his pace duo of Mohammed Shami and Umesh Yadav.
The move almost paid off, with Shami having Guptill driving away from his body in the 13th over of the innings. The ball flew off the edge to Rahane at gully, but India's most reliable catcher in recent times shelled the chance. Shami suffered again when Latham had a let-off on 13, six overs later. This was a much tougher chance, a flick dying on Jadeja at short midwicket and the fielder putting in the dive but not able to gather the ball cleanly. 

Both Latham and Guptill were thus set when the spinners came on. Guptill used his height and reach to play a majority of the deliveries off the front foot, giving the bowlers less opportunity to beat him with the turn by going well forward. Latham was compact as ever, and both men took advantage of the loose balls that inevitably followed when the spinners pulled their lengths shorter.
The boundaries began to flow with Guptill taking the lead, hitting Jadeja for four to midwicket and lifting him for maximum straight back. He was the first to reach his half-century, a much-needed landmark after four poor outings in the series, while Latham added to his growing reputation with yet another composed fifty.
Latham was lucky to survive when he swept Jadeja onto his boot and the ball lobbed up to Rahane at slip, but Bruce Oxenford, the umpire, didn't spot the edge. However, the batsman couldn't add to his score before being consumed by Ashwin in the very next over.
The first session brought 93 for 1 in 30 overs, the second 91 for 5 in 29. That has been the story of the series so far.
Watch: Ashwin breaks Sachin and Sehwag's record