Ashwin wins Garfield Sobers Trophy

Wisden India
22-12-2016
R Ashwin became the third Indian to win the Sir Garfield Sobers Trophy after being named the International Cricket Council Cricketer of the Year 2016, the world cricket body announced on Thursday (December 22).
Ashwin joins two legendary Indian cricketers in Rahul Dravid (2004) and Sachin Tendulkar (2010) to have won the award, while other recipients include Andrew Flintoff and Jacques Kallis (joint-winners in 2005), Ricky Ponting (2006 and 2007), Shivnarine Chanderpaul (2008), Mitchell Johnson (2009 and 2014), Jonathan Trott (2011), Kumar Sangakkara (2012), Michael Clarke (2013) and Steven Smith (2015).
Ashwin was also named the ICC Test Cricketer of the Year, making him only the second Indian player after Dravid (2004) to bag the two coveted prizes in the same year. Kallis (2005), Ponting (2006), Sangakkara (2012), Clarke (2013), Johnson (2014) and Smith (2015) are the other players to have achieved the feat.
During the voting period – September 14, 2015 to September 20, 2016 – Ashwin picked up 48 wickets and scored 336 runs from eight Tests. He also claimed 27 wickets in 19 Twenty20 Internationals, helping India reach the semifinal of the World T20 in March this year.
Ashwin had finished 2015 as the No. 1 Test bowler, a position he currently holds too.
Photos: World records held by Indians in Test cricket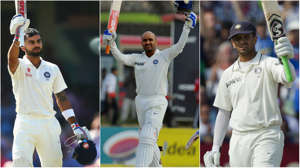 "It's an absolute pleasure to be awarded with this great honour. It feels great to follow the likes of Sachin Tendulkar and Rahul Dravid in being named as the ICC Cricketer of the Year," said Ashwin. "To also win the ICC Test Cricketer of the Year makes it even better.
"There are a lot of people to thank for this wonderful achievement I have made. It has been a great couple of years but this year has been even more special. What is very noticeable is the way I have bowled and batted and the way I have gone about doing my business. What is more important, as far as I am concerned, is the number of people who have gone behind my success.
"I'd like to dedicate this award to my family. I'd like to thank ICC and most importantly my team-mates. I'd also like to thank the support staff for our success. We've had a great transition ever since Mahendra Singh Dhoni hung up his boots. A young captain has taken over, we fell on the right track, and we now have a new bunch of boys."
Quinton de Kock was named the ICC ODI Cricketer of the Year, becoming only the second South African after AB de Villiers (2010, 2014 and 2015) and the ninth overall to win the award.
Watch: This is a new Indian team under Kohli — Gavaskar
De Kock scored 793 runs in 16 ODIs with four centuries and a half-century in the voting period, averaging over 56 at a strike-rate of just under 98.
"It's great to hear that I've been named as the ICC ODI Cricketer of the Year. To be named as the best from among so many good cricketers gives one utmost satisfaction," he said. " I'm happy to have done well for my team over this period. To join a select group of players that include my senior AB de Villiers makes this a special moment, one that I'll cherish for long. I thank the ICC for selecting me for this award and to my team-members and support staff for all their help and support."
Carlos Brathwaite won the ICC T20I Performance of the Year award for his championship-winning, unbeaten 10-ball 34 in the World T20 final against England in Kolkata. It included four consecutive sixes off Ben Stokes in the final over when West Indies needed a stiff 19 for victory. Brathwaite is the first West Indies cricketer to win this award.
---
---
"I graciously accept this award. I want to thank God and I also want to say a huge thanks to my family," he said. "Special mentions go to Marlon Samuels for a fantastic knock in the finals that got us to the position where we were. I also want to make a special mention of the West Indies' women's team and the West Indies' under-19 team, who together helped cap off an incredible 2016 for West Indies cricket. 

"I always dreamt of hitting the final ball of a game for six to win it. Never in my wildest dreams could I imagine hitting four consecutive sixes to win the World Cup (ICC World Twenty20) final for the West Indies."
Mustafizur Rahman, the Bangladesh pacer, became the first cricketer from his country to win an annual ICC award after being named the Emerging Cricketer of the Year.
Mohammad Shahzad, the Afghanistan batsman, was named the ICC Associate and Affiliate Cricketer of the Year after he finished as the leading ODI run-scorer with 699 runs in 16 one-day matches.
Suzie Bates, the New Zealand captain, had named the ICC Women's ODI as well as the T20I Cricketer of the Year a little over a week back.
Full list of individual awards:
ICC Cricketer of the Year (Sir Garfield Sobers Trophy): R Ashwin (Ind).
ICC Test Cricketer of the Year: R Ashwin.
ICC ODI Cricketer of the Year: Quinton de Kock (SA).
ICC T20I Performance of the Year: Carlos Brathwaite (WI).
ICC Emerging Cricketer of the Year: Mustafizur Rahman (Ban).
ICC Associate/Affiliate Cricketer of the Year: Mohammad Shahzad (Afg).
ICC Women's ODI Cricketer of the Year: Suzie Bates (NZ)
ICC Women's T20I Cricketer of the Year – Suzie Bates.