Astle to Sehwag: The race to a double-ton

Wisden India
09-10-2016
Few men get the chance to represent their country in Test cricket. Fewer still succeed in scoring a century at that level. A rarer few manage a double century or more, and irrespective of how long they take or how many balls they face to get to that landmark and beyond, it is a feat worth celebrating. But when that feat is achieved at a breakneck speed, it sends a chill down the spine. Wisden India looks at ten instances where batsmen extended their striking ability long enough to bring up their double tons in the least number of deliveries.
Nathan Astle
153 balls, New Zealand v England, Christchurch, 2001-02
It was the first match of a three-Test series, and the Christchurch strip wasn't particularly easy for batting, as evidenced by England's first-innings score of 228 and New Zealand's 147. In their second essay, England piled up a mammoth 468 on the back of Graham Thorpe's unbeaten 200, which came from 231 deliveries, and Andrew Flintoff's 163-ball 137. New Zealand needed 550 runs for victory, always a tall order. But once Astle got going, England were rocked even as they were aware that defeat was no more than a distant possibility. Astle brought up his 50 from 54 deliveries, 100 from 114, 150 from 136 and clattered the next fifty in a mere 17 balls. His 222-run effort was studded with 28 fours and 11 sixes. He was the last man to fall with New Zealand 98 runs short of the target.
Ben Stokes
163 balls, England v South Africa, Cape Town, 2015-16
If one needs to see how beneficial England's aggressive approach to One-Day International cricket been, you needn't look beyond than the ongoing second Test. Agreed, the pitch has had little to offer the bowlers but England's top order still failed to cash and slumped to 223 for 5 before Stokes took matters into his own hands. His first 50 came from 70 balls, and next from only 35. It was fast, but Stokes went one better by bringing his 150 up from 135 balls, a mere 30 balls for his third fifty. You would've expected him to slow down a little as he neared his maiden double, but Stokes was sighting the ball too well to hold back. He brought up the fourth fifty in a mere 28 deliveries to become the latest entrant into an illustrious list. Stokes eventually finished on 258 from 198 balls, with 30 fours and 11 sixes.
Virender Sehwag
168 balls, India v Sri Lanka, Mumbai, 2009-10
Sri Lanka rode on the exploits of Tillakaratne Dilshan and Angelo Mathews to scurry to 393 after electing to bat. Clearly, the pitch at the Brabourne Stadum was true to its batting-friendly reputation but what the spectators witnessed during the course of India's innings was truly something special. Virender Sehwag, who had put on 221 for the first wicket alongside M Vijay from 39.1 overs, compiled a spectacular 293 from 254 balls with 40 fours and 7 sixes. His double came from 168 deliveries.
Virender Sehwag
182, India v Pakistan, Lahore 2005-06
There was plenty of criticism about the docile strip at the Gaddafi Stadium in Lahore after the game, but that came in retrospect. The thought arose after Pakistan's first innings which yielded 679 with Younis Khan smashing a calculated 199, Mohammad Yousuf scoring a flashy 199-ball 173, Shahid Afridi smacking 103 from 80 balls and Kamran Akmal making an unbeaten 102 from 81 balls. Having witnessed the Pakistanis bat for nearly 150 overs, the Indian openers were itching to have a crack and they made it count. Virender Sehwag and Rahul Dravid added 410 for the first wicket with Sehwag smashing a brilliant 254 from 247 balls and Dravid compiling 128 from 233 balls. Sehwag's 50 came up in 48 deliveries, 100 from 93, 150 from 144 and the double from 182 with 38 fours and a six.
Brendon McCullum
188 balls, Pakistan v New Zealand, Sharjah, 2014-15
Times were tough. The world was still reeling from the news of Phillip Hughes's tragic passing and New Zealand's players were in shock, too. They contemplated forfeiting the third Test against Pakistan but decided to play in his memory after a day's break. Resuming play on the third day, New Zealand bowled Pakistan out for 351 with Mark Craig picking up seven wickets. Mohammad Hafeez's 197 was the base for Pakistan's score as the rest of the order fell by the wayside. In response, New Zealand lost Tom Latham early but McCullum and Kane Williamson were in the zone. While Williamson went about his innings in typically calculated fashion, McCullum chucked the manual out the window and went after the bowlers as he would in shorter formats. What that resulted in was a double century from 186 deliveries with 21 fours and 11 sixes, and also a partnership worth 297 to guide New Zealand to 690. Pakistan were bundled out for 259 and New Zealand drew the three-match series 1-1.
Virender Sehwag
194 balls, India v South Africa, Chennai, 2008
It was the opener of the three-Test contest between India and South Africa. The series was much hyped and it lived up to the tag, Sehwag's innings truly setting the tone. After South Africa won the toss and put up 540 on the back of Hashim Amla's 159, India were up and running as soon as Wasim Jaffer and Sehwag took strike. Jaffer was dodging everything that came at him while Sehwag was doing what he does best. Sending the bowlers to the cleaners, the Nawab of Najafgarh brought up the second of his two triple centuries but it was his race to 200 that really made people sit up. He brought up his 100 from 116 deliveries and then took a surprising 55 balls to get to 150 before taking up a mere 23 balls to get to the fourth of his six double-centuries.
Herschelle Gibbs
211, SA v Pakistan, Cape Town, 2002-03
The Graeme Smith-Herschelle Gibbs partnership was feared in world cricket not because of Gibbs's ability to explode but because of Smith's penchant for big scores. But on this day, it was all about Gibbs and his brand of aggressive cricket. Gibbs teed off from the very first over and he continued unabated till be brought up 228 from 240 balls with 29 fours and six hits over the fence. The duo added 368 for the opening wicket and four of Pakistan's bowlers went for upwards of hundred runs. Saqlain Mushtaq was in for special treatment as his 50 overs cost 237 runs before the offspinner put an end to Gibbs's riot. South Africa put up 620 before bowling Pakistan out for 252 and 226 respectively to complete a massive victory.
Adam Gilchrist
212, Aus v SA, Johannesburg, 2001-02
South Africa would have assumed the tough part was done with. They had kept Australia down to 293 for 5 and sighted the lower order. But Gilchrist smashed the accomplished bowling attack — Allan Donald, Makhaya Ntini and Jacques Kallis — to all corners of the park. Cautious at the start, Gilchrist took 89 deliveries to bring up his half-century. A blitz followed as he brought up his next 50 from 32 balls and then another lull as he used up 61 deliveries to reach 150. The sprint to the finish, so to speak, however, was most memorable as he creamed South Africa's bowlers to add the next 50 runs from a mere 30 deliveries. He had hit 19 fours and eight sixes en route to the landmark.
Ian Botham
220 balls, England v India, The Oval, 1982
© Wisden Astle to Sehwag: The race to a double-ton
This innings is at least 20 years before any of the other innings featuring in the list, and that itself puts it right up there with the best because at a time when no one really went after attacks, Botham did. It was the third Test of the series and England were up 1-0. India needed the win to tie the series but the game was as good as done when Allan Lamb made 107 and Botham smashed 208 from 226 deliveries with the help of 19 fours and four sixes. Dilip Doshi, who finished with five wickets in the match, eventually dismissed Botham but by then, the damage was done. India made 410 in their first essay before England added another 191 to set India a stiff target of 376. India made 111 for 3 when truce was called.
Virender Sehwag
222 balls, India v Pakistan, Multan 2003-04
That Sehwag could decimate oppositions was well known, but until this innings came along, no one knew the kind of damage he could inflict if he hung around long enough. Until then, he hadn't crossed the double-century mark yet. He did come close when he scored 195 against Australia a few months earlier but no one was prepared for this onslaught, though it was completely plausible, given that it was Sehwag. Sehwag was so quick to get off the mark that soon after lunch, he had brought up his 100 (107 balls). He took up 43 balls to score the next 50 and a further 72 deliveries to reach his maiden double century. This innings showed the world that Sehwag was indeed a force to reckon with on the Test circuit and he continued to prove that repeatedly over the next decade or so.
---
---
Photos: Cricketers — Then and now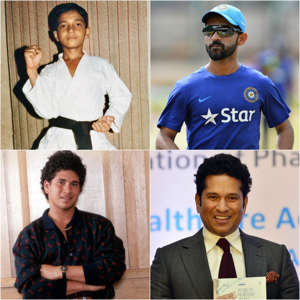 Watch: Best helicopter shots in cricket history