Atherton's dirt, Tendulkar's nails and Afridi's bite

Wisden India
25-01-2017
The spectre of ball-tampering is one that has floated around cricket for quite some time. While some believe in exorcising the ghost, there are others that insist it is as friendly as Casper and should be allowed.
The law, though, is clear: the ball may be polished without the use of an artificial substance, dried with a towel if it is wet, and have mud removed from it under supervision. Everything else is strictly illegal, whether you've innocently mistaken the ball for your personal nail file or decided to have a quick nibble. Wisden India looks at ten accusations of ball-tampering and how it all went down:
Sachin Tendulkar, 2001
It was Pandora opening her box all over again as Mike Denness decided to pull up Sachin Tendulkar for ball-tampering during the second Test against South Africa in Port Elizabeth. Tendulkar had bowled four tidy overs, looking the most potent of the lot, when the cameras went for a close-up. The images showed him working on the seam of the ball with the thumb and forefinger of his left hand, and Denness wasted little time in handing out a one-Test ban on the undisputed God of Indian cricket.
The you-know-what hit the fan and, when five other players — including Sourav Ganguly, the captain — were also handed punishments, Denness was accused of racism. "I was prepared to abandon the tour if need be but wasn't ready to be labelled a cheat. It was about honour and there was no way I would allow a match referee to cast aspersions on my credibility," revealed Tendulkar later in his autobiography. The ICC ended up overturning his ban and India and South Africa unilaterally replaced Denness for the third match, which was declared an unofficial Test.
Michael Atherton, 1994
In sport, it's important to keep your hands clean … of match-fixing, drugs, and the occasional dirt in your pocket. Michael Atherton was guilty of the latter, with TV footage showing him applying dirt meticulously on a cricket ball in the first Test against South Africa at Lord's. What followed was righteous indignation by the British media that the England captain would dare do such a thing and at the Home of Cricket, no less.
Atherton explained to Peter Burge, the match referee, that he dried his sweaty hands in his pockets, but didn't reveal that there was dirt inside them. Burge was livid, and the England management brokered peace by fining Atherton £2000 — £1000 for using dirt, £1000 for lying about it. He escaped a likely suspension, but completely soured his relations with the press.
Rahul Dravid, 2004
No one believed Tendulkar was involved in ball-tampering, but Rahul Dravid didn't get the benefit of doubt when he was accused of the deed during an ODI against Zimbabwe. Dravid was spotted by the TV cameras rubbing a cough lozenge on the shiny side of the white ball and was fined 50% of his match fee.
"It was not ball tampering anyway, it was an accident," said Sourav Ganguly. "I think if he would have done it deliberately, it would have been a bigger fine. I think everybody knows it's an accident." Everybody, that is, except for Clive Lloyd, the match referee, who added, "They can say it's accidental but the point is the footage shows that something has been applied to the ball and the rules state you are not allowed to do it. It was shown he was applying a substance to it. It's quite conclusive on film."
Waqar Younis, 2000
Waqar Younis, a master of the dark art of reverse wing, became the first player to receive a one-match ban for ball tampering in a One-Day International against South Africa. TV footage showed Waqar and Azhar Mahmood picking at the side of the ball with their thumbnail and scratching at the seam. Normally, it wouldn't have invited censure, but Waqar had got away scot-free only eight days ago for doing the same thing. At that time, his defence was that he was cleaning the ball, but John Reid, the match referee in both instances, hinted privately, that he would have been "a mouse" if he hadn't acted when Waqar was caught again.
While Mahmood was fined 30% of his match fee, Waqar was deducted 50%. But it was the ban that really surprised Waqar. "I've been doing the same thing for 15 years," he said.
Pakistan, 2006
After Denness, it was the turn of Darrell Hair to have his effigy burned, this time in Pakistan for alleging that the team was involved in ball-tampering in the fourth Test against England at The Oval. He, along with Billy Doctrove, the other on-field umpire, awarded five penalty runs to England after examining the markings on the ball. There was no cold, hard evidence in the form of video footage to back the umpires' claims, and an aggrieved Pakistan team refused to take the field immediately after the tea break in protest of the decision.
The umpires waited for five minutes before walking off and, when there was still no sign of the Pakistan team when the umpires returned to the field ten minutes later, the bails were removed. The Pakistan players then made their way to the field but, by then, were informed that the umpires had declared England winners by forfeiture, the first forfeit in 129 years of Test history.
Following an ICC Code of Conduct hearing, Inzamam-ul-Haq was cleared of charges of ball-tampering, but banned for four ODIs for bringing the game into disrepute. Two years later, the ICC changed the result of the match to a draw, before making another U-turn and reversing the decision to an England win after a few months.
James Anderson and Stuart Broad, 2010
Dynamic duo and partners-in-crime? That was the question asked during the third Test against South Africa in Cape Town, after TV footage revealed Broad standing on the ball while Anderson was seen picking at the leather. AB de Villiers suggested in a press conference that a formal complaint should be made as there was "quite clearly a piece of leather off the ball after he'd stepped on the ball", but South Africa never took it forward.

England weren't impressed, with Broad taking "great offence" and Andrew Strauss terming it a "malicious" move. Broad went on to add, "My actions in stopping the ball with my boot have been questioned, but I am not the first bowler to stop a ball with his size 12s and I will not be the last."
Shahid Afridi, 2010
Full tosses may be juicy and the cricket ball is often referred to as a cherry, but Shahid Afridi took it all a bit too literally when he was seen biting the ball during the fifth ODI against Australia in Perth. Afridi was banned for two Twenty20 Internationals, but later told Geo TV that the practice was common among all teams.
"There is no team in the world that doesn't tamper with the ball. My methods were wrong. I am embarrassed, I shouldn't have done it. I just wanted to win us a game but this was the wrong way to do it." We'll let this one slide, Shahid, if only for the fact that it made for a bizarrely hilarious video.
Peter Siddle, 2012
Siddle's figures of 4 for 50, on the way to match figures of 9 for 104, helped Australia seal a 137-run victory against Sri Lanka, but the effort was tarnished somewhat by allegations of ball-tampering. Sri Lanka's team management claimed that broadcast cameras captured Siddle using his fingernails to raise the seam of the ball on two separate occasions during the game.
The ICC declared it a non-issue, with Chris Broad, the match referee explained that there was no evidence to suggest the condition of the ball had changed. Nevertheless, Siddle was furious. "There's a picture going around on Twitter, but on Twitter you can say what you want and there's no consequences, he said. "If you watch a video of it, you would see me turning around the ball and running in, but if you take a snap of a still picture you can make anything look unreal."
South Africa, 2013-14
South Africa faced three ball-tampering offences in nine months, but the big talking point was how they managed to escape with a mere slap on the wrist in each instance. First, it was Faf du Plessis who was seen rubbing the ball on the zipper of his trouser pocket in the second Test against Pakistan in Dubai. The management termed the verdict "harsh", but didn't challenge the 50% fine levied by David Boon, the match referee, in fear of a stronger punishment.
Then, came the allegations from David Warner during the second Test against Australia in Port Elizabeth, where he questioned AB de Villiers's method of handling the ball after Dale Steyn managed to get some reverse swing. South Africa brushed it off as "sour grapes", after they won by 231 runs to level the series. The ICC perhaps agreed, fining Warner 15% of his match fee.
And finally, it was Vernon Philander who was fined 75% after the cameras caught him "scratching the ball with his fingers and thumb" during the first Test against Sri Lanka in Galle. While the fines are definitely not going to burn a hole in anyone's pocket, South Africa's credibility did get a bit of a dent.
Wahab Riaz, 2015
Yasir Shah was seen as Pakistan's X-factor in the second Test against England in Dubai, but it was Wahab Riaz that turned the match on its head in a blistering nine-over spell where he grabbed 3 for 15 as England tumbled from 182 for 3 to 242 all out in the first innings. The next day, there were grumblings from the England camp about Riaz trodding on the ball. TV replays showed Riaz toe-ending the ball and Joe Root unhappily gesticulating to the umpire.
"Riaz certainly won't be signing for Chelsea in the Premier League with his footballing skills," said Paul Farbrace, England's assistant coach, later. However, given that their bowlers were involved in a similar incident in 2010, maybe England would be better off keeping mum?
---
---
Slideshow: Indian cricketers and their controversies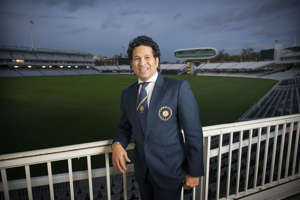 Watch: Kohli wants to give out of form openers time