Athletes who may have competed at their final Olympic Games

Photos
23-08-2016
Several high-profile athletes have indicated Rio 2016 may have been their final Olympic Games. We look at their Olympic achievements and other highlights from their careers. 
Usain Bolt, Track (Jamaica)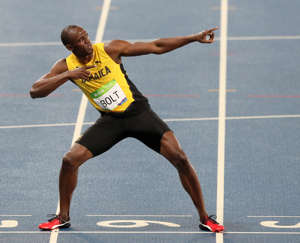 © Martin Rickett/PA Nicknamed 'Lightning Bolt, the Jamaican sprinter holds an unprecedented record at the Olympics. Holder of nine gold medals — three each in three consecutive games — the sprinting superstar is the reigning champion at three events: 100 m, 200 m, and 4X100 m relay. Bolt also is the most successful athlete at the World Championships, winning gold medals at the three events from 2009 to 2015, barring the 100 m race in 2011. He plans to retire from athletics in 2017, after the World Championships.

Serena Williams, Tennis (USA)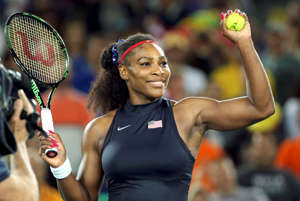 © Kevin Lamarque/Reuters Arguably one of the greatest tennis players, Serena Williams is the winner of four Olympic gold medals — one in women's singles in 2012 and three in women's doubles in 2000, 2008 and 2012, which she shares with her elder sister Venus. Holder of 22 Grand Slam singles titles, Williams is most likely not returning to the Olympics again.

Andy Murray, Tennis (England)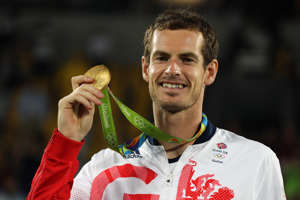 © Owen Humphreys/PA The Scottish player has won two consecutive singles titles — in 2012 and 2016 — becoming the first tennis player to do so in Olympic history. He also won the second spot in mixed doubles in the 2012 London Games. Apart from his Olympic successes, he is a three-time Grand Slam winner. About his participation in the 2020 Tokyo Games, he commented, "Who knows about Tokyo in four years. At 33, I'm not sure I'll be at the same level."

Bradley Wiggins, Cycling (England)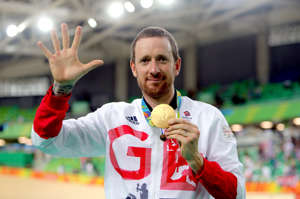 © David Davies/PA Bradley Wiggins is the most decorated British Olympian, winning a total of eight medals at the Games. His record tally stands at five gold medals, one silver and two bronze, at both the track and road events. Apart from his stellar Olympic career, Wiggins is also the first Briton to win the Tour de France in 2012 and has had an amazing streak at the World Championships. After winning his gold at the 2016 Olympics, Wiggins announced his plan to retire at the end of the year.
Federica Pellegrini, Swimming (Italy)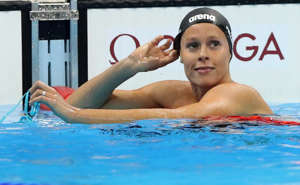 © Lee Jin-man/AP Photo The first female Olympic champion from Italy, Pellegrini earned her first Olympic medal — a silver — at the 2004 Games in Athens, Greece. She followed it with a gold medal at the 2008 Beijing Games. In addition to her Olympic career, she also holds four gold medals at the Long Course World Championship. Even prior to participating at the 2016 Rio Olympics, Pellegrini had confirmed that "she will retreat from the pool after Rio 2016 to focus on her family life."
Robert Scheidt, Sailing (Brazil)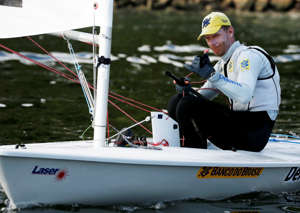 © Sergio Moraes/Reuters Brazilian legend Robert Scheidt has had a successful run at the Olympics. He is one of the two Olympians from Brazil to have won five medals each — two gold, two silver, and one bronze. The 43-year-old also has nine World Championship titles for the Laser Class and three for the Star Class. Scheidt had stated that he will retire from professional sailing after the 2016 Olympic Games.
Tiago Camilo, Judo (Brazil)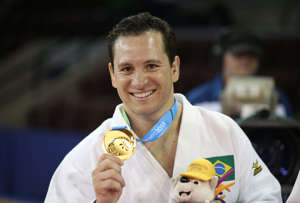 © Tom Szczerbowski/USA Today Sports Camilo is the holder of two Olympic medals — a silver at the 2000 Sydney Games and a bronze at the 2008 Beijing Games. Camilo was the champion at the 2007 World Judo Championships, and also won the Pan American Games three times — in 2007, 2011, and 2015. Without a win at the 2016 Rio Games, and inching toward his mid-thirties, it is unlikely that he'll return at the 2020 Tokyo Games.
Yelena Isinbayeva, Pole vault (Russia)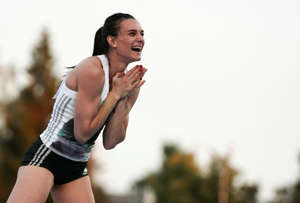 © Nikolai Alexandrov/AP Photo Widely regarded as the greatest female pole vaulter of all time, Yelena Isinbayeva has had a great run at the Olympics. Participating in three Games, she garnered a total of three medals — two golds in 2004 and 2008, and a bronze in 2012. She also emerged victorious at three World Championships (2005, 2007, and 2013) and was in the third spot in 2003. Isinbayeva, along with her other teammates, was not allowed to participate at the 2016 Rio Games, due to a blanket ban for alleged doping. With a total of 28 world records, the athlete announced her retirement from professional competition on Aug. 19, 2016, stating, "I'm very happy that I fulfilled my dreams, I won all possible medals, all possible titles."
Rafael Nadal, Tennis (Spain)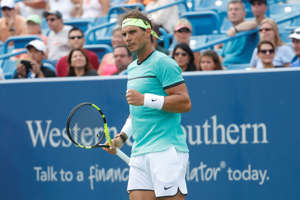 © John Minchillo/AP Photo Called "The King of Clay," Nadal has earned two Olympic medals so far — a gold in singles in 2008 and a gold in doubles in 2016. He has 14 Grand Slam singles titles and became the youngest person in the Open Era to win the Career Grand Slam in 2010. While he has not spoken about it openly, the Spaniard's injuries have often cast a shadow on his future.
Tamika Catchings, Basketball (USA)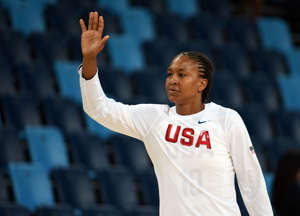 © RVR Photos/USA Today Sports As part of the star women's basketball team, Tamika Catchings won four gold Olympic medals — in 2004, 2008, 2012, and 2016. She has also been on the winning side of two World Championships in 2002 and 2010. Confirming her retirement after the 2016 Olympics, she had commented, "I will be retiring in 2016, Lord willing, if my body holds up. Although I plan to step away as a player that is not to say I'll step away from the game, hopefully. I am so thankful and blessed to have had an opportunity to play the game I have loved for so long."
Lin Dan, Badminton (China)
© John David Mercer/USA Today Sports Lin Dan created history at the 2012 Olympic Games, when he became the first badminton champion to defend his singles title. The two-time Olympic winner is also a five-time World champion and a six-time All England champion. Dan, however, failed to win any medals at the 2016 Rio Olympics. When asked about his retirement plans, the player commented, "I haven't thought about it that much. I just focused myself fully on this Olympic Games. After this one I will rest for a while and then make a decision."
Mo Farah, Track and field (England)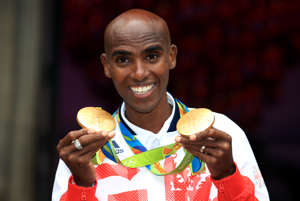 © Mike Egerton/PA Mo Farah, a star distance runner, has won four gold medals at the Olympic Games — two each in 2012 and 2016 for the 5000 m and 10,000 m marathons. Apart from his Olympic successes, Farah has also earned five gold medals and one silver at the World Championships. While it has not been confirmed, the athlete had hinted about his retirement after the 2017 World Championships in 2015.
Michael Phelps, Swimming (USA)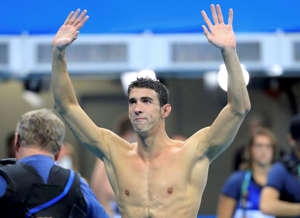 © Dominic Ebenbichler/Reuters One of the most successful athletes of the Olympics, Phelps has an astounding record — 23 gold medals, three silver and two bronze — in a span of four Olympics from 2004 to 2016. While he announced his retirement after the 2012 London Olympics, he came back in 2014. After a successful run at the 2016 Rio Games, he has again hinted at retirement. Apart from his Olympics records, Phelps has a total of 83 medals in the Long Course World Championships.