ATP World Tour Finals final preview: Djokovic v Federer

Sky Sports
22-11-2015
Getty
© Provided by BSkyB
World No 1 Novak Djokovic will take on six-time champion Roger Federer at Sunday's World Tour Final in a repeat of the 2014 final that never was. 
World No 3 and 17-time major winner Federer defeated Swiss compatriot Stan Wawrinka 7-5 6-3 while Djokovic beat Spain's resurgent Rafael Nadal 6-3 6-3 to secure his place in Sunday's title match.
Third seed Federer created the wrong sort of history in Greenwich last year when he withdrew at the last minute from the final with a recurrence of the back injury that blighted his 2013 season.
But the Swiss ace beat Djokovic in straight sets in the group stage and had an unblemished record at this year's tournament. He will be targeting a perfect ending to a season which he has had to suffer agony against the Serb in the final at Wimbledon and US Open.
"It will be a perfect ending only if I win," said Federer, who is playing in the tournament for a record 14th successive year and is through to his 10th final, six of which he has won. "Novak should be knocked out by now! No, I am joking. He played a great match against Rafa earlier today and I'm sure it will be a fantastic meeting."
Djokovic, who is bidding for a fourth consecutive title at the season-ender, and a fifth in total, suffered a first indoor defeat in three-and-a-half-years against Federer this week but produced a 30th win against a top-10 opponent this year against Nadal to put him through to a record 15th consecutive final.
The 28-year-old said: "I've lost against Roger three times this year. When he's on, it's hard to play him. I think he also likes playing me because he has variety in his game with the slice, he comes to the net, he takes away the time from me.
"We always play matches with a lot of tension. There is a lot at stake. I know I have to be on top in order to win against him.
"Hopefully I'll be able to play better than I did a few days ago. But the performance today definitely gives me reason to believe that I'll do that."
Sunday's final will be their 44th meeting with Federer leading the head-to-head meetings 22-21.
Slideshow: Tennis's best — Roger Federer's record-breaking career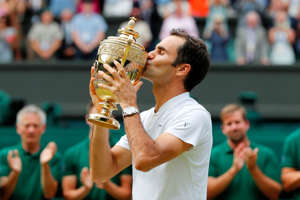 Tennis' best: Roger Federer's record-breaking career