Australia embarrass India technically and mentally

The Roar
26-02-2017
The most remarkable aspect of Australia's dominant win over India in the first Test yesterday is that their batsmen and spinners utilised better techniques for the spinning conditions than the home team.
Australia's batsmen have had technical deficiencies against spin exposed over and over in Asia, while their tweakers also have been criticised for an inability to adapt to foreign conditions.
As they were humiliated 3-0 in Sri Lanka last year, Australia's batsmen made a maddening habit of missing straight deliveries. The pitches in that series did not provide anything like the wild turn and bounce on offer in Pune.
But, like most Asian surfaces, they offered natural variation – one ball would turn, then an identical delivery would skid on straight. The latter deliveries so often thudded either into an Australian front pad or their stumps as the visiting batsmen mistakenly played for the turn.
During and after that series it was emphasised by many former Test batsmen that in Asia you must first and foremost protect your stumps – play the line of the ball and be willing to get beaten on the outside edge.
This was the very skill exhibited by Steve Smith at Pune and which was sorely missing from the approaches of many of the Indian batsmen.
Indian captain Virat Kohli yesterday assumed that a delivery from left-arm spinner Steve O'Keefe would turn safely away from his stumps. It did not. Instead the ball rushed on straight and clunked into Kohli's off stump, leaving him to shuffle off the ground with a bemused look on his face as India crumbled.
Meanwhile, four Indian batsmen – Murali Vijay, Cheteshwar Pujara, Ravi Ashwin and Wriddhiman Saha – were trapped in front playing outside the line of straight deliveries from O'Keefe.
It was the very same miscalculation made by Australian batsmen with nauseating regularity in Sri Lanka. Earlier, Smith had shown just how much he had learned from the debacle in Sri Lanka. More than 20 balls must have fizzed past Smith's outside edge during his wonderful knock of 109.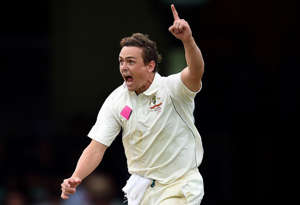 But that was all part of Smith's plan. Intent on not repeating the failures of Sri Lanka, he made a point of continually playing the line of the ball. When it turned away sharply he held his shape, refused to feel for the ball, and allowed it to pass by his edge.
This same technique was utilised to great effect by young opener Matt Renshaw, who had a stunning Test debut in Asia, making 68 and 31. While the rest of Australia's batsmen were not nearly as successful as Smith and Renshaw, there were also signs of them trying to play the line of the ball to minimise the risk of being LBW or bowled.
The other thing which most of the Australians did well was declining to chase after balls well wide of the stumps. By comparison, the Indian batsmen were exposed for their desire to get bat on ball. They are so accustomed to dominating visiting spin bowlers that the Indian batsmen were unable to shackle their aggression.
This all sounds backwards doesn't it? Typically it is Australia who exhibit the poorest techniques and mentalities when batting against spin. Well, not in this Test.
And it extended beyond the batsmen to the bowlers. Indian left armer Ravi Jadeja must have beat the edge at least 50 times during his 57 overs in this Test. It might have looked impressive, but his impact on the match was minimal.
Jadeja was turning the ball more than any other spinner in the match and that was an obvious hindrance. Yet he was either unable or unwilling to adapt to the conditions.
What Jadeja needed to do was to deploy the big turning delivery only as a change-up, using it to mess with the mind of the batsmen. His stock deliveries should have had less side spin with the intent of either skidding them on or turning the ball just enough to catch the edge.
---
---
This is exactly what O'Keefe did. Early on in the match O'Keefe was looking to impart heavy revolutions on the ball. But then he altered his approach and began to bowl quicker and flatter with less work on his deliveries. This was what brought him astounding success. 

While Jadeja was bowling miracle balls that turned 50cm and beat the edge by 20cm, O'Keefe was pinning batsmen to the crease and reaping the rewards.
It was quite bizarre to see Jadeja, the world's number two ranked Test bowler, make the same mistake time after time. And there was also a case to be made that Indian off spinner Ravi Ashwin, he of the number one ranking, could have learned from the approach of Nathan Lyon.
Slideshow: Most controversial statements by cricketers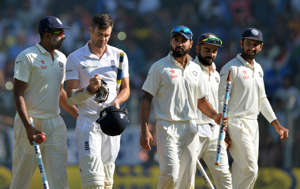 Ashwin tended to bowl too straight, allowing the Australian batsmen to work him to the leg side. Lyon, by comparison, held a wider line outside off stump, daring the Indian batsmen to try to drive him through the offside against the heavy spin.

Lyon finished with figures of 5-74 in what was his most impressive performance in Asia since his Test debut in Sri Lanka almost six years ago.
He and O'Keefe combined for figures of 17-144 compared to 14-422 for India's spin trio.
Australia's spinners outbowling India's tweakers on their home soil – who would have predicted that? The only bigger surprise was that Australia's batsmen embarrassed their Indian counterparts.
The script for this Test was well and truly flipped.
Watch: 'One of India's worst defeats'