Australian cricket – down, under, and in disarray

Wisden India
22-11-2016
You have to be into the fifth decade of your life to remember the last time Australian cricket was in such disarray. In 1984, a team that had just said goodbye to Greg Chappell, Dennis Lillee and Rod Marsh – three once-in-a-generation players – slumped to six consecutive defeats against West Indies, three away and three at home. After the fifth of those, at the Gabba, Kim Hughes resigned the captaincy in tears, saying: "The constant criticism, speculation and innuendo by former players and a section of the media over the past four or five years have finally taken their toll."

Nearly three decades later, in 2013, Australia lost six on the bounce, four in India and two at the start of the Ashes series in England. That team had just moved on from the retirement of Ricky Ponting, and disappointment at the results had been mitigated by the acknowledgment that those were two extremely tough overseas assignments.
The current slide, which has encompassed five straight defeats, is a lot harder to explain away. They were thrashed 3-0 in Sri Lanka, who had lost home series to both India and Pakistan in 2015, and the two home losses have come against a South African side that could call on Dale Steyn's services for just 76 deliveries. The batting collapses in Perth and Hobart were abject, and raised as many questions about skill as they did about mindset.
What has been revealing has been the response. Steven Smith, the captain, hasn't minced words, and Darren Lehmann, the coach, has made it clear that it's open season for all but four core members of the XI. The response from the boardroom has been altogether more perplexing. "We're lucky to be a top-ten side at the moment but I also believe that sticking by the process, the players can work through that and turn that around," said James Sutherland, Cricket Australia's chief executive. "We all need to ask ourselves some questions – why and how has this happened?"
One of the best answers came from Michael Coward, who has written eloquently about the men in baggy green for more than four decades. "There is the hypocrisy of administrators who speak of the primacy of Test match cricket while busily devaluing Sheffield Shield cricket and devoting all their time and energy to short-form tournaments, most notably the crudely but aptly named Big Bash League," he wrote in a column.
© Getty Image

The view from on the field was no more cheery. Brett Geeves, the Tasmanian who played two One-Day Internationals and one Twenty20 International in 2008-09, has been an eminently readable columnist for years now. Where others resort to corporate jargon – a polite way of saying utter BS – Geeves has never been afraid to express an opinion.
In his most recent column, Geeves has trained his gaze on Greg Chappell, and the move to tinker with second XI cricket over half a decade ago.
"The Australian domestic cricket scene was the one asset not broken, or to be messed with," he wrote. "It didn't need tinkering. Australian cricket would not prosper if the strongest production line of talent in the world was disrespected. Greg picked it up, without an ear to the screams of the players, and dropped it. Dropped it right on its head. Hard."
Those are damning words. But the tinkering with second XI cricket was just the tip of the iceberg. For several seasons now, it's been downright amusing to hear criticism from Australia about India's commitment to Test cricket, much of it twinned to declining attendances inside stadiums. But most of the time, those words have been typed/uttered without a look in the mirror.
India may be in thrall to the Indian Premier League (IPL), but the tournament doesn't interfere with India's Test calendar. Most IPL matches are played at night in peak summer, when Test cricket has almost never been played. This season, India will play 13 Tests at home before the IPL begins in April.
Contrast that with Australia, where the Big Bash League sits right at the heart of the home season. A summer that once had the Boxing Day Test (Melbourne) and its New Year equivalent (Sydney) at its centre is now all about the Thunder, Scorchers and Strikers. If a player or two are out of form, there's no Sheffield Shield cricket to send them back to. Their replacements will be picked on the basis of white-ball form, or from the weight of first-class runs scored more than a month earlier.

On February 22, 2017, Australia and Sri Lanka will contest a T20I at Adelaide Oval. A few hours later, Australia start a four-Test series against India in Pune. So much for the primacy of Tests.
Slideshow: 27 cricket world records you must know about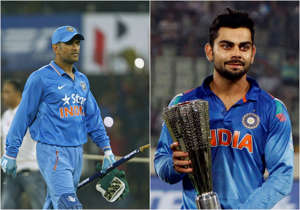 If the Australian home season goes from dire to wretched – after the day-night Test against South Africa, the next visitors are Pakistan, who have lost nine straight there since 1999 – one man sure to be under the scanner is Pat Howard, the high performance chief, who won 20 caps as a Wallaby [Rugby Union] and has always been a contentious appointment.

Before the disastrous six-match losing streak in 2013, Shane Warne had tweeted: "Can CA please put current cricket people in charge to run the game, select teams, not ex rugby or any other sports people plse, seriously.
"We have the best batsmen / captain in the world in MClarke23 (Michael Clarke) – He needs current cricket people to help him out not muppets."
Clarke is no longer around, but Howard is. As is that rapidly sinking feeling.
Watch: Jonty Rhodes' miracle catches