Backroom issues in Indian camp could work in Pakistan's favour

Wisden India
04-06-2017
Group B: India v Pakistan
Date: June 4 (Sunday)
Venue: Edgbaston, Birmingham
HEAD-TO-HEAD
127 matches; India 51; Pakistan 72; no result 4
THE FORM
It is always more than just a match when India and Pakistan clash. As a rivalry, it has had its ups and downs, always interspersed with long periods of barrenness where the two neighbours haven't played each other.
In the last five years, the two have met almost exclusively in ICC events, which makes each of their matches that much more sought after for fans. While the overall record is weighted towards Pakistan, the more recent one tells a different story. Since the 2000s, India and Pakistan have played 49 One-Day Internationals, with India winning 24 to Pakistan's 25. In this decade, the two have played only nine ODIs of which India have won six to Pakistan's three.
Complete coverage: ICC Champions Trophy
But Pakistan have been in Birmingham for more than two weeks and have got in plenty of practice sessions, getting a good feel of the ground and conditions. India haven't yet practiced on the main ground. They were allocated the smaller No. 1 Nets on Thursday, and rain on Friday meant they couldn't practice on the bigger Colts Ground either.
More than lack of practice, India will be worried about lack of cohesiveness, with the reported problems that Virat Kohli, the captain, has had with Anil Kumble, the coach, dominating headlines for the past week. It's a curious situation, almost the reverse of history. Usually, it is Pakistan who have had more internecine troubles to sort out while India have been more settled.
In all this, the question of who will front up in the final XI has gone under the radar. Form and fitness permitting, the only question India have to wrestle with is what their bowling composition will be. They could go in with their five best bowlers, or drop either a spinner or a pacer and include Hardik Pandya for his all-round skills. Among the batsmen, Shikhar Dhawan, Rohit Sharma, Kohli, Yuvraj Singh and Kedar Jadhav should be the first picks.
Photos: Flashback — India-Pakistan classics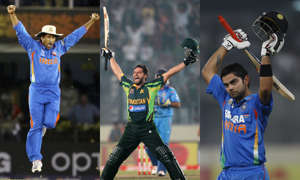 Pakistan are a more unknown quantity this time around, with several relatively newer players, though there is the heft of experience in Shoaib Malik, Mohammad Hafeez and Sarfraz Ahmed, the captain. And then people like Azhar Ali, Ahmed Shehzad, Mohammad Amir and Babar Azam aren't exactly new to cricket. They have already decided their XII, and Fakhar Zaman, Haris Sohail and Junaid Khan are the ones to miss out. It remains to be seen if Faheem Ashraf, the 23-year-old who smashed 64 not out off 30 in the warm-up against Bangladesh, is handed an international debut in such a high-pressure match.
THE CONDITIONS
The pitch at Edgbaston didn't seem to offer too much to bowlers when Australia and New Zealand played. India and Pakistan will play on the same surface, so shouldn't expect too much different. In the warm-ups and the truncated Australia-New Zealand match, conditions were more batting friendly.
However, the threat of rain is always about. While on the one hand the wetness will make it difficult for bowlers to grip the ball, the cloud cover could offer assistance through the air, even if it wasn't much in evidence in the last match.
Watch: Kohli dismisses reports of rift with coach Kumble
(Video provided by Times of India)
THE MATCH-UP
Virat Kohli v Mohammad Amir
Ever since his return to international cricket, Amir has shown glimpses on and off of talent that can make him devastating on his day. He will still be the man Sarfraz turns to for the breakthroughs, and the man relied on to stop the most dangerous batsmen. And they don't come more dangerous than Kohli, who has mastered the 50-over game like few before him in the format's history. Against Pakistan in ICC events, he has invariably risen to the occasion. Kohli, though, will be fighting internal pressure – of the alleged situation in the Indian camp – as well as the external pressure that this contest inevitably brings. He has often shown his best under the pump, but then again, Kohli has never faced a situation quite like this one, that too in his first ICC event as captain.
THE WILDCARDS
India: Jasprit Bumrah
Quietly, and almost without fanfare, Bumrah has become amongst the best white-ball bowlers in world cricket today. His quirky action still poses problems to batsmen, and his ability to unerringly hit the yorker is a constant threat. Bumrah can crank up the pace too, and the bouncer is a genuine weapon in his hands. Called on to often bowl India's most difficult overs, he has shown calm under stress by keeping an uncluttered mind and clear focus.
Pakistan: Babar Azam.
Babar Azam once got Mickey Arthur, the Pakistan coach, to gush that he had a Kohli-like quality about him. Even though his international career is still young, the numbers illustrate why such high expectations might not be misplaced. In 26 ODIs, he has 1322 runs at an astounding average of 55.08 and a strike rate of 90.23. He's hit five centuries already to go with six fifties, and anyone who goes past 50 almost once every two innings has to have something special about him.
WATCH OUT FOR…
"If you can keep your head when all about you are losing theirs" … there has been nobody in cricket who personified this more than MS Dhoni. In an atmosphere of uncertainty that prevails and the high stakes, beyond-cricket nature of this match, his cool head will be even more invaluable than it already was. If people around him are flustered by events inside or outside, Dhoni can be relied on to not just keep his composure but calm those around him. And when the game becomes more about the mind, then it is generally the one that is the coolest that wins out.
TEAMS
India: Virat Kohli (capt), R Ashwin, Jasprit Bumrah, Shikhar Dhawan, MS Dhoni (wk), Ravindra Jadeja, Kedar Jadhav, Dinesh Karthik, Bhuvneshwar Kumar, Mohammed Shami, Hardik Pandya, Ajinkya Rahane, Rohit Sharma, Umesh Yadav, Yuvraj Singh.
Pakistan (XII): Sarfraz Ahmed (capt, wk), Ahmed Shehzad, Azhar Ali, Babar Azam, Faheem Ashraf, Hasan Ali, Imad Wasim, Mohammad Amir, Mohammad Hafeez, Shadab Khan, Shoaib Malik, Wahab Riaz.