Bairstow 89 props up stumbling England

Wisden India
26-11-2016
As the coin rolled along the pitch after having been propelled upwards by Virat Kohli's right thumb and pulled down by gravity, the wait for it to settle seemed interminable. Both Kohli and Alastair Cook would have loved for it to fall in their favour. In the event, the England captain's 'heads' turned out to be the correct call, and the visitors were delighted at getting first use of a pitch that, by all estimation, would be at its best behaviour on day one.
It is one thing winning the toss in India, it is quite another maximising doing so, especially when you come armed with generosity. At the end of an error-prone first session of the third Test at the PCA Stadium on Saturday (November 26), England outdid India in the mistakes stakes to leave themselves with a mountain to climb.
Throughout 2016, in crises and good times, they have always been well served by Jonny Bairstow. The highest scorer this calendar year by a distance, the ginger-haired wicketkeeper-batsman made the most of his elevation to No. 5 with a 10th 50-plus score to right the listing ship and steer England to a position of respectability, if not command.
Put down twice, both times by Parthiv Patel in his first Test since August 2008, Bairstow zeroed in on his fourth century before finally running out of luck, trapped in front late in the day by Jayant Yadav for a beautifully sculpted 89 that was constructed with due respect to the surface and the quality of the bowling. It was largely on the back of his tremendous batsmanship that England finished on 268 for 8.
Scores (Day 1): England: 268/8 against India
That was a huge improvement on their lunch-time score of 92 for 4, but whether they will be thrilled with the outcome of their day's exertions is another matter altogether. On a track that held up far better than most had feared, there was a succession of poor, soft, tame dismissals. Cook himself led the way with an extremely ill-advised stroke, either side of which Joe Root, Moeen Ali, Ben Stokes and Jos Buttler all threw their hands away.
There weren't any obvious demons on this day-one track. If anything, it was at its liveliest in the morning when both Mohammed Shami and Umesh Yadav asked serious questions of Cook and Haseeb Hameed. There was a little bit of swing, but surprisingly, there was also lateral movement which both pacemen exploited beautifully. With a little more luck and support, they would have struck early blows, but like they did in Rajkot, India let themselves down again with poor catching.
---
---
Ravindra Jadeja was slow to react at third slip when Shami squared Cook up with a beauty. The outside edge flew head-high to Jadeja's right, the fieldsman so stunned that he didn't even get a hand to the eminently catchable ball. That was in the third over, with the England captain on only 3; celebrating that let-off and making the most of the lightning-quick outfield that became even faster under a surprisingly harsh November sun, Cook played some excellent strokes between the play-and-miss routine, even as Hameed slipped into his preferred defensive mode.

As if dropping Cook once wasn't bad enough, India offered him another lifeline when R Ashwin – whose offspin was deemed superfluous for more than two hours either side of the tea interval – muffed a sitter at midwicket off Shami's first delivery from round the stumps. With Umesh already having got the ball to take off from a length, and have Hameed caught off the glove at gully, England ought to have been 32 for 2, Cook gone for 23.
Root began with customary flair and Cook seemed to bed in when spin was summoned. There was a discernible buzz even if just a couple of thousand fans dotted the uncovered stands. What will the ball do? How much with it turn? Will the bounce be up and down? These were the questions running through not just the minds of the spectators, but the players as well.
As it turned out, no pun intended, the ball didn't do too much. Whatever turn there was through the day was both minimal and slow, but with England's batsmen having arrived bearing gifts, India's spinners didn't get too much assistance in the first half of the day. Root played a lazy half-pull to be trapped in front by Jayant off the first ball after the first drinks break, and Cook made sure Ashwin didn't feel too bad by feathering the offie's first ball of the match, short and wide, to Parthiv, the little man's 400th catch in first-class cricket.

Cook's dismissal brought Bairstow in, and for the next 260 minutes, he batted with a commitment, a hunger, an application and a desire that didn't necessarily rub off on his mates. Shortly before lunch, he lost Moeen to a top-edged pull to finally offer Shami some joy, the delight shared by Parthiv and Kohli at slip indicating that this was a plan gone wonderfully right.
The familiar firm of Bairstow and Stokes was left holding the baby, this time for the fifth wicket as opposed to the sixth hitherto. As they have done all year, they immediately fell into a nice rhythm, feeding off each other and using the slowness of the pitch as a dear friend. Bairstow was brilliant in defence, left foot out right to the pitch of the ball to smother any turn when the ball was a little fuller, or going deep into his crease to defend off the back foot when the length was a little shorter. He worked the gaps and bustled energetically to make up for the lack of free-flowing boundaries; Stokes was just beginning to his stride when he charged Jadeja, played for non-existent turn and was stumped by a mile to end the stand at 57.
Slideshow: 25 most controversial cricketers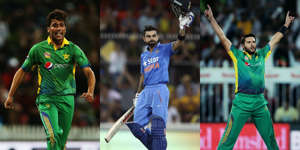 But if England were being philanthropic, India weren't to lag behind either. Ashwin drew Bairstow forward almost immediately and found the outside edge with a drifter, but Parthiv didn't wrap his gloves around the ball. It was a costly miss – the batsman was 54 of 156 for 5 then – as Bairstow shepherded the returning Buttler through a nervy early phase before the latter played characteristically robust strokes to thwart India's wicket-taking designs.

As the ball reached the 50-over mark and there was reverse to be had – even if it was neither dramatic nor late – Kohli dedicated the Pavilion End to Shami and Umesh and used Jadeja's left-arm spin for an 11-over spell from the other. India controlled the passage of play but England gradually kept swelling the score. Then, in keeping with the day's proceedings, Buttler decided he had had enough, charging and chipping Jadeja to extra-cover where Kohli duly terminated the 69-run alliance.
England bat deep, and that depth was both required and apparent when Chris Woakes arrived as Bairstow's next companion. India weren't as disciplined in the field as they were with the ball and so a few easy runs were there to be had; more gallingly from their point of view, while there was a little bit of discomfort, neither batsman appeared unduly troubled.
To add to their woes, Parthiv put Bairstow down again on 89, but just when Kohli and the rest were beginning to get hot under the collar, Jayant trapped him in front with the very next delivery, a beautiful drifter from round the stumps that broke back to trap him in front and deny him a merited century. India finished strongly when Umesh cleaned up Woakes with the second new ball in the penultimate over. But whose day was this, really?
Apart from Karun Nair's, that is. The Karnataka batsman was a late inclusion in the playing XI in place of KL Rahul, who aggravated a left forearm injury while batting in the nets on Friday.
Watch: Virat Kohli refutes ball tampering allegation