Bambi, Cheeku and the King of Spain

Wisden India
03-01-2017
If you google Sir Ravindra Jadeja, 421,000 results will pop up in 0.21 seconds. If you have the patience to go through a few search result pages, you'll find tweets from Mahendra Singh Dhoni, R Ashwin, Suresh Raina and others, sharing a joke about Jadeja.
Historically, cricketers have come up with funny, playful nicknames for their mates. Mark Waugh, for instance, was Junior, but also Afghan (after the forgotten war) and Audi (after he scored four consecutive ducks). Wisden India looks at some unusual nicknames.
Bombay Duck (Ajit Agarkar)
Ajit Agarkar has a Test century to his name, and that too at the iconic Lord's Cricket Ground in 2002. But a couple of years prior to that, he made seven consecutive ducks — one in Adelaide, and two each in Melbourne, Sydney and Mumbai – all against Australia. Predictably, Bombay Duck then.
Cheeku (Virat Kohli)
When Virat Kohli travelled with the Delhi team to Mumbai for a Ranji Trophy game, he decided that it was time for a new look. So he went in for a buzz cut. With the ears sticking out, his coach Ajit Chaudhary felt he resembled Cheeku, a rabbit in the comic series Champak. Cheeku, of course, is Sapodilla in English, and it was too good a name not to stick.
Hollywood (Shane Warne)
Shane Warne has always created ripples with his exploits on and off the field. While he bamboozled batsmen with his spin, maidens were bowled over by his charm. Warne, with his blonde hair and an ear ring in the early days of his career, was nicknamed Hollywood because of his larger-than-life persona.
Gogga (Paul Adams)
If you've seen Paul Adams in action, you must have wondered if he could see the batsman at all. Remembered for his unique action, Adams was named Gogga, which means insect in Afrikaans. Adams climbed the ranks fairly quickly and was named Gogga by Brian McMillan, his South Africa teammate. McMillan felt when Adams was about to deliver the ball, he looked like a Gogga. Adams has been described colourfully otherwise too, with Mike Gatting likening his action to a 'frog in a blender'.
Scooter (Herschelle Gibbs)
As a 16-year-old, Herschelle Gibbs ambitions didn't quite extend to taking bowling attacks apart. His greatest desire was to learn to drive a car, but without success.
Herschelle Gibbs is a well-built man. Though he's close 1.75 meters, he has thumped various bowling attacks during his international career, spanning from 1996 to 2010. But, when he was 16, he wanted to do more than tonk the bowlers all over the park. He wanted to drive a car but couldn't. In his autobiography, Gibbs revealed that his friends at Western Province would often joke about gift him a scooter instead. Since then, he has been Scooter.
Bambi (Ashton Agar)
Just about 15, Ashton Agar had already touched six feet in height. His lanky frame inevitably meant he would be called Bambi by his teammates, a name that has stood the test of time. As a 19-year-old, Agar was fast-tracked into Test cricket ahead of the more established Nathan Lyon. Agar went into the history books alright, but for his record 98 at No. 11 rather than in his craft of first choice, left-arm spin.
Postman (Brad Hogg)
Brad Hogg spent most of his childhood in a sheep farm in Williams, Western Australia. He started off as a postman, delivering mails in Perth, and hence the Postman. Like a hard-working postman, Hogg has seldom failed to deliver the goods in cricket too. Now a young 44, Hogg is getting the job done for Kolkata Knight Riders at this year's IPL.
King of Spain (Ashley Giles)
In 2004, Warwickshire Cricket Club wanted to celebrate the achievements of Ashley Giles, their all-time favourite spinner. The Club decided to print limited edition mugs with "King of Spin" printed on them. However, a printing error meant the mugs were given a royal touch and came back with "King of Spain" written on them. Since then, Giles has remained the King of Spain.
Son of Swampy (Shaun Marsh)
Shaun Marsh belongs to the famous Marsh family in Australian cricket. While Mitchell, his younger brother, is still in the early stages of his international career, his father Geoff played 50 Tests and 117 One-Day Internationals. Geoff was known as Swampy, so Shaun's teammates started calling him SoS — Son of Swampy. Not that creative, one has to admit.
Bumble (David Lloyd)
Michael Bentine, the late English comedian and actor, created The Bumblies, a television show for kids in 1954. David Lloyd's face, specifically his nose, has been likened to the Bumblies, hence he was named Bumble. 
Other honourable mentions: Jam (Rahul Dravid), Smokin' Joe (Sir Viv Richards), Beefy (Ian Botham), Jumbo (Anil Kumble).
Photos: Cricketers — Then and now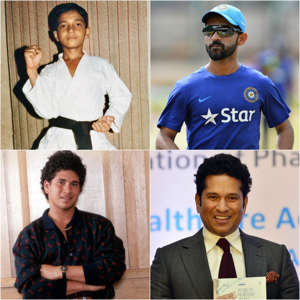 Watch: 23 funniest Inzamam-ul-Haq run outs
---
---