BCCI's image in the western world is absolutely wrong: Shastri

Wisden India
16-04-2016
I want to speak to you about the spinners actually. You came into the Indian side after the great quartet had been eased out. You played alongside some very fine spinners as well. How do you see the current crop, and the ones coming through?
I think they're very good, stable. It will be good to keep an eye on the IPL, and see which youngsters can be groomed to play Test cricket. I am not saying that if someone bowls well in the IPL, he should be picked for first-class or Test cricket. But he can be groomed. One thing you'll see in the IPL is who can handle pressure, because you are under the pump all the time. But otherwise, you have got (R) Ashwin, you've got (Ravindra) Jadeja, (Pawan) Negi … you've got Harbhajan (Singh) still there to contribute, you've got (Amit) Mishra. What you will really be looking to keep an eye on is legspin, because that will be very useful in the long run.
What do you think Ashwin has done, purely from a spinner's perspective? A couple of years ago, he looked like he was stuck in a rut, but there's been a huge transformation in the last 15 to 20 months.
I think he went back to bowling his offspin. He went back to focusing on his strength, which was the offbreak. He added a lot of guile to his bowling by slowing it up, bowling the right lines and hitting the right lengths. I thought his bowling against (Kumar) Sangakkara in Sri Lanka was as good a piece of offspin bowling as you'll ever see. He was landing the ball on a coin, where a great player couldn't move.
I thought he started bowling really well in Australia. After he was dropped (in Adelaide), he bowled a great spell in Melbourne. He didn't get wickets, but kept India in the game and then got better. But when there is help in the track, he can be nasty, because he is tall and he's got bounce, he's got turn, he's got variety. And he's a thinking bowler, with a very good temperament.
How much of an influence have you had on the spinners in terms of working with them?
I think Bharat Arun has done a fabulous job as bowling coach. But we are constantly communicating. Arun might be talking to Ashwin, talking to me, passing on the messages from our discussion to Ashwin. Sometimes I am right there in the thick of the conversation, whether it is Mishra, whether it is Jaddu, whether it is Ash. At the end of the day, it is just about making a guy feel comfortable and making him feel that we are open to dialogue. We are not rigid or bull-headed. You might have a point, why not give it a go? If it doesn't work, then come back to what we have been discussing. But I am always one to allow the talent to try whatever he wants, before falling back – if it doesn't work – on what has been discussed.
After India come back from the West Indies in August, there are home series against three really difficult sides – New Zealand, England and Australia – back to back. Do you think this could be a make-or-break season for a number of players?
Could be. And like you rightly mentioned, it's probably the toughest home season in many years, because you've got teams with a lot of talent and with a lot of all-round skills. So even if we're at home, we will have to be right on top of our game.
We obviously don't know whether your contract is going to be renewed or not. But would you like to be part of that scenario?
I have had a discussion much earlier with the board on as to where things should go, and how. At the end of the day, they are my employers. They are the ones who are going to make the decision. So whatever I have grasped in these 18 months, I have let them know.
My question is, is your hat in the ring? Would you be interested in being part of that?
See, it is a very challenging job. It has been a very enjoyable job. It is a very important moment in Indian cricket. When the moment is important, Ravi Shastri is the last one to back away. So if you're asking if my hat is in the ring, it is in there. Maybe three hats!
I just want to come to the IPL now. It is obviously a subject that divides opinion drastically wherever you go, whether in India or outside. You have been one of the biggest backers from day one. What do you think IPL has actually done for Indian cricket?
What it has done, let's cut straight to the chase … a World Cup, two semifinals (2015 World Cup and World Twenty20 2016) and a final (World T20 2014), as simple as that.
You skipped the Champions Trophy …
Champions Trophy winners (2013), Asia Cup winners (2010 and 2016) … I have nothing to add. People are expecting razzmatazz, entertainment, all that crap. No, look purely at cricket. It has helped because it has been an unbelievable platform to showcase talent for two months. And it is the quality of cricket that makes the IPL.
Is it just talent though, because I am thinking if you are a young aspiring player and you are playing in front of 50,000 screaming fans, somewhere it has to harden you mentally?
Of course it will. Sitting in the dressing room with the greats of the game. If you look at each team, they have got world-class players. So for a young guy, who has probably played one Ranji Trophy match or none at all, it is an eye-opener. The amount he can learn in those two months, it would take him years and years, if there was no IPL.
You see a Virat Kohli batting from ten yards. You are sitting ten yards away from a Chris Gayle in the dressing room, or an AB de Villiers or an MS Dhoni. For a young kid, it is what dreams are made of.
I was drinking a glass of beer when I saw (Gundappa) Viswanath at Koshy's in Bangalore. And the beer almost fell. He was my childhood hero. Everything was left aside, and I had to go and say hello and take an autograph. Here, you are rubbing shoulders with the best, almost even before you have started in some cases. And even if you think that you have achieved much, there is a challenge for you.
So the bar is always raised, which is fabulous. A Rohit Sharma sees a Ricky Ponting as his mentor and coach, and says I want to show him I can bat also. It is a challenge, it is brilliant, and people look at all the other things. I say put all the other things in a small bag and shove it aside. For me, it is the cricket of the IPL that matters the most. It's the cake, with a cherry on top.
I want to talk to you about young players here, because I recently read a Hardik Pandya interview where he said: 'I like to live life king size'. And, let's be honest, that's what the young generation is like. It's not just young cricketers, it is young journalists, it's young people in every walk of life wanting to have a good time. Does the fact that you, let's face it, also had a good time when you were a player, make it easier for you to mentor these guys?
Much easier, because I know how I played the game. For me, switch on-switch off is the way to go. I don't care what a player does, where he goes, what he does, that's his headache. But if that's going to be a distraction and that is going to affect his cricket, then I will be the first one to step in there and let him know in no uncertain terms.
When you are playing at that level, you should know your responsibilities. The number one thing you are doing if you drop your guard, because of some other reasons, is you are letting your team down. Then I, on behalf of the team, will let him know we are not going to have that. You don't change anything, each one to his own. But never forget what you are in the side for.
My question was slightly different. When you have someone who has been there and done that tell you something, you tend to take it more seriously than someone who just tells you not to do it.
You do. Because when I say 'don't do it', it comes with a lot of experience (smiles). At the end of the day, you have to enjoy yourself. If you are going to build pressure on yourself and then go out and play the game, then you will never be to be able to express yourself on the field. So stay nice and relaxed off the field.
Talking about a philosophy to the game, I remember Richards telling me that nobody cared how you enjoyed yourself off the field, as long as you went and performed on it.
Mine's similar. Keep things simple.
You think the players feed off that approach too?
Of course they do. Because they know they will have to go through some serious gym sessions in the morning. And if they are up to any antics, the trainer and the physio will find out in no time. Word will spread, and then I am the last person you want to walk up to you and say: 'watch out'.
Coming to the BCCI, how much harm do you think has been done by not having a proper communications strategy. There have been some worthwhile initiatives in the past few years, like pensions and one-time payments for ex-players, which have been obscured by the overwhelming negativity that surrounds the board.
That shocks me. Because people keep telling me that you are the mouthpiece of the BCCI. I ask, what's wrong with you guys? If I am what I am today, it's because of the opportunities I got from the time I was a young guy. And nothing has changed. The IPL is a BCCI product. When a youngster gets in there, it is an opportunity, a platform given by the parent body.
And you are right. No board in the world has done as much for the players as the BCCI. And this is not just now. It goes back 20 years, when you had the benevolent fund. The pension thing started about eight years ago. And then the one-time benefits. People say 'players' association'. I ask why you need one when the board really looks after you.
The grass is always greener on the other side. You might feel, from a players' point of view, something more should come. From the board's point of view, that's enough. But the only way you can sort it out is through proper dialogue. And it has happened. In the last two or three years, there has been no issue whatsoever. You tell me of one player who has complained in the last eight to ten years. They might say the board could do better. So, coming to your question, I am amazed. Either someone doesn't want to write the truth or …
© Wisden

But part of it is also bad media management on behalf of the BCCI?
Probably.
You look at an organisation like the England and Wales Cricket Board ECB and all the positive publicity gained from projects like Chance to Shine.
I believe you can always learn. That's an area that needs improvement, and I'm sure the BCCI will be looking into it. We now have a media manager with us, who has done an excellent job. At least, the boys know when they have to go out and give an interview, when is the press conference. It has been very good, and we have sent all our players. You cannot tell me I have sent only one player.
What about the players' association though, especially given how hectic the schedules are? Don't you think that it makes sense for the players to have a greater voice?
I won't say a players' association as such is needed. You need a committee, with people of credibility and integrity. You don't need too many. You need just three people, who can interact between the board and the players. Where's the need for an association? When it comes to money matters, when it comes to looking after the players, I think the BCCI have done a fabulous job, which is absolutely misinterpreted in the media. Absolutely misinterpreted. You tell me one player who has complained in the last, maybe, ten years.
Some would say that is out of fear.
It is not out of fear. What's there to complain about? You tell me. I am not a player, there's no fear here. You tell me one thing from a player's point of view. I have been with the team more than 18 months as director. Yes, there are certain areas which can be improved, but that will come with dialogue. The board's entire image, which is out there in the 'western' world, is absolutely wrong.
So, in a sense, what is needed is an image makeover?
Correct. I am speaking from the inside, and I am not scared of seeing it as it is. Yes, in the 1980s and the '90s, when we were playing, there were a lot of issues. But you don't have it now. In the last ten years, it's been outstanding.
The recommendations on BCCI reform and structural change for Indian cricket … where do you stand on that?
I think it is good in a way that there's a neutral body out there helping you with improving the structure and governance and things of that sort. But there also, I feel there should be a dialogue as to what is realistic and logical as opposed to what is not. Otherwise, I don't think there are too many areas that you have to fix. If the court feels there are certain areas that are very important in the long run, fair enough, open a dialogue. Looking at the performance of the Indian cricket team over the last ten years … you can't be doing that if you are not well looked after by the board. Look at our performances in the last eighteen months. We are ranked 2, 2 and 1 in the three formats. And that can't happen if you have people within the system who are not interested in the game. If, by any chance, it was the other way around, you would have heard from me straight.
Slideshow: 25 cricket world records you must know about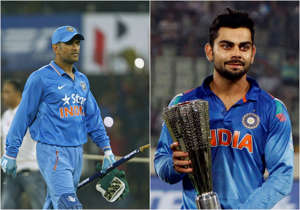 Watch: Biggest sixes ever in cricket history