BCCI 'Unhappy' With Anil Kumble As Head Coach, Seeks Replacement

NDTV
25-05-2017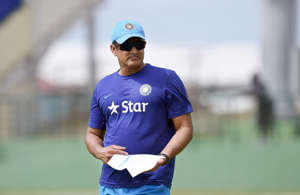 Hours after the Indian cricket team left for their Champions Trophy campaign, the Indian cricket board issued a press release, inviting applications for the position of the Head Coach for the men's team. While the board has not made any obvious connection between the two, sources in the Board of Control for Cricket in India (BCCI) have told NDTV that they are 'unhappy' with Kumble's role in players' pay negotiations just before the IPL final.
Anil Kumble spoke to the Committee of Administrators (CoA), while Virat Kohli joined on Skype, asking for 150 per cent hike in the retainership of the Grade A players. Also, Kumble himself demanded Rs 7.5 crore per annum. His present salary is around Rs 6.25 crore.
The release, headlined 'Applications invited for the position of Head Coach for Indian Cricket Team (Men)', states: "The Board of Control for Cricket in India (BCCI) would like to call upon interested candidates to apply for the position of 'Head Coach' for Indian Cricket Team (Men).
Photos: Anil Kumble's journey through the lens
(Slideshow provided by Indian Express)
"The process has been initiated since the term of the current coach, Mr. Anil Kumble concludes with the Champions Trophy," it further said.
"Present Head Coach, Mr. Anil Kumble will be a direct entry for the process.
"To ensure a fair and completely transparent process, a nominee of the Committee of Administrators (CoA) will oversee the entire process along with the Cricket Advisory Committee," it added.
Watch: BCCI invites applicants for Team India coach
(Video provided by The Times of India)
"The BCCI's three-member Cricket Advisory Committee comprising Mr. Sachin Tendulkar, Mr. Sourav Ganguly and Mr. VVS Laxman will conduct interviews and seek presentations to select the best possible candidate to guide the team and take Indian Cricket forward," it adds.
While the administrators have given a chance to the bowling legend to return to the top job, they aren't making his road easy.
He will once again have to send his CV and appear for an interview with the Cricket Advisory Committee of Ganguly, Tendulkar and Laxman.
Some in the cricket circles feel, "the legendary player has been insulted by the BCCI and the process could have been done after the Champions Trophy was over."
Kumble has also asked for a promotion of Sanjay Bangar as the assistant coach and Zaheer Khan as bowling coach.