BCCI warns Lokesh Rahul over beer photos: Reports

India Today
17-07-2016
The Indian cricket team members, who are touring West Indies for a four-Test series, have been making the most of their time in between the practise games at the scenic beaches in the Caribbean islands.

The Virat Kohli-led unit hit the beach right after they landed in West Indies and unwinded themselves with a game of volleyball. After playing out a draw against West Indies Cricket Board President's XI in the first practice game, the Indian team again took time off the busy training schedule at another island. Team India members were seen diving into the waters and posing for photographs clicked by their newly-appointed coach Anil Kumble.
All was well for the young men until a photograph in which Lokesh Rahul was seen posing with a beer pint alongside Umesh Yadav, Stuart Binny and a member from the management team.
Slideshow: Most controversial statements by cricketers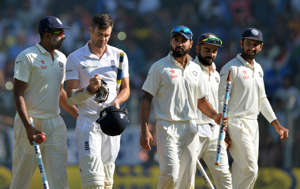 BCCI, which was miffed at the players for 'setting a bad example' asked the manager to send a message to behave on the tour.

"Some of the BCCI officials aren't happy with players posting such images on social media. There has been no written communication, but the manager has been asked to send a message to the players to ensure that nothing that could set a bad example should be posted online," a BCCI official was quoted as saying by The Hindu.
"Many kids blindly follow the star cricketers' actions on and off the field, so our boys have got to always keep that in mind. They should always consider the sense and sensitivities of Indian cricket fans," another BCCI official told the media.
RAHUL LIKELY TO MAKE PLAYING XI

The photograph, that was going viral on social media, was deleted from the player's social media handle after BCCI's stern reaction.
Notably, Rahul has smashed two half-centuries against the WICB President's XI team with the latest one coming at Basseterre yesterday. The Karnataka batsman who has been in good form is likely to make the playing XI in the first Test against West Indies, starting July 21.
More from India Today

India Today