Bench comes good as India hand UAE thrashing

Wisden India
04-03-2016
With the spot in the final of the Asia Cup 2016 sealed, India chose to tone things down, leaving out three of their first-choice bowlers and bringing in the reserves. But when a team is on a roll, most things they do turn out right, and so it was at Sher-e-Bangla National Stadium in Mirpur on Thursday (March 3), as India kept UAE to 81 for 9 and knocked off the runs in 10.1 overs for a nine-wicket win.
Ashish Nehra, R Ashwin and Ravindra Jadeja sat out the match, but UAE still managed only a small score, Shaiman Anwar scoring more than half the runs. That was never likely to test India, and it didn't apart from Shikhar Dhawan. But Rohit Sharma was imperious to start with, and so was Yuvraj Singh, as a comprehensive win was scripted.
There wasn't much more than academic interest at play in this match, but it confirmed to MS Dhoni & Co. that the bench is in decent shape. And, if it needed reiterating, the UAE boys were told just how far behind the top they were. Again, though, they fought hard with the ball after yet another insipid batting display.
Insipid might not be the right descriptor for Dhawan's batting, but scratchy, stuttering and nervy are. Not only did he hardly get bat to ball, especially against Mohammad Naveed's 140kph deliveries, but when he did in the third over of the innings, he was caught behind; the umpire missed it – both the deviation and the loud sound. For the longest time, he played and missed, and when he connected, he found the fielders.
At the start, though, Rohit made sure the lack of runs from Dhawan's end didn't matter, as he stroked his way around freely, the clouted six over cover and flicked four past midwicket in an Amjad Javed over the best of the lot. Rohit went on, a couple of streaky strokes along the way, as he made 39 in 28 balls in a first-wicket stand of 43 – the score India ended the Power Play at.
After he was gone, Yuvraj took charge, ending unbeaten on 25 from 14 balls with four fours and a six, and Dhawan walked off with him with 16 from 20 balls.
But the first half of the match wasn't without talking points.
Between the swings and misses and edges from the UAE batsmen, Bhuvneshwar Kumar showed that he has added muscle behind his deliveries, bowling upwards of 135kph at will, without losing the accuracy of old. He gave away not a run in his first two overs, the second a wicket maiden, and gave the ball a lovely shape in both directions, ending with figures of 2 for 8 in four overs.
Jasprit Bumrah did as Jasprit Bumrah does, while Hardik Pandya hit the 140s with ease and troubled the batsmen no end, all while adding some good zip on the field. The run-in-from-the-deep-and-dive forward catch he took to dismiss Muhammad Kaleem was a special one, one that the bowler, Yuvraj, would have been proud of.
Harbhajan Singh bowled with enthusiasm, getting a few to grip hard on the brown surface and turn away beautifully from the left-handers.
And Pawan Negi, the debutant; he started nervily, but looked all right after a first over that went for ten runs and also got him his maiden international wicket, Muhammad Usman holing out to long-on.
It was Harbhajan who took that catch, and next over, the roles were reversed as a tame lob from Amjad went to mid-on. Not Harbhajan's maiden international wicket – it was his 711th actually – but it was the first for him since getting Farhaan Behardien out in a One-Day International in Mumbai on October 25 last year.
The best thing about the Indian fielding performance was the fact that though the usual buzz was missing, on the field and in the near-empty stands, there were no lapses bar the one time Suresh Raina fluffed an offer from Rohan Mustafa off Bhuvneshwar early on. Raina flew across from second slip when the ball would have gone to Rohit at first slip, and sent it over the cordon for four.
Through it all, Shaiman fought on, taking UAE forward and giving them a chance; not for the first time either. He started out top-edging a couple, missing the line here and there, and inside-edging one on to his pads. But in an innings that had four maiden overs in the first ten and 77 dot balls overall (45 before the halfway stage), his effort shone bright.
Bar Amjad, Shaiman, the man who made such a splash with his 106 in a losing cause against Ireland at the 2015 50-over World Cup, was the only UAE man to leave a mark at the Asia Cup. He was run out with one ball left in the innings for a 48-ball 43, with three fours and a straight six off Bumrah.
Watch — India-Pak WT20: Can't change Dharamsala as venue, says BCCI
Slideshow: Cricketers —Then and now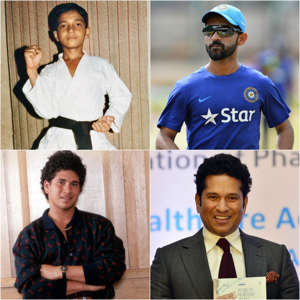 Cricketers: Then and now