Beyond Jeetan and Sodhi, an Indian buzz in the land of opportunity

Wisden India
02-10-2016
In a sleepy little town in New Zealand called Kaitangata, there was a problem so pressing that its 800-odd inhabitants decided to take the matter into their own hands and publicise it. The problem: There were simply too many job opportunities, too many affordable living spaces, and no one taking advantage of them.

Overnight, that changed. Over 10,000 people from around the globe responded, suggesting they were ready to pack their suitcases and book a plane ticket to head on over there. That sleepy little town is now wide awake.
This shouldn't come as a surprise. The land of The Lord Of The Rings and Lorde offers opportunities galore, be it in business, education or sport. Think Lydia Ko, the World No. 1 in women's golf, who was born in Korea and proudly considers herself a 'Kowi' (Korean plus Kiwi). Closer home, there's Ish Sodhi and Jeetan Patel, who are in the New Zealand squad for the second and third Tests against India. Sodhi moved to New Zealand as a youngster, while Jeetan was born there. But that's not just a random statistical nugget. If you scratch the surface, you'll find there are several Indian-origin cricketers making a name for themselves.
Unlike India's Ranji Trophy, which will have 28 teams duking it out in the 2016-17 season, there are only six in New Zealand's domestic circuit: Auckland Aces, Canterbury Wizards, Central Districts Stags, Northern Districts Knights, Otago Volts and Wellington Firebirds.
That Auckland were the winners of the Plunket Shield, the country's premier first-class tournament, earlier this year had quite a bit to do with Jeet Raval and Tarun Nethula, the side's opening batsman and premier legspinner respectively. Raval recently received a call-up to the Test squad for the tour of Zimbabwe and South Africa and the day may not be far off when he becomes the fourth Indian New Zealander to represent the country in Tests, after Deepak Patel, Jeetan and Sodhi.

Born in Ahmedabad, Raval's interest in cricket blossomed after participating in a coaching clinic at HL College of Commerce. It was the same institution Parthiv Patel was enrolled in and to see him play for India at age 17 was pretty inspiring for Raval. Back then, he fancied himself as a medium-fast bowler, and it wasn't until his first game for Gujarat Under-15 where he only bowled four overs and batted out 95 balls at No. 8, that the coach realised he was better off with a bat in hand. A hundred in the next outing up the order sealed the deal, but these games also showed him a glimpse of India's future players – Ajinkya Rahane, Cheteshwar Pujara and Ravindra Jadeja.
Before he could establish himself as worthy competition, he was informed by his parents that they would all be moving to New Zealand. He wasn't too keen, though. "I completely hated moving to New Zealand in the beginning," Raval tells Wisden India. "It was especially difficult because being from Gujarat, we don't speak a lot of English; Gujarati was my main language."
Slideshow: 25 most controversial cricketers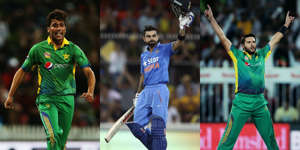 He would ask people to repeat what they said twice or thrice and they would oblige and slowly, he began picking up the language and the accent. Fast forward to present day and the fluency with which he speaks makes it clear that he has gotten over his fears of inadequacy in English and also his misgivings about the move. New friends along the way have helped. Martin Guptill was one, a fellow Avondale College boy and later teammate at Auckland. Nethula was another.

Like Raval, Hyderabad-born Nethula, too, played cricket in India – for Hyderabad Under-13s – before his family decided to shift. Adjusting to a new country is tough enough, but he also had to deal with his mother passing away soon after. He could have easily let loneliness consume him, but cricket turned out to be a good distraction and at Mt Roskill Grammar School, he was introduced to people in the Auckland set-up. In his debut season in first-class cricket, Nethula formed an excellent working relationship with Mark O'Donnell, the coach, and picked up 28 wickets to help the side win the State Championship. But it wasn't until a few years down the road in 2009 that he earned a call-up to the One-Day International squad. The numbers – five wickets in five matches at 49.80 – would suggest he had a rough time, but he remains grateful that he got the chance to play under Brendon McCullum, long before he was hailed as New Zealand's answer to Captain America.
After that burst in 2012, Nethula faded from international cricket, but he is still a key cog in the Auckland team. After all, finishing as the second-highest wicket-taker with 39 wickets in the 2015-16 Plunket Shield is an impressive feat at age 32. What he most appreciates about his journey is New Zealand's emphasis on sports at a young age, offering the example of his son who plays rugby in the winter, football at school, and trials for cricket in the summer.
"Kids are allowed to just play and experience things as opposed to putting them on a certain path," he says. "It's not about creating a career pathway; it's just about being active, fit and giving things a go. And it's never just one sport, kids are encouraged to try their hand at every sport. It's quite different from how it is in India."
Raval agrees, adding, "If you take math or English at school, you have to also take sports as a subject here. There's no escaping it."
Which is why New Zealand currently ranks as the second-greatest sporting nation on a per capita basis. India is at the other end of the spectrum, where a sporting culture is sadly almost non-existent save for cricket. Here, the only exercise schools provide for kids on a daily basis is having them lug around a backpack that is roughly half their weight.
It's not that children in New Zealand shirk schoolwork. In fact, if someone is not academically up to the mark, he or she will likely get kicked out of the team. It's all about balancing the two, which Navin Patel, the Central Districts fast bowler, has mastered.
Navin, born in Birmingham, moved to New Zealand when he was nine and is in his fourth and final year at Victoria University studying Bachelor of Commerce and Bachelor of Science. He wants to be an actuary, but also harbours hope of playing for the national team one day. How does that work? Well, he starts his day with a gym session before heading for his classes. He wraps up by 5pm and then does a couple of hours of training with the Central Districts coaches. If he can't attend a lecture, he has to be proactive and notify his course coordinator well in advance. "With an Indian background, it's always important to have education first. Once I finish my final exams, I can focus on cricket knowing that I've got my degree behind me," he explains.
Work hard and reap the rewards. But in India it's not always so straightforward. The competition can be cut-throat. Some may jump the queue with help from an influential relative. Or stretch the truth when it comes to their age.

Raval, who is aware of such goings-on back in India, says, "It's a very foreign concept for people here. You don't come across such situations where guys try to force their way through their contacts or age fudging. If you do well, you will get opportunities down the line."
Bharat Popli and Ajaz Patel would agree. Popli, the Northern Districts batsman, was the highest scorer in the 2015-16 Plunket Shield with 1149 runs. Only four others – Martin Crowe, Jeff Crowe, Graeme Hick and Michael Papps – have gone past 1000 runs in the country's domestic season, and he was recognised for his efforts, winning Domestic Cricketer of the Year in April. Ajaz, the Central Districts left-arm spinner, also was a force to reckon with, ending the tournament as the highest wicket-taker with 43 scalps. While Ajaz, who moved from Mumbai at six, has been a guiding hand for Navin, Popli, who moved from New Delhi when he was 11 and grew up in Tauranga, had the good fortune of playing alongside Kane Williamson.
Additionally, in the Northern Districts team, Popli had Sodhi as well as Anurag Verma, the fast bowler, for company before the latter shifted to Wellington. Verma, who moved from Kanpur at nine, grew up playing with and against Popli and studying engineering with him as well, while he met Sodhi later. On the camaraderie they share, Verma lets us in on an inside story: "All three of us are very good friends and, naturally, us Indians have to stick together playing in a team especially when Tim Southee is there. Tim loves to be a bully and it used to be me alone putting up with his humour but since Ish and Bharat came along, things have got a bit easier."
But while their Indian heritage is something all the players we have spoken to don't disown, they are emphatic about being a "fully-converted Kiwi", just like Neil Wagner said he is to journalists at his hometown of Centurion a month ago. That could explain why Verma, despite his love for Indian food, can't handle anything spicy. "My mates here always bring this up to embarrass me whenever we go to an Indian restaurant and I order a medium to mild dish," he reveals.

Raval explains it best, though: "I think my parents still have their heart with the Indian side because that's how they grew up, but I'm a Kiwi at heart and the Black Caps are my team. If India is playing any other team than Black Caps, then I'd support India."
For whatever reason, inspiring loyalty among those who have made New Zealand their home and acceptance of them is something the country does better than other cricketing nations. In England, Kevin Pietersen's South African heritage and outsider status was mentioned in the media to the point of exhaustion. Even the more mild-mannered Eoin Morgan wasn't spared, his refusal to sing the national anthem earning him plenty of flak. In New Zealand, everyone just seems more accommodating. Of course, if the Indian team comes visiting, there'll be overwhelming support at the grounds, but that will be met with an understanding shrug rather than annoyance.
"New Zealand is very special that way," says Navin. "Just the welcoming nature of the culture allows you to settle in and everyone encourages you to get involved so you never feel like an outsider. You always feel accepted."
The grass isn't always greener on the other side, but according to the growing Indian-New Zealander demographic in cricket, the picturesque country, with its plentiful opportunities, might just be the exception.