Biggest mistakes MS Dhoni committed

NDTV
09-07-2017
Former India captain Mahendra Singh Dhoni is always on the ball, not just on the cricket field but also while giving statements to the media. But after holding numerous press conferences, even the best are likely to make a few mistakes. So here are the top 5 quotes that landed the usually suave MS Dhoni into trouble.

NO TECHNIQUE FOR TESTS:
"I don't have the technique to play Test cricket," Dhoni said before the start of the Australian tour. Okay, he was never known for his batting technique, but public admission of the same, right before the start of the Australian series, only raised more questions about Dhoni's role in the Indian Test team.
FORGETS YUSUF'S NAME:
MS Dhoni has often been blamed for not showing enough faith in Yusuf Pathan and the suspicion only grew stronger after the Indian skipper forgot his name at the start of an ODI in South Africa last year. After the toss, Dhoni said: "Piyush, and I can't remember the 4th guy who is not playing".
RETIREMENT FROM TESTS:
"I don't think my body will allow me to play Tests post 2013 because I will have to see will I play the 2015 World Cup," skipper said during the Border-Gavaskar Series. There was no problem in saying that he would not play Tests post 2013, but Dhoni saying this in the middle of a crucial Test series was what created a big controversy.
SHOW OF UNITY:
This one wasn't a result of Dhoni's statement but his actions instead. The entire Indian team walked into the press conference room during the World T20 in England in 2009. They posed for the camera - driving home the point that here was no rift in the team. While that might have been the case, what infuriated the media was the fact that the captain refused to address the press ahead of a crucial match.
SENIORS ARE SLOW:
And this is the deadliest of all. "They are safe fielders but on the slower side, they can end up getting injured in big Australian grounds," Dhoni said about the senior players (Sachin Tendulkar, Virender Sehwag and Gautam Gambhir). This comment landed MS Dhoni into the biggest controversy of his career so far. While there is no doubting the fact that the skipper was well within his rights to say that, the problem arose when he raised fingers at two legends of Indian cricket Tendulkar and Sehwag.
Slideshow: Rare Images of MS Dhoni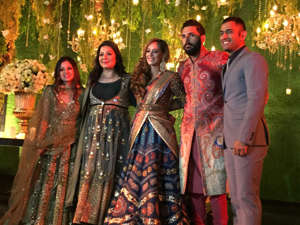 Watch: Best Helicopter Shots in Cricket History 2016
(Video provided by Dailymotion)