Bizarre! Batsmen continue to find different ways of getting out, watch videos

The Indian Express
03-05-2017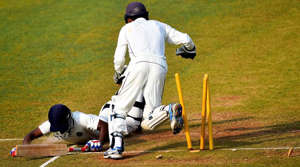 Cricketing rules are such that batsmen feel unlucky about the way they are dismissed and have to go back to the pavilion. One such instance came when Australia's Mitchell Starc dismissed an English batsman not with with his bowling but with a throw of his in the follow through. Starc grabbed the ball during his follow through and threw it back towards the stumps which was stopped by the batsman with his hands. As per the rules, a batsman was given out obstructing the field.
Pakistan's Anwar Ali was once out obstructing the field against South Africa when he came in the line of the throw from the wicket-keeper's end deliberately and was sent back in the hut for obstructing the field. In one of the editions of the Indian Premier League, Yusuf Pathan was dismissed against Pune Warriors India while playing Kolkata Knight Riders. He blocked a york-length ball from Wayne Parnell and tried to rush for a single and in the process kicked the ball away. On the appeal of the fielders he was declared out by the umpires. Here we take a look at some more such dismissals.
In the 2007 Test series against the West Indies in Manchester, England's Kevin Pietersen was struck on his helmet, which came off his head and toppled on to the stumps. Back in 1999, Sachin Tendulkar had been given out leg-before after he ducked into a Glenn McGrath bouncer that bounced less than he expected. The ball had struck him on his shoulder.

Photos: 25 cricket facts you won't believe ever existed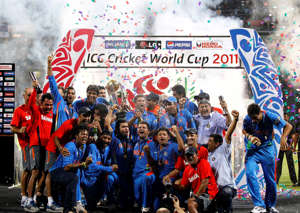 Watch: 5 times Dhoni stumped us with his wit
(Video provided by NDTV)