Boris Becker and tennis star's dapper son Noah to visit Delhi, Kolkata

Hindustan Times
06-12-2016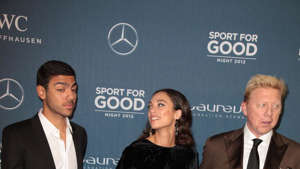 The dapper father-son duo of Boris Becker and Noah Gabriel Becker will be in India next week on business. Apart from promoting a leading footwear brand, the former Wimbledon champion will flag off a long-distance race in Kolkata.

Boris Becker and Noah arrive in Delhi on December 16. Becker will promote a classic brand of shoes he wore when he won Wimbledon at the age of 17. He will inaugurate a 25 km race in Kolkata on December 18.
This all-white leather and bright red form stripe shoe was the first mid- top tennis footwear ever to be made that supported Becker's ankles and his robust playing style.
But a lot of spotlight will be on Noah Becker. The 22-year-old is an upcoming DJ and quite famous in the European music circuit. He is expected to perform on December 16 in front of a select crowd.
Noah is the son of Boris Becker's former model wife, Barbara Feltus. He was born during the couple's seven-year-long marriage and named after Becker's close friend and French Davis Cup captain, Yannick Noah.
Boris and Barbara had another son, Elias, born in 1999, before their marriage ended in 2000, a year after Boris retired from professional tennis.
Just like his dad, Noah is known to be a ladies' man. Noah has been linked to singer Lenny Kravitz's daughter Zoe and Rafaela Sanchez.
Former world number one Boris Becker married for a second time. He and his new wife Lilly have a six-year-old son Amadeus.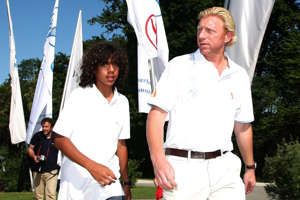 Becker not sure to coach Djokovic
Meanwhile, Becker is not sure if he will continue to be Novak Djokovic's coach next year. Djokovic won six Grand Slams after appointing Becker as coach in December 2013 but that equation seems to have changed after the Serb lost his world No. 1 ranking to Andy Murray.
"We are in the process, but I can't tell you anything more than that," Becker, a six-time major winner told the Daily Mail. "I couldn't tell you yes and I couldn't tell you no."
"I truly enjoyed the last three years; I had a blast," added Becker. "I was in my element and I will continue to be in my element in the future. No regrets, it was an unbelievable ride."