Boxer Amir Khan warns Vijender Singh: Be careful what you wish for kid!

India Today
19-07-2016
With talks flying around of a possible bout between British boxing star Amir Khan and India's new Asia-pacific Super Middle weight champion Vijender Singh, the former shot out a warning to the Bhiwani lad.
Pakistan-origin Amir Khan tweeted: "Congratulations to @boxervijender on the win. Careful what you wish for kid!"
Khan, a former Olympic silver-medallist and WBA lightweight world champion, is not in the same weight category. But 30-year-old Vijender said he wished if at all this fight can happen, it happens in India.
After winning his 10-round bout with Kerry Hope in Delhi on Sunday, Vijender has indicated he looks forward to such a clash.
"Mine and Amir's weight categories are different. So, in case he increases his weight or I decrease mine then we can work it out. We are thinking about it, so let's see. I hope that when that big fight happens, it happens in India only."
Earlier also, the two boxers have exchanged words over a possible bout and Amir has expressed keenness for a fight against Vijender.
Vijender Singh won his seventh straight pro-bout and the Super Middleweight title by outlasting former WBC European champion Kerry Hope in a 10-round contest, cheered vociferously by delirious home fans on Saturday night.
Photos: India's greatest sportspersons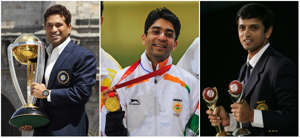 India's greatest sportspersons
More from India Today

India Today