Brad Hogg reveals considering suicide

Wisden India
31-10-2016
Brad Hogg has revealed in a new book that retirement and a breakdown of his marriage had led to him contemplating suicide in the mid-2000s.
After seven Tests and being a key part of Australia's 2003 and 2007 World Cup-winning sides, Hogg said he had no option but to initially retire from all forms of cricket in 2007-08 in a bid to save his marriage with then wife Andrea.
In The Wrong 'Un, his autobiography that was released on Monday (October 31), the former Australia chinaman bowler detailed the depths he plummeted in the next three years when, unable to save the marriage, he turned to alcohol and was unable to find contentment in an office job.
"I parked my car at (Fremantle's) Port Beach and went for a walk," he has written in the book. "I'd stare at the sea and think, I could swim out to that groyne (stone or concrete structure), and if I make it back, fine. If I don't make it back … well, hard luck."
"I was prepared to let fate decide. I was in a really dark place. I did that drive four times. And each time I thought about doing something really drastic. Thinking and doing are two completely different things, thankfully."
Hogg, however, bounced back and, after a stint as TV commentator, returned to playing Twenty20 league cricket in various parts of the world and even got a call-up to the Australian World T20 2012 and 2014 sides. Hogg ended his career with 17 wickets from seven Tests, 156 wickets from 123 One-Day Internationals, and 125 wickets from 125 T20 matches, including seven from 15 T20Is.

Last year, he became the oldest player to feature in an Indian Premier League match at the age of 44 for Kolkata Knight Riders, and at 45, remained a part of Melbourne Renegades in the Big Bash League.
Slideshow: Most controversial statements by cricketers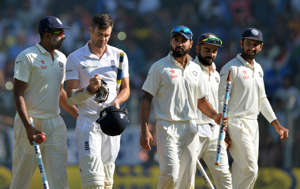 Watch: When AB De Villiers smashed 169 vs Australia