Bradman to de Villiers: 10 superstars who were rockstars

Wisden India
12-07-2016
What do Don Bradman, Brett Lee, Graeme Swann, Sanjay Manjrekar and AB de Villiers have in common? No, it's not just their love for cricket, but more so, being multi-talented. Apart from being proficient cricketers, they all have been music aficionados in their own right, leaving an indelible mark in the field – for one reason or another. Wisden India puts together ten cricketers who have gone that extra mile to convert their love for music to something substantial.
Sir Donald Bradman
Possessing a batting average of 99.94, surely batting was the only thing Bradman could have been an enviously good at, right? Wrong. Bradman was not just a cricket prodigy, but also a piano enthusiast and composer too. His sister, Lilian, who was a piano instructor, helped him in his musical endeavours, but his tryst with music began as a boy soprano in his school choir. During the 1930 tour of England, he recorded two piano pieces at the Columbia Record Studios – 'Old Fashioned Locket' and 'Our Bungalow of Dreams', but most notable was his track, 'Every day is a rainbow for me'. Given Bradman's stature in world cricket, everyday could have most certainly been a rainbow for him; after all, he had more than just one pot of gold. 

Brett Lee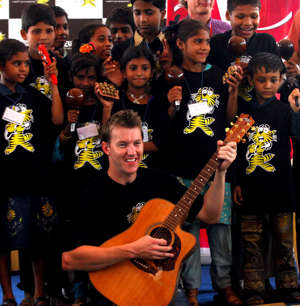 Brett Lee made for perfect viewing with either ball in hand or guitar. Virtually cut out from a boyband poster, Lee perhaps has better claim than any other cricketer to earn rockstar status. Remember that song that played on MTV every other hour with heavily-accented Hindi, which seemed like a tutorial to woo women? That was Lee's collaboration with Indian legend Asha Bhosle for a single – 'You're The One For Me' – in 2006. Three guesses if the track topped the charts for the song, the music and lyrics or for the face in the video.
Lee's musical journey, however, began way back with Six and Out with brother, and former Australian allrounder, Shane Lee and Gavin Robertson, the former Australian spinner. The band released 'Can't Bowl, Can't Throw', their ticket to fame which was based on the infamous Scott Muller incident of 1999. After retiring from international cricket, Lee formed a band – White Shoe Theory, with musician Mick Vawdon – that toured India back in 2010. "I've always joked that I was a musician who used his sport to prop himself up," Lee once said.
Curtly Ambrose
If the Caribbean was the context of conversation, by default, one's mind would instantly transcend to music, dance and festivity. It comes as no surprise then that Curtly Ambrose took to the music. Having always claimed that basketball and music were his passions ahead of cricket, Ambrose along with Richie Richardson, his old captain, form a part of a seven-piece Antiguan reggae band.
Earlier called The Big Bad Dread and the Baldhead, it was renamed Spirited. "We intend to have our own music, our own songs, in the near future. We're ambitious; we don't just want to stay in Antigua. We're serious about the music and want to get our own songs and go global," Ambrose said recently.
His cricketing days over, it might be interesting to see how his band's music will be received if they start touring globally. Even if not for the music, his golden days should be enough to ensure an audience – just to get a glimpse of the 'Little Bird'.
AB de Villiers
It has been established that AB de Villiers is hardly human. His status of superhuman has been arrived at after his incredible feats on the cricket field over the last few years. If you ever wondered how music made by such a breed would sound, de Villiers has answered that question too.
In 2010, he collaborated with Ampie du Preez to release a track called Maak Jou Drome Waar, which when translated to English from Afrikaans means: Make your dreams come true. If you've been a fan of Backstreet Boys, you're bound to go down the nostalgic lane to the time when the boyband returned to release their single 'Incomplete'.
That aside, given the direction that Bollywood is heading in, don't be surprised if de Villiers is the next sought after singer for a stint. After all, his Hindi didn't seem too bad when he sang 'Yeh dosti' from Sholay, which put Siddharth Mallya – not that he forms the yardstick to aim at! – to shame.
Mark Butcher
Mark Butcher's Jamaican roots were evident given his aptitude for music. That was validated in his touching tribute to Ben Hollioake in 2002. When the younger of the Hollioake brothers passed away in an accident, his Surrey teammate left no stone unturned to show how much he was affected by the loss, singing 'You're Never Gone' — his own composition – at the funeral.
With four others, he formed The Mark Butcher Band, releasing their first album titled 'Songs of the Sun Horse' in 2008. Apart from performing at the Royal Albert Hall, the adept guitarist participated in the BBC reality show where he sang 'Just the two of us', partnering songwriter Sarah Brightman. The pair ended up finishing third.
Dwayne Bravo
We've seen Dwayne Bravo shake a leg, not once, but numerous times on the cricket field. His antics are as entertaining as the brand of cricket he plays. But when it comes to music or singing, I'm not so sure.
Bravo seems to be on a mission in his track with Beenie Man and Timeka Marshall: to get women in skimpy attires and pink stilettos to play cricket, while his accomplice tries the same with football, amidst occasional stints of disco by the two. I'm pretty sure I heard IPL mentioned once or twice too, or more apart from lots of 'Bravo'.
He also seems to have taken his association with the Chennai Super Kings seriously, which is evident in this Tamil song that he has been a part of.
Although, 'Chalo Chalo' is the icing on the cake, with lines like, 'dance in a lungi'. If that's what the result of merging cricketers and music is, maybe some things are just best kept on the cricket field.
Henry Olonga
Henry Olonga was quite a colourful character; right from doing things a bit differently, to voicing his opinion about Robert Mugabe's regime during a World Cup game to winning a reality show, he has done it all.
Given that his cricketing career was controversially cut short in 2003, he gave singing – his other interest – a shot. His operatic voice helped him win Channel Five's reality show – The All Star Talent Show. He later went on to release an album named Aurelia. He could as well have scouted for a boyband that was heading the opera way, but in a display of patriotism, came up with 'Our Zimbabwe' instead.
Graeme Swann
Graeme Swann is not just known for his over-the-top celebrations, imitations, slapstick sense of humour or being the joker of the team. There's another side of his personality – one that, as described by Andy Afford, a former Nottinghamshire spinner, is "60 per cent front man and 40 per cent singer." Swann is the lead singer of the rock band Dr Comfort and the Lurid Revelations which includes Jim Hemmings, son of the legendary Eddie Hemmings. The band performs in gigs around Nottinghamshire.
A disciple of Britpop, Swann is a massive fan of Oasis. He once managed to find a spot next to Liam Gallagher, one of the Oasis brothers, on a flight to New Zealand which he later described as "proper Roy of the Rovers dream stuff". Knowing him, you'd wonder if he has ever tried to incorporate 'the sprinkler' in any of his performances.
Jeremy Coney
You can't have your cake and eat it, or so we're told. But Jeremy Coney can tell you otherwise. The former New Zealand captain, in addition to being more than adept at cricket, could play the double bass, guitar and the piano away from it. Music runs in his family, so it is little surprise that he went ahead and pursued it further.
After initially giving up his dream job as head of music at Onslow College in Wellington for cricket, Coney's life came full circle after he played the lead role of CK Dexter-Haven in the Australasian premiere of High Society in 1989, thus venturing back into music. However, his 30-second stint with drummer Sivamani during an IPL match will leave quite a few rappers amused.
Sanjay Manjrekar
If you enjoy listening to Sanjay Manjrekar in commentary, then you will certainly enjoy his musical stint. A big fan of Kishore Kumar, Manjrekar has a flair for singing. He had among the best voices in the team while playing and found his feet in music once he was done with his playing days and had already made a home in the commentary box. He released an album known as the 'Restday' that consists of the Indian team's favourite Hindi tracks.
Inspired by Javagal Srinath and the brainchild of sports journalist Sanjay Karhade, Manjrekar pulled the stint off with ease, but never pursued his interest further. However, he was eventually approached by a Bengali film director to lend his voice for a track in his movie. In a way thus, Manjrekar followed Kishore Kumar's footsteps.
Slideshow: Unseen images of cricketers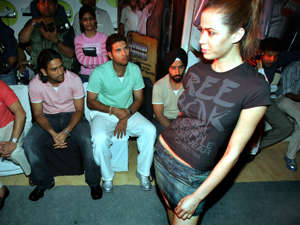 Never seen before pictures of cricketers