Bradman to Dravid: Legacies set in stone, brick and wax

Wisden India
31-01-2017
There are some cricketers who leave such an impact on the game that they are immortalised even after their careers, or in some cases their lives. Some have stands and pavilions in various stadiums named after them, some have tournaments in their names, while a few have sculptures of them installed. The latest addition to that list is Ricky Ponting, who unveiled a bronze statue of himself in Hobart ahead of Australia's first Test against West Indies. Wisden India looks at some cricketers, in no particular order, who have statues built after them.
Don Bradman
Perhaps the greatest batsman of them all, Don Bradman inspired four statues, one each at the Adelaide Oval, the Melbourne Cricket Ground, the Bradman museum in Bowral, and Cootamundra in New South Wales. The first of those, in Cootamundra, was unveiled in 2000 while the remaining three were made two years later. Needless to say, the idolisation of The Don was understandable as he averaged a whopping 99.94 in Tests, with 6996 runs in 52 matches between 1928 and 1948.
Sachin Tendulkar
© AFP Bradman to Dravid: legacies set in stone, brick and wax
One of the few batsmen who are spoken about in the same breath as Bradman, Tendulkar was commemorated with two wax statues, one each in London and Sydney. He became the first Indian sportsperson to make it to the famous Madame Tussauds wax museum in London when his wax statue was inaugurated on April 24, 2009, his 36th birthday. "It was so real, it was fanastic! I'm glad it doesn't breathe," he had said then. The second wax figure was installed in the sports zone of Madame Tussauds in Sydney in 2013, and it was reported to have been moved to Bangkok two years later.
Shane Warne
© AFP Image
The most successful legspinner in the history of the game, Shane Warne was honoured with a statue at the Melbourne Cricket Ground on December 22, 2011, almost five years after his international retirement. The ace spinner picked up 708 wickets from 145 Tests and was part of the World Cup winning squad in 1999.
WG Grace
© Getty Image
Runs: 54211. Matches: 840. If these stunning numbers in first-class cricket weren't enough to remember the legendary WG Grace by, his achievements were celebrated with a statue in the Harris Gardens at Lord's in 2000. It was, however, removed in 2009.
Garfield Sobers
He was a terrific batsman. He was a left-arm pacer. He was also a left-arm spinner. He could also bowl chinaman. Sir Garfield Sobers is perhaps the best allrounder to have played the game with 8032 runs and 235 wickets to his name from 93 Tests. A statue of him was inaugurated in April 2002 as part of the Heroes Day celebration before being relocated to the Kensington Oval in Barbados in 2006.
Dennis Lillee
© Getty Image
One of the most terrifying quicks of his generation, Lillee, the former Australian pacer, retired with 355 wickets from 70 Tests. A bronze statue of Lillee was unveiled at the MCG as part of the Walk of the Champions in December 2006 in Melbourne.
Richie Benaud
© Getty Image
He was known for his brilliant commentary as much as his cricketing skills, and Richie Benaud had a sculpture of himself unveiled at the Sydney Cricket Ground in January 2008 during the infamous Test between India and Australia. Benaud, who has 2201 runs and 248 wickets from 63 Tests, passed away on April 10, 2015.
Steve Waugh
© PA Wire Images Bradman to Dravid: legacies set in stone, brick and wax
One of the most successful captains ever, Steve Waugh led Australia to the World Cup title in 1999 and in 15 games during their record 16-Test victory streak. He was also a gritty batsman, scoring 10927 runs from 168 Tests apart from 7569 runs from 325 One-Day Internationals. As homage to him, a statue was built at the SCG in January 2011.
Brian Lara
The Brian Lara statue at the Brian Lara promenade in Port-of-Spain shows the West Indies legend playing his signature pull shot while standing on top of the world. The statue was put on display in 2011 and is 14 feet high. One of the best batsmen ever, Lara has more than 10,000 runs in Tests and One-Day Internationals and holds the record for the highest individual score (400 not out) in Test cricket.
Kumar Ranjitsinhji
© Getty Image
The man after whom India's premier domestic tournament — the Ranji Trophy — is named, Ranjitsinhji was an Indian prince who played 15 Tests for England between 1892 and 1902. He also scored 24,692 runs from 307 first-class matches and was credited for introducing the leg glance shot. A statue of him is exhibited in Jamnagar, the place where he died in 1933.
Rahul Dravid
Not exactly a statue per say, but is there a more apt tribute to Dravid than a real-life wall? That is exactly what the Karnataka State Cricket Association built for the Indian legend at the Chinnaswamy stadium in Bangalore. Made of 10,000 bricks, the 27 feet high and 15 feet wide structure erected at the entrance of the stadium shows Dravid playing his trademark cover drive. The structure was unveiled by Sachin Tendulkar in October 2008.
Eddie Gilbert
© Wisden
One of the greatest Aboriginal cricketers in Australia to play first-class cricket, Gilbert is one of only 15 bowlers in history to have dismissed Bradman for a duck. Gilbert played only 23 first-class matches and never played for his country, but that was because the aborigines weren't treated well in the 1930s. He was, however, recognised with a statue at the Allan Border Field in Brisbane in 2008.
Slideshow: Rare photos of cricketers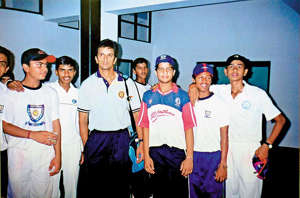 Watch: Team India's areas of concern