Breaking the game rather than world records – the legacy Ashwin wants to leave

Wisden India
22-02-2017
Since the start of a home season containing a bouquet of 13 Tests, R Ashwin has been at the forefront of nearly every Indian triumph to date. India have won eight of nine Tests thus far, and in keeping with his status as the No. 1 bowler as well as the No. 1 allrounder on the ICC charts, the 30-year-old has disappointed neither with the ball nor with the bat. With 61 wickets at 24.55 and 411 runs at 37.36, Ashwin has more than met outside expectations. In his mind, though, he hasn't been at his best with the ball against either New Zealand or England, or in the one-off Test against Bangladesh.
Since his foray into competitive cricket, Ashwin has always looked at himself as the game-breaker, a mindset he has carried with him to the national team. Driven by that fire, he has conquered one peak after another – he recently became the fastest to 250 Test wickets, in just his 45th match – but has seldom professed satisfaction. His intensity and his complete confidence in his abilities can come across to some as thinly-veiled arrogance, but Ashwin couldn't care less. As he makes amply clear in this chat with Wisden India, shortly after honing his batting skills on an underprepared pitch at his Gen-Next Cricket Institute.
Excerpts:
India stand at 8 on 9 in home Tests this season, but none of those wins has been easy, has it?
© AFP
I think the entire England series was a pretty close fought affair. The 4-0 scoreline doesn't tell the real story. I thought that series and even New Zealand, the Kolkata Test and the first Test (in Kanpur) were not that easy. We had to fight for our victories and get them. We have definitely improved in a lot of aspects of our game but I would say we are still 25-30-40% short of what a near-perfect side should be like. If we can get there, I think we will be a real hard unit and a very, very big force to contend with for years to come.
One of the notable features in these nine Tests has been the contribution of the fast bowlers. What is your mindset like when you come on to bowl with the opposition already one or two down?
My mindset is that as long as the opposition is not six down, I have a chance to get five wickets. That's how I like to see things. For me, it is all about creating different angles, not being the same, try and throw different things at the batsman. I don't like the batsman to come with a pre-set notion and a pre-set plan to come and disrupt me. My biggest strength is my adaptability and the ability to throw things in the game. I can change about 4-5 tempos to the game; I can change my pace off, I can change my angles. I don't want the batsman to conveniently get through a day without having to face different aspects of my bowling. That's what I try and do.
I am also about 20-30% short of where I would ideally like to be. I have had a couple of niggles that I have had to manage. Through the England series and the New Zealand series, I would only give myself 6 on 10 or even 5 on 10. I definitely was at an 8 and a half or 9 on the tours of Sri Lanka, against South Africa at home (both in 2015) and in the West Indies (in mid-2016). I had to battle a few things but I think I am getting there. Hopefully, in the next couple of months, I will get anywhere close to 10, that's what I would like to do.
It has already been a long season, you alone have bowled 513 overs in the nine home Tests. Is there any mental fatigue at all?
I am totally committed to the fact that I am actually the game-breaker or the match-winner. Every single game that I turn up with the ball, I feel like I must win this game. I feel that there is no way I can have an off-day; if I have an off-day, the team is going to struggle. And even if with the bat, if I relax a bit, I can end up letting the team down. From that point of view, it is a positive, but it can also be a mentally very draining situation. I would say I don't think I have reached there. I am practising, and enjoying practising different sorts of situations. Even today, I am challenging myself with different things. The idea behind going into this four-Test series will be to continue into the form. I would say I was 60% when I played England. Like I told you, I have been nursing a sports hernia, I had a couple of patellar tendonitis issues. These issues have actually been hampering me from being at the 100% that I would like to be. Despite that, the ball has been coming out like a dream. My goal going into this Aussie series is to try and replicate the rhythm that I had earlier on when I went to Australia and also to try and replicate where I was at when I was bowling in Bangladesh or in Sri Lanka – try and get there.
Photos: World records held by Indians in Test cricket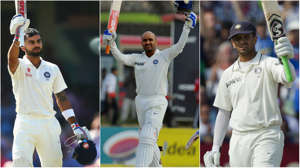 Have the niggles deserted you yet?
I think it is on the way up. Definitely I am managing it very judiciously and I am having to manage my workload as well, but the aspect that is very heartening is that I have been able to get back to conditioning, I have been able to get back to training at full tilt. Yes, it is still hanging around a bit, but I am sure it is going to get better in the next 10-15 days.
Are you aware of impending personal achievements going into a game – like the 250 Test wickets in record time, for instance?
The only record that was playing a little on my mind was this 250 wickets because I think I should have achieved it a couple of Test matches earlier itself. But it didn't happen. Despite bowling some amazing spells and great balls, things were just not going my way. I just needed a couple of things to go my way to turn things around and that Mushfiqur (Rahim) dismissal had a certain amount of luck involved in that (caught down leg trying to sweep to become his 250th Test victim). After that dismissal, I felt I was a little less rusty because I had been through a long rehab, hadn't quite put in the hours of bowling and I just started bowling before the Bangladesh series. So I was a bit rusty in the first innings. Come the second innings, I had to break the innings at the top of the order, the batsmen had not settled in. I had a good spell, I had the new ball in my hand, it was a different kettle of fish again.
Does the magnitude of these numbers – 250-plus wickets in 45 Tests, say – impact you in any way?
I don't know. Genuinely, knowing you very well, you might be able to pick the right side of what I am saying. But the only thing that is really pleasing for me is that whatever I do, whatever I have done, whatever I end up doing, there is one thing for certain – I have done things on my own terms and I will continue to do it on my own terms. I don't have any precise milestones. Somebody would like to have X number of Test appearance, have X number of wickets. But as far as I am concerned, as long as I have played, ever since I made my one-day debut in 2010, ever since I came into the IPL, I have had a massive impact on the game as a bowler. That is something that is far more striking to me, that is far more of a legacy that I would like to leave on the game rather than mere world records.
Watch: 'Virat a champion player but Sachin will remain Sachin'
Especially on the final day in Hyderabad against Bangladesh, you barely bowled the offbreak, instead sending down legbreaks and carrom balls. Was it borne out of necessity, given the slowness of the pitch?
I would say it was a wicket for everyone in the sense that anybody that can hold a bat could have batted on that wicket. Whatever you put on the ball – revs, speed, change of angle – everything was the same because it was a dead wicket, it was almost dead. And with the grass on it, the kind of deadness it had made batting a whole lot easier. It was like bowling on a road. We had to mix things up. It wasn't easy going; if the batsman wanted to plonk his front foot and defend, he would hardly get out. Even the one that you saw Shakib (Al Hasan) get out to that pitched in the rough (off Ravindra Jadeja), I don't think he would have been dismissed if he had been fully forward to that ball either. I would say that I didn't have a whole lot of a long bowl in that game. The only long spell I had was on the fourth evening when I had nine overs. That was my longest spell of the game; that spell was very, very incisive and I did trouble all the batsmen. It looked like I would get 3-4 wickets in that spell. And eventually that broke the back of their innings on the following day.
The One-Day Internationals against England in January were your first for the country in almost one year. Where do you think your white-ball bowling is at?
When I started off in Pune, I knew what Pune had to offer and I had a game plan. I stuck to my game plan. People might have a different opinion. But as far as limited-overs formats of the game go, as a bowler there are so many limitations; it is only about who gets 10 runs more or who gives 10 runs lesser. Very often, the analytical or the statistical viewing of the game is missed nowadays. People still perceive the game like the game was played when they were playing. But the kind of impact I would like to leave on the game, especially the way it has changed, is the 3 for 60 that I took in the second game (in Cuttack). Because for me, I didn't change anything. I got hit early in the game, they were reverse-sweeping, five men in the ring, Jason Roy played a couple of stunning shots even when he was beaten in the air. But the guts to keep the ball up there and bowl attacking lines and attacking lengths and attacking loop, that sort of broke the series. We could very well have lost the series there. We still ended up winning by 15-20 runs. The 3 for 60 was to me the decisive and turning point of the match, that is how I see it. And every single game will be an opportunity for me to change the game with that kind of bowling.
---
---
Did you need that 3 for 60 your own sake then?

I don't know but I won't really say that I needed it. To be very honest, I have definitely crossed the stage of desperation in my life or in my cricketing career. I am not looking to prove anyone right or wrong because I just think where I stand and the way I am bowling, I have nothing to answer or no one to answer to. I pretty much feel I need to answer my own plans, I need to answer my own expectations rather than looking outside. And I have always maintained – and you also know it pretty well – I don't look behind my back, I look above my back to see if somebody is going above and should I try and reach higher. That's a massive difference as far as I am concerned. I am very sure that as long as I am playing and I am able to break the game into two equal halves whenever I am playing, whichever format I am playing, I would like to continue in that zone and with that ability. And if I think I don't make an impact on the game, I might as well not play. To turn things around and make people say 'chalo, I want to take the ball, I want to be a bowler and break the game', is what has actually been missing from Indian cricket. I want to be that change where people want to be picking up the ball rather than the bat. The easiest thing to do right now is to pick up the bat. I would just love to be motivating a whole heap of generation to try and pick up the ball.
Australia are here, and seemingly in full readiness. How do you look at the series?
I think they are a fabulous team. As always in any series, in a long series, the start is very, very important. They are going to come very hard. They have left no stone unturned. They have hired an Indian in S Sriram (as spin consultant), who will definitely add a lot of value to them. From what I heard this morning, he is getting everybody to sweep. Whenever Sriram has swept me, he has got out to me, so that is a positive! But they have left no stone unturned, seriously speaking. They have been in Dubai, training hard and trying to replicate Indian tracks. They will try and come hard in the first two Tests, as always the start is going to be very important.