Busquets upset by Martino rumours: Our coach deserves respect

Goal.com
02-05-2014
Barcelona's Sergio Busquets has called for coach Gerardo Martino to be afforded more respect amidst constant speculation that the coach is to be replaced at the end of the season.
Luis Enrique, the Celta boss who made over 350 appearances for the Blaugrana, and Athletic Bilbao trainer Ernesto Valverde are both currently being linked with the Argentine's job.
However, while Busquets accepts that Barca, who are set to end the season trophy-less, have underperformed this season, he is dismayed that it is being taken as a given that Martino will be sacked this summer.
"Valverde or Luis Enrique? Our coach deserves respect," Busquets is quoted as saying by AS.
"At the level of titles, it has not been a good season," added the 25-year-old.
Busquets went on to play down suggestions that he could be installed as captain next season, with Carles Puyol having already confirmed that he will leave Camp Nou this summer.
He said: "If I was elected [captain], I would be pleased, but, theoretically, the captains here have seniority and that is not me."
Meanwhile, even though Barca currently trail Liga leaders Atletico Madrid by four points with three games to go, Busquets maintained that Barcelona will fight right until the end to hold onto their Primera Division crown.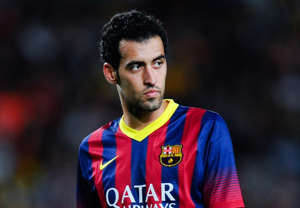 "Atletico are a major team," he mused. "Very competitive, very hungry, with great intensity. They are top on merit.
"The way Atletico play is different to us. It is neither better nor worse. In the end, what matters is the result.
"But we have a hope. Until the last minute, we will try."
Barcelona face Getafe at the Camp Nou on Saturday before Atletico travel to Levante 24 hours later.