Celebrating the better half

Wisden India
15-04-2017
When Roger Federer went down to Novak Djokovic in the semifinals of the Australian Open in January 2011, it marked the first time since July 2003 that he did not hold any of the four Grand Slam titles. It was a sign of things to come; 2011 was Federer's leanest year on the ATP Tour. He was still only 30, but as the year unspooled, he failed to make a serious push for any of the majors. The pain of having relinquished, the previous year, the No. 1 ranking that he had assiduously protected for a whopping 285 weeks – though not all consecutive – became that much more magnified.
It was but natural that, as he went from top dog to No. 3 in the world for the first time in six and a half years, the Swiss maestro began to doubt himself. Rafael Nadal was already having him from breakfast, now there was the fast-rising Novak Djokovic to contend with. Was the master of angles a spent force? Was the once smoothly-flowing one-handed backhand now relegated to nostalgic YouTube memories? Was the best of Roger Federer behind him?
The champion himself might have grappled with these questions, but standing firmly by and behind him was the one person who knows him better than anyone else. And it was on the back of her exhortations that Federer discovered a second wind, claiming a seventh Wimbledon crown in 2012 and returning to the top spot a more hungry, more ambitious, more dangerous version.
The world knows Miroslava Vavrincova better as Mirka Federer, the Swiss genius's better half and the wife of their two sets of twins. The more closely knit tennis world knows Mirka, born in erstwhile Czechoslovakia, as a former professional tennis player who entered the third round of the US Open in 2001, and reached a career-high ranking of 76 before a foot injury brought a screeching halt to her career in 2002.
Photos: Gorgeous Wags of IPL stars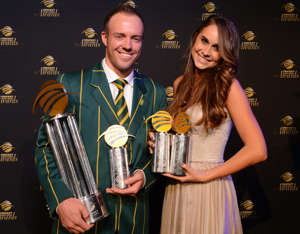 Mirka and Roger met during the Sydney Olympics in 2000 when representing Switzerland, setting in motion a chain of events culminating in their wedding in April 2009. Mirka has been his best friend but she has provided more than just moral support; she has offered crucial tennis inputs that her celebrated husband has been happy to both follow and acknowledge. The world may not hail her contributions, but her world – her husband – does, and that is more than enough for Mirka.
Federer's is a unique, most high-profile case of a top athlete benefitting from his/her spouse/partner's expertise in a common sporting discipline. But there are others too, equally celebrated, who receive guidance and support from home, not necessarily from a technical or a tactical standpoint but from just a moral and feel-good perspective.
Watch: Pollard trumps Badree to give Mumbai victory
(Video provided by Wisden)
There has forever been a massive 'cricket widows' club within the international set-up – wives of cricketers who share the emotional roller-coaster that their more visible husbands ride, but with an equanimity and poise that is the key to their successes. Wives of Indian cricketers especially spend long weeks away from their travelling partners, watching anxiously on television, making sure the children are well brought up and insulated from the trappings of fame and potential arrogance, sacrificing their own careers so that their husbands can go about the privilege of representing the country without too many things playing on their minds. Several of the top Indian cricketers' wives over the years have been exceptionally well qualified – there are doctors and software engineers galore – but they have put their ambitions on the backburner, sometimes due to circumstances but more often by choice.
During the times when they travel with their celebrity husbands, they are there but not really there, are they? Even on tour, they have to take care of the kids – in an alien land without the attendant degree of comfort that home provides – and work their routines around practice and training and gym sessions. And then, after a bad day on the field, they sometimes have to grapple with moodiness and despondency, with anger and irritation, with disappointment and despair. Watching them cheering from the players' box at Lord's or in Melbourne, it might appear as if they are touched by glamour, but the life of the wife of an Indian cricketer in particular is anything but a bed of roses.
The scrutiny might be a lot less outside India and the stakes might not appear as high from an external weight of expectations point of view, but it doesn't mean that the wives of overseas stars have it any easier. WAGs is a term I have never ever liked; they might travel in their capacity as Wives And Girlfriends, but there is more to them than just being a wife or a girlfriend.
As AB de Villiers acknowledged the other night, in his first appearance for Royal Challengers Bangalore in Season 10 of the IPL. De Villiers had missed his franchise's opening two games with a back injury, but as he braced for his comeback in Indore against Kings XI Punjab, he was wracked by self-doubt, a slight crisis of confidence. Apparently, enforced time away from the game is the cricketing Superman's kryptonite.
So de Villiers made a quick call back home to South Africa, turning to wife Danielle for encouragement. The conversation worked wonders as Mr 360 degrees unleashed characteristic unalloyed mayhem at the Holkar Stadium on his way to a magical, beautifully brutal 89 not out.
"I did surprise myself," a miked-up de Villiers said on international television as Bangalore made an unsuccessful attempt to defend their total. "The rustiness (from not playing for a while) is more self-doubt which was there over the last few days, I got to admit. I phoned my wife just before the game telling her I was doubting myself a bit.
"She was actually lying next to my boy, sleeping, when I asked for her advice. She had to call back a few minutes later. Told me that she backs me and to stay calm and that she is on her way, she is arriving tomorrow (on Tuesday). So I think that was the inspiration. Ooooh, I am cheesy now on air!"
Cheesy? No way, AB. One of the fans' complaints is that the human side of the champions hardly comes through, especially during the heat of battle. Against that backdrop, de Villiers's proud and public acknowledgement of his wife's overwhelming, immediate role in his success was as moving as it was revelatory.
Coincidentally, at almost the same time, Jason Day was eulogising his wife's efforts in his turnaround at the Augusta Masters. The Australian had two poor rounds and was beating himself up over it when Ellie stepped in. "She was kind of ready to slap me in the face because I was so negative with myself," said Day. "And she was trying to get me, pick me up, give me a good boost."
Buoyed by the spousal therapy, Day responded with a three-under 69 in the third. "It's obviously good to have a good wife when you have something like that happen. But yeah, she's like you better get it out now before the kids get back."
Husbands have had the backs of their celebrity wives, too. Such as Ongler, the husband of MC Mary Kom, the multiple-time world champion boxer from Imphal who, far from discouraging his pugilist wife, assumed household responsibilities and is looking after their two kids. And Michael Krumm, the German motor racing driver who fuelled Japanese Kimiko Date's return to the WTA Tour in 2008 aged 37, some 12 years after her retirement.
As a society, we have celebrated men/husbands as thinkers, builders and motivators; the women/wives might not have attracted the same appreciation, but their role in the shaping of champions is second to none.