Challenging times ahead for Virat Kohli, Steve Smith and Kane Williamson

India Today
14-11-2016
Virat Kohli, Steve Smith and Kane Williamson - three of world cricket's best batsmen who are also the leaders of their respective teams. Each had a dream start to their captaincy career winning Test matches and doing well as player at the same time.

While Kohli won away series against Sri Lanka and the West Indies and beat South Africa and New Zealand at home, Smith did exceptionally well at home against India and thereafter. Williamson too started well and was praised as captain till the recent tour of India where he failed both as leader and batsman.
All of a sudden all of the three are under pressure. Kohli against a good English team that outplayed India at Rajkot. Smith against a resurgent South Africa and is staring at a 0-2 deficit at home if they lose the Hobart Test and Williamson is up against an in-form Pakistan Test team after a poor outing in India.
This, it must be said, was bound to happen and this is where each of them will have the opportunity to stand up and make it count. It is all too boring when teams come to India and get rolled over. New Zealand for example just did not look the part by the time it was the third and final Test match at Indore. It was all India and the result was a given. England, in that sense, is an aberration. Perhaps the only team in recent times that has done better than India in India.
© AP Photo

And it was terrific to see Kohli standing up and making a statement with the bat allowing India to hold out for a draw in the first Test. A draw, by his own admission, is integral to Test cricket and saving a match is as on occasions as important as winning one.
Smith, who is batting as I write, has a very similar opportunity at Hobart. A big hundred from the skipper can still give Australia a slim chance in this Test match with serious time still left. But if he falls for anything less than a century, South Africa are sure to leave Hobart 2-0 up.
Finally, Williamson needs to make amends as he faces up to the likes of Yasir Shah. In the absence of Martin Guptill, he has to take charge and ensure NZ do not suffer back-to-back series defeats.
For three of the world's best batsmen, the coming month will be a real test. Not only as batsmen, but more importantly as leader of men and as captains who lead by example. This is why Test cricket is considered the real Test by those who play the game and is widely accepted as the pinnacle of all cricket formats.
Slideshow: 25 most controversial cricketers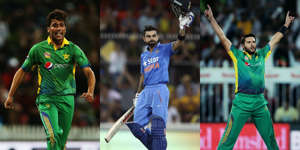 Watch: When Irfan took a hat-trick against Pakistan
More from India Today

India Today