Champions Trophy 2017: Virat Kohli Walked Out On Anil Kumble In The Nets, Says Report

NDTV
02-06-2017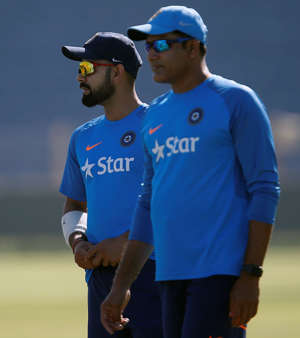 The acting secretary of Board of Control for Cricket in India (BCCI) Amitabh Choudhary and BCCI's General Manager (Cricket), MV Sridhar, had a meeting with the members of the Indian cricket team on Thursday. However, the outcome of the meeting is yet to be ascertained. Sources suggest that the meeting was held with some of the players to discuss about Anil Kumble and find out if there is any discontent. While any talk of a 'rift' between India captain Virat Kohli and Kumble have been categorically denied by Choudhary, the cricket board in any case has sent a three-man team to England to address the issue.
Complete coverage: ICC Champions Trophy
The controversy surrounding the icy relations between Kohli and Kumble has grabbed all headlines ever since the Men in Blue arrived in England.
At a time when Indian cricket fans want the team to stay focused ahead of the Pakistan match, Bangalore Mirror has reported that Kumble and Kohli shared 'cold vibes' after the warm-up match against Bangladesh.
Photos: Meet India's 15-man squad for the ICC Champions Trophy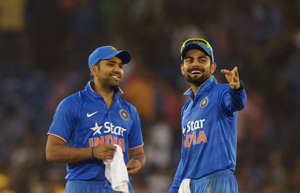 That's not all. As the legendary leg-spinner approached the nets with some equipment, the Indian captain walked away.
The BCCI has earlier issued a press release asking for applications for the post of Head Coach for the team, the deadline for which ended on Wednesday.
The Supreme Court-appointed Committee of Administrators (CoA) is trying to broker peace between Kumble and Kohli but the differences are "almost irrevocable".
The three officials in England include CoA head Vinod Rai Choudhary and Sridhar.
Watch: Root century helps England ease to opening win
(Video provided by Perform)