Chennai Test: Chance for Virat Kohli, R Ashwin to break major Indian records

India Today
16-12-2016
After taking an unassailable 3-0 lead in the five-match series against England, India will be looking to hammer the final nail in the coffin in Chennai.
If Virat Kohli and his men win the final Test starting tomorrow at the MA Chidambaram Stadium, it will be their biggest against England, the previous being the 3-0 whitewash in 1992-93 under Mohammad Azharuddin's captaincy.
It will be a sweet revenge for the twin defeats, including a 4-0 drubbing in 2011, which India suffered at the hands of England in the last two series.
Here are some of the interesting numbers to watch out for.
A win or draw will give India their longest streak without a defeat. India have now not suffered a single defeat in last 17 consecutive Tests. Their last defeat was against Sri Lanka at Galle in August 2015. There has been another instance when Indian did not lose 17 consecutive Tests. This streak had come between 1985 and 1987. Kohli-led India have a chance to better their previous best.
Photos: 'Unique' world records held by Indian cricketers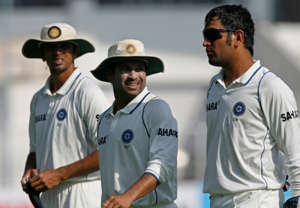 Virat Kohli has now not suffered a single defeat in his last 17 Tests as captain. Among all Indian captains only Sunil Gavaskar has a longer undefeated streak.
India have now won eight Tests in 2016, which are the joint-most they have won in a calendar year. Another win at Chennai will make it nine this year - a new record.
As a batsman and as a captain. He has already set a plethora of records in the series and in the calendar year 2016. There are few more which are likely to be made in the Chennai Test. Take a look:
As a batsman:
Another 47 runs and Kohli will establish a new record of most runs in international cricket (Tests, ODIs & T20Is) by an Indian in a calendar year. Rahul Dravid had made 2626 runs in 53 matches in 1999. Kohli has so far aggregated 2580 runs in just 36 matches in 2016.
Another 51 runs and Kohli will become first Indian captain to aggregate 1000 runs in a season. He will be the first Indian player to aggregate 1000 runs in a season since Gautam Gambhir, who aggregated 1269 runs in 2008-09 season, which incidentally is also the highest tally by an Indian in a season.
Another 53 runs and Kohli will surpass his personal best in a series. Kohli had made 692 runs against Australia in Australia in 2014-15.
Another 93 runs and Kohli will establish a new record of most runs by an Indian captain in a series. Sunil Gavaskar had made 732 runs against West Indies at home in 1978-89 - in a six match series.
---
---
Another century and Kohli will beat Sachin Tendulkar's Indian record of most centuries in a calendar year. Tendulkar's had scored four centuries in 1997. 

Another 113 runs and Kohli will set a new record of most runs in a series in India-England Tests. Graham Gooch had made 752 in 1990.
Another 135 runs and Kohli will set a new record of most runs by an Indian in a series. Gavaskar had made 774 against West Indies in West Indies in four matches (in his debut series).
If he manages to score one more double ton, Gavaskar will become first captain to score four double tons in a calendar year. He will also be only the second player to do so after Michael Clarke who did so in 2012.
As a captain:
A draw at Chennai and Kohli will equal Gavaskar's Indian record of longest unbeaten streak as a captain. Gavaskar had led India in 18 consecutive Tests without a defeat between 1976 and 1980.
Another win and Kohli will become first Indian captain to win four Tests vs England. Ajit Wadekar, Mohammad Azharuddin and MS MS Dhoni have won three.
Kohli has not yet lost a Test as captain at home soil.
What Kohli has done with the bat, R Ashwin has done the same with the ball. With 27 wickets in the series so far, Ashwin is the best bowler in the series from either side by a distance.
After 43 Tests Ashwin's wicket-tally stands at 247, which is the highest for any bowler - spinner or pacer - at this stage. Dennis Lillee and Waqar Younis shared the previous record with 222 wickets. In all probability Ashwin will break Dennis Lillee's record of being the fastest to 250 wickets in Test cricket at Chennai.
In last two years (2015 & 2016) Ashwin has taken 15 five-wicket hauls, which is a record for any bowler in two consecutive years. The previous record was 14 five-wicket hauls by Muttiah Muralitharan (twice).
Ashwin has now taken 25 wickets in a series on four occasions - joint-most by an Indian with Kapil Dev. Interestingly Kapil did so in 38 series, Ashwin has played only 15.
The frequency with which Ashwin is winning the man of the series awards one after the other is simply mind-boggling. He has so far won seven MoS awards, which are the most by an Indian in Test cricket. Players like Kapil Dev, Sachin Tendulkar, Virender Sehwag, Rahul Dravid, Anil Kumble, etc., all pale away in comparison. Ashwin's seven player of series awards are the most by an Indian (Sehwag and Tendulkar had won five each). There are only five players who have won more awards than Ashwin. The frequency at which Ashwin is winning his awards is simply mind-blowing - an award every two series on an average.
Quite astonishingly Ashwin has been Man of the Series in last four consecutive series - vs Sri Lanka in Sri Lanka (2015), vs South Africa in India (2015-16), vs West Indies in West Indies (2016) and vs New Zealand in India (2016-17). If he wins another Man of the Series award, he will create a world record of most consecutive series awards. Ashwin has now taken seven 10-wicket hauls in a Test. Among the Indians only Anil Kumble is ahead of him with eight hauls. The frequency at which Ashwin has taken a 10-wicket match hauls is simply astonishing.
Chennai's MA Chidambaram Stadium (Chepauk) has been one of India's happy hunting grounds. In fact, Chennai and Delhi's Feroz Shah Kotla are the two grounds where India have won most Tests (13 each).
In last 30 years India have lost only one Test at Chennai - vs Pakistan in January 1999 - a match they lost by 16 runs.
More from India Today

India Today