Corridors of uncertainty and power – cricketers turned politicians

Wisden India
26-12-2015
Many cricketers limit their post-retirement career options to within the ambit of the sport. Some become coaches at various levels, some take up commentary, others join media houses as cricket experts and a few take to umpiring or become match referees.
But there are also those who venture out of the sport and into other fields. Wisden India looks at a few cricketers who turned politicians after their playing days.
Kirti Azad
Let's start with the man who has been in the news the entire week for his allegations against the Delhi and District Cricket Association. Azad played seven Tests and 25 One-Day Internationals for India from 1980 and 1986, and was also a part of the victorious 1983 World Cup side. The son of Jha Azad Bhagwat, a former Chief Minister of Bihar, the former Indian cricketer followed his father into politics and joined the Bharatiya Janata Party. He is currently serving his third term in the Lok Sabha, having won in the 2014 elections from Darbhanga.
Chetan Chauhan
On the wrong side of Azad's attack is Chetan Chauhan, currently the DDCA vice-president. But he does share a similarity with Azad apart from their cricketing background – Chauhan too is a member of the BJP and has been elected as a Member of Parliament twice from Almorah in Uttar Pradesh, in 1991 and 1998. Chauhan played 40 Tests and seven One-Day Internationals and retired in 1985.
Imran Khan
Among world cricket's all-time great allrounders, Imran Khan showed that he has even wider all-round ability when he founded the Pakistan Tehreek-e-Insaf party after his retirement. Imran was elected in the 2013 elections in which Pakistan Muslim League's Nawaz Sharif assumed office as Prime Minister.
He played for Pakistan for more than two decades from 1971, and among his achievements was leading his side to their maiden, and so far only, World Cup title in 1992.
Nawaz Sharif
His cricketing achievements are nowhere close to his opposition leader's, but Sharif had his time on the field too. Unfortunately for him, those weren't the best of times for the three-time Pakistani Prime Minister. He played one first-class match for Railways in 1973-74 and made a zero in his only innings.
Mohammad Azharuddin
Mohammad Azharuddin played for India between 1984 and 2000 before joining the Congress party in 2009. He won the Lok Sabha elections from Moradabad in Uttar Pradesh in his first appearance by a thumping margin. However, he suffered a crushing defeat in the 2014 general elections when he contested from Tonk-Madhopur in Rajasthan. Azharuddin played 99 Tests and 334 ODIs for India, and was one of the country's most successful captains.
Mohammad Kaif
Kaif has played 13 Tests and 125 ODIs for India, and is still active in the domestic circuit, but he had his share of political experience too. Kaif joined the Congress party and contested the 2014 Lok Sabha elections from Phulpur in Uttar Pradesh, but couldn't emerge victorious.
Navjot Sidhu
A dashing opening batsman, an entertaining commentator, a guest in a popular television comedy show and a politician. Navjot Singh Sidhu wears many hats. He played 51 Tests and 136 ODIs for India before retiring in 1999. Five years later, he successfully contested in the Lok Sabha elections from Amritsar representing BJP. He retained the seat in the 2009 elections but decided against contesting in the 2014 general elections.
Sanath Jayasuriya
Jayasuriya has more than 20,000 runs, and 440 wickets in international cricket, and is also among the rare people to be an active politician during his playing days. He joined the political world as a Member of Parliament in 2010, representing the United People's Freedom Alliance from Matara district, one year before playing his last ODI and Twenty20 International.
He also served as the deputy minister of Postal services in 2013, even while being the chairman of selectors for the Sri Lankan national cricket team.
Arjuna Ranatunga
He was most famous for leading Sri Lanka to their maiden World Cup title in 1996, but Ranatunga played many roles after his retirement from the game. One of them was in politics. Ranatunga joined the People's Alliance and was the Deputy Tourism Minister of Sri Lanka before he quit the party in 2010 to join the Democratic National Alliance (DNA). He left DNA after a clash with Sarath Fonseka, the presidential candidate, in 2010.
Tejashwi Yadav
Tejashwi is the latest in the list of cricketers turned politicians. The current Deputy Chief Minister of Bihar who was sworn in on November 20was also a cricketer, and he has played one first-class and four List A games for Jharkhand with modest returns. He was also a part of the Delhi Daredevils side for four years since 2008 but never played a game.
It's no surprise that Tejashwi, 26, entered the world of politics. He is the son of former Bihar chief ministers Lalu Prasad Yadav and Rabri Devi, and his elder brother Tej Pratap is also a minister in the Bihar government.
---
---
Slideshow: Cricketers — Then and now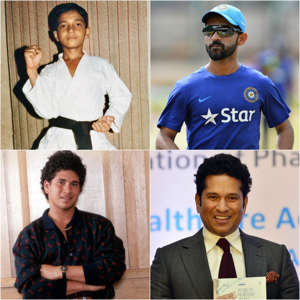 Cricketers: Then and now