Cricket's Streak Freaks – what's the runaround really worth?

Wisden India
30-07-2016
Alex James. Does that name ring a bell?

Pretty unlikely even if you are the most passionate cricket follower, and were in Pallekele for the opening day's action in the first Sri Lanka-Australia Test. After all, it is not often that we try to find out the name of a streaker, much less remember it for posterity.
Like several others from Australia, James made the trip from Down Under to watch Steven Smith's men try and eke out a rare series win on the subcontinent. But, unlike the rest of the travelling fans, James decided that not only would he partake of the action, he would himself provide a slice of it.
So, as the Pallekele International Cricket Stadium outfield was draped in covers following a prolonged rain interruption on day one, James – adequately clothed – leapt over two fences and made his way to the playing arena from the hill in front of the scoreboard.
In itself, it was a silly gesture, fuelled perhaps by a dash of alcohol and indisputable ennui. But once he did reach the covered outfield, he shed his shorts too and indulged in a period of shallow-water swimming in his birthday suit before making his grand exit.
Slideshow: Most controversial statements by cricketers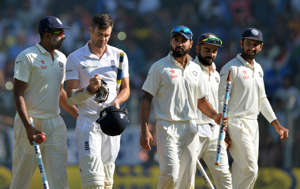 Throughout this passage, the security staff desisted from interrupting James's misadventure, and watched on with an admixture of amazement and disgust as he reclaimed his shorts and returned to his original spot on the hill. James must have thought he had gotten away with his rain dance, but before he could leave the ground, he was arrested, spent the night in lock-up and returned the following morning to the Kandy magistrate's court, where was fined 3000 Sri Lankan rupees and sentenced to a week in prison.
Wonder what James makes of his ill-advised mid-arena jaunt now. Alright, so the fine translates to only Aus$ 28 and he isn't exactly spending a week in prison – he is out on bail – but was that brain-fade worth the repercussions? Hasn't he seen and learnt from the fate that other cricket streakers have suffered in the past?

Am I the only one, or do you also sometimes try to make sense of why an adult who has paid good money to watch international sport would want to make an embarrassing spectacle of oneself? What is it that drives people to streaking? Alcohol and a mid-afternoon dare is a dangerous combination that has claimed many a victim in England and Australia, notably, but a colleague of mine who has seen more cricket than most cricket writers in the world throws in 'exhibitionism' and 'just for a lark' as other potential driving forces.
There are few sights more unpalatable on a sports pitch than an unclad adult haring around, chased by security personnel at once red-faced with embarrassment and anger at having had one put past them. The unedifying sight of four or five uniformed gents running behind a nude specimen, mostly but not always with a sheet with which to cover the offender once he has been wrestled to the ground, is generally greeted with loud cheers from the rest of the watching populace, and especially when he manages to keep his pursuers at bay for any length of time.
Alright then, let us concede that streaking invaders offer a brand of entertainment that we may not have been prepared for, but one that we soak in whole-heartedly. Maybe it appeals to us at a very basal level, maybe even as we are aghast and mortified, a certain portion of the hypothalamus releases the hormone that also leaves us subconsciously admiring of the daringness – or stupidity – of someone who will perhaps look back on his 15 seconds in the sun or rain with great regret and a deep, underlying sense of shame.
How much money is enough money for you to accept a wager to parade yourself naked in front of 40,000 spectators at the ground and numerous others on television? Or how much is the need for those 15 seconds of notoriety that you are willing to live a state of perennial embarrassment, not just personal but also extending to your family? Perhaps, The Anatomy of a Streaker – pun intended, of course – is worth exploring.
Streaking was pretty much an American specialty until it reached the United Kingdom in 1974, with the first notable sporting streak coming at a rugby game in Twickenham. How could it not then make the natural progression to cricket? And that too, during an Ashes Test, at Lord's? So it was that in 1975, with Bob Woolmer and Alan Knott at the crease, a certain Michael Angelow – thank heavens for the 'w' at the end of the second name – decided that it was time to entertain the MCC members.
"Ah, a freaker," John Arlott, the legendary commentator, chuckled on live radio. "We've got a freaker. He's down the wicket now. Not very shapely. And it's masculine. And I would think it's seen the last of its cricket for the day."

And this is what Angelow's unimpressed mother has been quoted as saying of her offspring's antics: "I can only think he must have gone to London and started drinking and as a result did this dreadful thing. My first and only reaction was one of utter disgust. We are not that sort of family. He's in for a ticking-off from me when he gets home." Good on you, ma'am.
One is not sure of Ashley Summers's mother gave her a ticking-off after her daughter dared to bare, also coincidentally at Lord's, during India's first ever Test win over England at that venue in the summer of 1986. Sunil Gavaskar and K Srikkanth were in the middle when Summers made her grand entry. There is this outstanding photograph that shows Gavaskar engaged in elaborate gardening of the pitch, no more than four feet away from Summers. Even closer to her on the other side is Srikkanth, suddenly deciding that he had to count the exact blades of grass near the popping crease. "Until then," Gavaskar has said several times, silvery tongue firmly in his cheek, "Cheeka had been struggling to spot the ball. But after this incident, everything was flying off the middle of his bat!"
Not all cricketers take to streakers kindly, not least the Australians. Greg Chappell, with a stated disaffection for those that can't keep their clothes on themselves, had promised before the 1977 tour of New Zealand that he would deal with any unclothed invaders sternly. As if testing his intent, Leonard Bruce McCauley streaked on to Eden Park in Auckland, only for Chappell to chase and grab him, and rain blows on the ingloriously uncovered backside with his bat. McCualey's suit against Chappell for assault was dismissed, but the incident's immediate fallout was the Australian captain being dismissed, ironically run out, not long thereafter.
A more contemporary Australian backlash came at the Gabba in early 2008 when Andrew Symonds, built like a tank and then occasional trainee with the Brisbane Broncos rugby league side, shoulder-charged a streaker during the second final against India in the triangular series. Sitting in the press box, most of us recoiled involuntarily as Symonds' meaty shoulder made crunching contact with the right shoulder of the invader and sent him sprawling to the turf. That ought to have sealed it for streakers. It clearly hasn't, as Alex James has reiterated in a bare, naked reality.