Cricket chose me, it's the only game I played: Virat Kohli

India Today
24-11-2016
Virat Kohli is currently at the pinnacle of his game. He has been scoring a lot of runs across all formats and with considerable ease.
His penchant for victories has been unmatched and is well documented. The 28-year-old is widely acknowledged as one of the best batsmen in the modern era and is placed among the fittest sportspersons of the world.
There's no doubt that Kohli's success story is a fascinating read. However, there's more to Kohli than what meets the eye.
In an interview to The Telegraph, Kohli opened up on what made him pursue cricket and the financial struggles he had to endure during his childhood.
Kohli, who claimed a career-high 4th rank in the ICC Test rankings for batsmen, said he was lucky to be the youngest in his family which allowed him to pursue cricket not thinking about the academics.
"I think cricket chose me. My memory of growing up is me holding a cricket bat. It is the only game I played. As soon as I got hold of a bat I wanted someone to throw a ball at me for me to smack it. I am lucky that I am the third child in the family so there was not much pressure on me in terms of academics and making sure I got a degree and stuff. I was the one who was pampered because I am the youngest and I took advantage of it," he told The Telegraph.
© Reuters Image

Kohli, who has slammed 40 international centuries, said his interest in cricket grew after seeing the amount of love that people have for the game in the country.
"I used to play more than my friends because they were the oldest children in their families. It makes a massive difference in India. You can just go out there and I found out more about myself and skill in those years which may not have happened if I had been restricted. My initial memories of knowing Indian cricket team was around 1994. I was six. I saw this passion with the crowds."
"They used to pan the camera around and you see people with banners going mad and if they lose they burn effigies, so I was amazed. Why so much interest in this particular game? It grew on me," he said.
The Indian Test skipper, who is now one of the most high-earning cricketers in the world, recalled how it was a challenge for him to buy the right equipment during his childhood due to his family's financial condition.
Kohli said he made the most out of the limited options that were available to him.
"It was RNS Larsons (On his first bat). I bought it from a sports shop. I still have a picture of me trying to bat with it. It was about 1000 rupees and pretty decent for the time. That was one of the challenges, getting the right stuff."
"We were not financially blessed, we could not afford to get stuff we wanted all the time so had limited options and had to make the most of it," he said.
Slideshow: Virat Kohli - On and off the cricket field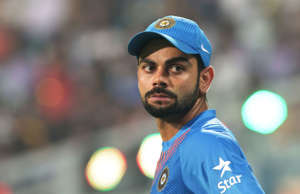 Watch: When Virat Kohli made his ODI debut
More from India Today

India Today