Cricket classics on the computer: Ten videogames to keep you off the field

Wisden India
08-01-2016
Two decades ago, parents would get stressed at the incomplete homework of their children, given that the kids would be out on the streets playing cricket for the most part. Such was the craze for the sport back then that 'book cricket' was almost as popular as the game itself.
Fast forward a decade from then, and progressive technology meant basic computers had just about begun to captivate imaginations, and soon, teenagers were indulging in video games excessively. In addition to following live cricket, their rather large appetite for the game was supplemented by the games that got their hand-eye coordination going.
However, given the amount of cricket played currently, it can get a bit overpowering at times, even for the most ardent cricket zealots. That might have led to increasing apathy towards the game, but their indifference towards live cricket has only been fuelled by the digital world.
Wisden India looks at ten cricket games that have enchanted youngsters at some point or the other:
Don Bradman Cricket 2014
The trousers are too high and the graphics aren't particularly great but if you have the time to kill and some patience moving the scroll through a myriad options then this is definitely the game for you. Patience is the key… for a number of reasons as honing skills with ball, bat and in the field will be painstaking in order to master the game.
It earned an 8.7 rating from Lazygamer, who termed it as the 'best cricket game of this generation'. Perhaps, given that there aren't too many quality cricket games doing the rounds, but should one take a look at just how user-friendly and seamless a FIFA 2014 or a NBA2K14 is, they will be left quite disappointed. Still, this is the only game of the lot that caters to purists and their pursuit of Don-like status…in virtual reality at least.
Allan Border's Cricket
Remember the days of Super Mario and Super Contra and their likes? Well, this game takes you right back to those days when the music was as basic as dots and dashes and the graphics were, in retrospect, Neanderthal. Hitch a ride back to 1993 and all of a sudden, this was the greatest video game out in stores for cricket enthusiasts who were happy spending time staring into a computer for hours at a stretch.
If the green grass and the blue sky is what you love about the game, then there is plenty of that — a little too much one could argue – but given that is came it out 22 years ago we can cut the makers some slack. We could even laud them for just how much attention they paid to detail. Should you ever miss the good old days of cartridge games or primitive games on a floppy disk, you can always dial it back with this.
Stick Cricket
If they had spent more time on making the players look a little more realistic than spending embellishing the fours and sixes each time a players dispatches the ball, they probably would have done a notch better than they already did. For a generation used to the likes of Angry Birds and other similar games, all based on unlocking levels, this game is perfect; it brings out the competitor in you and then some with a series of interesting options. It can be as intricate as the Don Bradman 2014 and as basic as some of the other games on this list but it manages to hold its own by fitting right in between with the ability to engage without boring or blinding people with ultra-bling settings.
Cricket 07
The graphics aren't really that bad given that it came out eight years ago and at a time when the rest of the games ran on more or less the same configuration. But if you thought playing with a straight bat is the way to go here then you might want to think again because the ball does the most random things from the point of release to the time of landing. Also the turn and bounce are incredibly unpredictable, making it very hard for some of the early users.
With time, however, the game grows on you and then of course the voice of Richie Benaud does make it all a bit smoother. This game doesn't have too many options to fiddle around with, but that works just as well for some. For the ones it doesn't, we have more on this list for you to choose from.
Ashes Cricket 2009
Some of cricket's biggest commentators did voiceovers for this particular version and the game's creators justified it by dishing out one of the most advanced games, in terms of player mannerisms and shot-making. From the stance to the shake of a head, Transmission Games seem to have spent a lot of time to make the game a fun one. Although the player platform lacks the sophistication seen in some other games, it is easy to use and is rather engaging. But if you ever do get your hands on this game and want to have some fun, have a fielder drop a catch or miss a simple run-out and see the reaction of the captain.
Note to purists: Some versions include the aspect of coaching by Ian Botham and Shane Warne.
Real Cricket 14
It's not a game you can play for too long. Even on the best of phones, it gets a bit tiring after a while because it takes a bit too long to load and it isn't great as far as graphics are concerned. So why did it do so well on the market? Well, because in comparison to some of the other stuff prevalent at that point, this was years ahead.
You get to pick your shots, you can work out real-time physics, super overs, exhibition tournaments and some such rather interesting things, and it makes for entertaining company when waiting outside the dentist's office. But it isn't the kind that you would sacrifice Candy Crush for.
International Cricket Captain 2013
After years of trial and error with the original version which was put out by Empire Interactive, Childish Things figured the best way to work around poor graphics and the lack of reality was to zoom out by some distance. A cost-effective method perhaps but an effective one.
The game looks relatable and believable. But this game isn't all about the players and the boundaries or the wickets; this is about your ability as a manager. Right from coaching for individuals' skills, scouting oppositions, buying and selling players at the end of the season, statistics for team selections to career stats for players and teams, this game has it all.
Brian Lara International Cricket 2007
How would you feel if (Sachin) Tendulkar was called Tandelki? It's hard to imagine isn't it? Well, that's what the makers of the game leave you with. It's as confusing as the three versions of the game. So, the version released in West Indies was called 'Brian Lara International Cricket 2007', the one in Australia and New Zealand was called 'Ricky Ponting International Cricket 2007' and in India, it's called 'Yuvraj Singh International Cricket 2007'. They got all the spellings right here but for some reason they got it all terribly wrong in the game and also the speed guns are all over the place. When was the last time you remember (Andrew)( Flintoff, oops sorry 'Flantiff', bowl at 98 mph? Exactly my point.
Cricket Revolution
You can bowl right through a fielder and then have the ball arrive at the batsman. That's pretty much all you need to know about this game but there are many more quirks that make it fun. Like the umpires, for instance, are a tough lot to please. They just don't want to give the batsman out. But should the batsman get bowled for nought then there's a goose, instead of a duck, that stands at forward short-leg. It's an implausible scenario but then again it is virtual reality, and the name of the game is entertainment. There is plenty of that to be found here.
Cricket World Cup Fever
If dormant crowds are your deal then this game falls right in your alley. The commentary is clearly trying to learn a thing or two from some of the more voluble voices on air, and it succeeds in hitting the high notes, but as far as the game itself is concerned, it's pretty good given that it has only been released for mobile phones and tablets. Its graphics are rather impressive, especially the view of the ground, and the umpires are excessively animated, making it quite a load of fun even if your team does end up losing a wicket. It's actually a pretty nifty time-killer, but someone will need to explain why Bruce Lee's name features on most of the hoardings. Also, the names in this game are fun to read through.
---
---
Slideshow: Rare photos of cricketers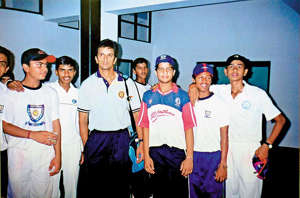 Rare photos of cricketers