Cricketer Rohit Sharma on batting, criticism, pink ball and more

The Financial Express
10-07-2016
THIS EDITION of the Express Adda held at Tote on the Turf, Lower Parel, Mumbai, saw India's star batsman Rohit Sharma in conversation with The Indian Express Deputy Editor, Seema Chishti, and National Sports Editor Sandeep Dwivedi. Rohit took questions from a select audience, speaking about the hard work behind his elegant batting, the ODI world record score of 264, and on looking forward to facing the pink ball in India's first ever day-night Test.
On making batting look easy
People make it sound really easy when they say the shots I play look elegant and easy on the eye. I started my career at 11 as an off-spinner. I was never a batsman until I turned 13-14. A lot of hard work went in to make me a batsman. My coach Dinesh Lad helped me a lot in my school days when I was a bowler. He promoted me to open the innings and that was the game in which I scored a hundred. From thereon, I started concentrating a lot on my batting. It's been a long journey and a lot of hard work. There are new challenges that keep arising and I am focusing on going to West Indies and creating some history there as well.
On starting out
The 1996 World Cup was a time when Indian cricket experienced a lot of highs. I saw what Mr (Sachin) Tendulkar did in Sharjah in 1998. Those things really inspired me. One fine evening, I was sitting with my uncle and told him I should play cricket. That was the day I began, and here I am, all these years later. Like everyone, I used to play in my backyard and was like any other kid, smashing the ball around, breaking a lot of windows.
On dealing with incessant criticism
As a sportsman, you have to accept that there will always be critics talking about your game. After playing for a while, I realised that these things shouldn't bother me. Having senior players around has really helped in knowing how to react to criticism. As I started playing a lot of cricket, I matured more and my aim is to look forward and not behind. There will be factors trying to pull you down but as a cricketer, I feel your focus should be on the job at hand.
On being a team man
I don't think it's difficult. All of us are playing for one goal—to win it for our country. It's a sport for 11 players. There will be lots of failures. There will be a lot of success. Every individual can't perform on any given day. You have to accept the fact that you can have an off day. On those days, you look to contribute in some way or the other. If you see your teammate doing well on the field, you have to stand and applaud.
On friends from Team India and the Mumbai camp
I cannot single out any of them because we play together. I still remember when I made it to the Ranji squad for the first time. It was an awkward moment entering a dressing room which has all the stalwarts you've seen play and heard so much about. It wasn't a friendly atmosphere. I am not saying that they didn't make me feel at home. It was just the moment, and the feeling that you could sense. Most of the guys who are representing Mumbai now are of the same age. And it helps in some way or the other for a newcomer to become a part of the team.
On the future of day-night Tests
It's still early days. I happened to watch the Test between Australia and New Zealand (the first ever day-night Test). It was very entertaining for people who were watching. But what I saw as a player was that the pink ball was challenging for both the batsman and the bowler. I think those guys handled it really well. I don't know how it's going to be in India. I hope there will be a lot of people there to watch as well. We want Test cricket to be as interesting as it was 20-25 years ago and I just hope this idea of pink ball will be a massive success. We are there as players to do whatever is required.
Slideshow: 26 little things to know about Rohit Sharma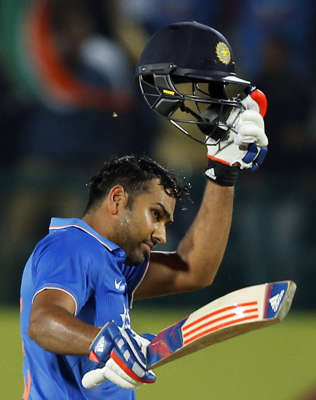 26 little things to know about Rohit Sharma