Cricketers before they were stars: Candid blast from the past

Wisden India
12-07-2017
Cricket is no longer just a sport. With its ever-increasing popularity around the world, the players are constantly hounded by the paparazzi both on, and off the field. That apart, many professional cricketers choose to endorse products on television, and have media commitments for which they need to have a certain kind of a haircut, and various other cosmetic touch-ups before the photo-shoots.

Take Virat Kohli, the Indian captain, who stormed into the international arena at the age of 20, and soon transformed from being a round-faced youngster to the pin-up boy with a crop and facial hair shaped to perfection.
Wisden India put together a list of pictures from the past that highlight the metamorphosis some of the popular cricketers have gone through over the years.
1. Virat Kohli, Ishant Sharma, Ravindra Jadeja, India
© Twitter/Getty Images Cricketers before they were stars: a candid blast from the past
© Twitter
Even before making it to the national team, Kohli, Ishant and Jadeja, had played together.
© Facebook Cricketers before they were stars
© Twitter Cricketers before they were stars
While Ishant made his debut for India in 2007, Kohli was selected in 2008, and Jadeja played his first One-Day International in 2009.

2. Mahendra Singh Dhoni, India
When Mahendra Singh Dhoni made his ODI debut in 2004, he sported a long, brown mane that was typically popular among the youth in small towns around India at that time. He stuck to the same hairstyle for about two years, before losing the locks ahead of India's tour of Australia in 2007-08.
3. Kevin Pietersen, England
Kevin Pietersen, apart from being one of the most successful batsmen England have had, is known for his enthusiasm in fashion. Wonder if this South Africa-born youngster ever pictured himself as Mr. Prim and Proper who runs Nena & Pasadena, his own clothing line.
4. Mitchell Johnson, Australia
This childhood picture of Mitchell Johnson, the Australian spearhead, reveals a buck-toothed youngster posing with a fishing rod, hardly bearing any resemblance with the brawny pacer with the intimidating handlebar moustache.
5. Hashim Amla, South Africa
It is hard to imagine a young, clean-shaven Hashim Amla, but here he is, in a picture from his days with the South Africa Under-19 team.
6. Ricky Ponting, Australia
Ricky Ponting, one of Australia's most successful captains, is pictured here (second from right) as a youngster sporting one of his earliest Western Australia jerseys.
7. Ahmed Shehzad, Pakistan
The round-faced, big-eyed youngster in this picture is Ahmed Shehzad, the Pakistan batsman famous for his big knocks, and countless selfies on social media.
8. Yuvraj Singh, India
Here is a still from a Punjabi film Yuvraj Singh acted in as a teenager. The most popular scene from this movie shows him running a race and dragging his friend along to finish first together, and following it up with a dialogue at the end of it.
9. Chris Gayle, West Indies
Here is Chris Gayle, in a picture from mid-2000. Though the look on his face has remained almost the same, a lot – from the braided hair and the reflector glasses to the broad shoulders, and big muscles – has changed over the years.
10. Mahela Jayawardene, Sri Lanka
Mahela Jayawardene, who retired from cricket earlier this year, made his Test debut in 1997. Here is a picture of him from Lord's, clicked ahead of Sri Lanka's tour match against England in 1998.
11. Sachin Tendulkar, India
This picture of Sachin Tendulkar is probably the most popular ones of a cricketer from his childhood.
12. Sourav Ganguly, India
This grainy black and white photo of Sourav Ganguly, the former India captain, was clicked sometime in the early 1970s.
13. Rahul Dravid, India
© Twitter/Getty Images Cricketers before they were stars: a candid blast from the past
© Twitter
Even as a youngster, there was no dearth of trophies adorning Rahul Dravid's cabinet.
Slideshow: Cricketers — Then and now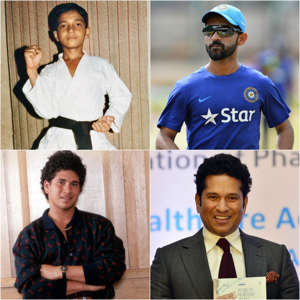 Watch: Shastri is the right choice for India coach — Gavaskar
(Video provided by NDTV)