Crowe to Taylor: Seven classic cases of the too nervous 290s

Wisden India
07-12-2016
Many cricketers know what it is to be in the nervous 90s, but only seven batsmen in the history of Test cricket have felt the agony of not being able to go through the 290s to make a triple-century.
When Johnny Wells, Australia's substitute, caught Ross Taylor at midwicket in New Zealand's first innings in the second Test match at the WACA Ground in Perth recently, the batsman had already ensured a draw for his team. Becoming the country's second triple-centurion, after Brendon McCullum, would have been a perfect icing on the cake, but it was not to be.
Wisden India looks at those seven innings where the batsmen were stuck between 290 and 299.
Don Bradman
© PA Images

299 not out v South Africa, Adelaide Oval, January 29-February 2, 1932
Don Bradman, who was already averaging above 99 and hit his highest individual score of 334, used the fourth Test of the five-match series between Australia and South Africa in Adelaide for his first big knock in his city of birth.
Taking strike at 9 for 1 on the second day of the Timeless Test after the visitors had been dismissed for 308 in the first innings, Bradman spent 396 minutes at the crease and had five significant partnerships during the match-winning knock. He, however, ran out Pud Thurlow, the No.11, in the last ball of the 138th over, trying to go for a single to complete his career's second 300.
His unbeaten 299, the highest individual score in a Test in Australia at that point of time, was not a walk in the park by any means. The Wisden Cricketer's Almanack described the innings as: "There were times, however, when he was not at all comfortable. During one particular hour he scored only 25 runs and survived several appeals for leg-before and catches at the wicket."
After that performance, Bradman's average in 18 Tests swelled to 112.29.
Vivian Richards
© PA Images
291 v England, The Oval, August 12-17, 1976
Using a Stuart Surridge Jumbo bat, Vivian Richards made the most of his red hot form, and played with his usual swagger at The Oval to record his career's best score.
After West Indies chose to bat first on a slow surface, they lost Gordon Greenidge early. That brought Richards to the middle, and he flicked a full delivery to the square leg fence for his first boundary. He did not look back after that, and so excited were the West Indies fans with Richards's enthralling display of hitting that when he reached 200, they invaded the ground and left alcohol bottles and soft drink cans on the pitch.
He got good company from Roy Fredericks, Lawrence Rowe and Clive Lloyd, as he raced to 291 in 386 balls during a 472-minute marathon that included 38 fours.
Richards entered the 290s with a drive to the offside boundary off Tony Grieg, but was bowled off the very next ball while attempting a similar shot.
During the course of the knock, Richards broke a few records. But, nothing would have satisfied him more than West Indies taking an unassailable 3-0 lead in the five-match series after the demoralising loss in Australia, and after Grieg, the England captain, had promised to make the visitors "grovel".
Martin Crowe
299 v Sri Lanka, Wellington, January 31-February 4, 1991
New Zealand had not lost a Test at the Basin Reserve since 1967-68, and Sri Lanka were so close to break the home dominance. By the end of the game, however, one of the best counter-attacking knocks ever had stolen the limelight.
When Martin Crowe came out to bat in New Zealand's second innings on the fourth morning, the home team were still trailing by 175 runs with eight wickets in hand. What followed was epochal as Crowe and Andrew Jones put on a stand of 467 runs – the highest for New Zealand till date. Crowe was in a belligerent mood as he stepped out to the spinners with ease. His 610-minute stay at the crease, during which he hit 29 fours and three sixes in 523 balls, was described by Wisden Cricketer's Almanack as a knock where Crowe "was at the top of his bent".
Crowe was caught behind off Arjuna Ranatunga with just three balls left in the game, and Almanack went on to report, "Everybody, including the Sri Lankans, was disappointed that he did not reach 300."
After being the first batsman to be dismissed for 299, Crowe, pleased to have averted a loss on his maiden home game as captain, said, "It's a bit like climbing Everest and pulling a hamstring in the last stride."
Ramnaresh Sarwan
291 v England, Barbados, February 26-March 2, 2009

In a run-fest at the Kensington Oval where four centuries and seven fifties were hit across three innings, Ramnaresh Sarwan benefitted the most. His 291 in 452 balls, which came in 698 minutes, included 30 fours and two sixes.
Sarwan's knock was critical because West Indies were trailing England by 587 runs when he took strike at the fall of the first wicket in the fifth over. His first boundary to the gully region was edgy, but he settled down after that and kept the scoreboard ticking. Even if the pitch was not assisting the bowlers, it was important for someone to eat up into England's total of 600 and Sarwan took up the mantle.
By the time Sarwan reached his 100, West Indies had lost three wickets. It was the sixth-wicket partnership of 261 runs – the biggest in the game – between Sarwan and Denesh Ramdin that ensured that the home team did not have to worry about the 1-0 lead they were sitting upon before the start of the match.
Sarwan maintained a strike-rate of 60 or above against all the main England bowlers, before Ryan Sidebottom bowled him with a late inswinger.
Virender Sehwag
293 v Sri Lanka, Mumbai (Brabourne Stadium), December 2-6, 2009
Virender Sehwag fell seven runs short of becoming the first batsman to score three triple-centuries in Test matches, but he preferred to see the glass as full rather than half empty.
"Not many people have got two triple-centuries and followed that with 293. So there is nothing to be disappointed about," said Sehwag after his knock.
His fearless effort after Sri Lanka had made 393 in their first innings stood out in India's innings win that made them the No.1 Test side as per International Cricket Council's ranking system.
Sehwag's strike-rate of 115.35 meant that India raced to 443 in just 79 overs by the end of the second day's play, and after that Sri Lanka had to play catch up.
Resuming his innings on 284 on the third morning, Sehwag added nine more runs to his tally before Muttiah Muralitharan, who conceded maximum runs to the batsman, had him caught and bowled in the second attempt.
Critics compared Sehwag, who hit 40 fours and seven sixes in 254 balls, with Richards after this knock.
Alastair Cook
294 v India, Birmingham, August 10-13, 2011

India's bowling attack had already lost spine with injuries to Zaheer Khan and Harbhajan Singh in the first two Tests of the four-match series, and Alastair Cook exposed the chinks further in the third game with a career-best knock of 294.
Once India were bowled out for 224, Cook and Andrew Strauss laid a strong foundation for an innings win with an opening partnership of 186 runs. Cook's was a circumspect knock as he held anchor in an innings where England notched up 710 runs.
He frustrated Indian bowlers so much that after a point it became a one-sided contest. He was looking set for 300 when Ishant Sharma got him to hit a wide delivery to the deep point area where Suresh Raina took a smart catch.
Ross Taylor
290 v Australia, Perth, November 13-17, 2015

New Zealand were thrashed in the first Test at the Gabba and were looking down the barrel in the second game in Perth after Australia declared on 559 for 9. Once the visitors lost two wickets within the 26th over of their innings, it looked as if the horror show would be repeated all over again. But, Taylor, in the solid company of Kane Williamson, ensured that they salvaged a draw and kept their chances of extending their unbeaten Test series record.
Taylor put on 265 with Williamson and 80 with McCullum, but, more importantly, he stood like a rock and protected the inexperienced line-up against a quality bowling attack.
He spent close to 130 overs at the crease, which ensured that the regret of missing a triple was made up by the joy of saving a game against the arch-rivals.
Slideshow: The biggest upsets in sports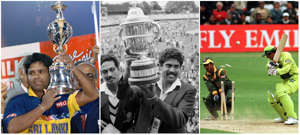 Watch: Best helicopter shots in cricket history