Daniel Sturridge stands alone in the massed ranks of England strikers

The Guardian
17-06-2016
England's winning goal in Lens was a sweet moment for Daniel Sturridge, in his own way the forgotten awkward-genius of this England crop, the conundrum nobody has really seemed that bothered about solving.
Sturridge often seems to have a little distance around him. Even in the slightly cringey picture of England's suited players on the steps of their plane, posed like a phalanx of celebrity undertakers en route to an embalming conference, Sturridge is managing to stand a little apart. Off the pitch, he can sound otherworldly, a beautifully balanced and powerful elite athlete who still seems muted and awkward, bothered by ticks and details.

Here, though, he was decisive over 45 minutes as England came from behind to beat a disappointing Wales. Not that anyone with any sense will portray this as a miraculous tactical rejig. Instead, England produced a second-half rescue act that at times resembled a striking Raft of the Medusa, assorted choice English centre-forwards, some rushing in, others sloping off, entwined in a wallowing mass embrace around the Wales penalty area as the clock ticked down and the waters rose.
Perhaps when the message is so muddled it helps to be a touch aloof, to have that portable little pocket of space around you. From the restart Sturridge was dropping off nicely, shunning the crowds, picking the ball up and running with it, the most original and creative of all Roy Hodgson's strikers. As England's forward press grappled with the Wales defence around the six-yard box Sturridge appeared in the inside-left position, took a lovely, casual touch and dinked a cross from the edge of the area. Jamie Vardy scragged the ball over the line to make it 1-1, 11 minutes into his personal Euro. Easy this game, isn't it?
Sheer weight of attacking numbers had made the difference. Asked to explain his thinking behind the revolving deployment of all five central attackers, Hodgson might have been tempted to borrow a line from another great British entertainer. I am playing all the right strikers. Just not necessarily in the right order.
For more on Euro 2016, click here
Trailing at half-time to Gareth Bale's free-kick, Hodgson had rejigged frantically, confirming the impression of a man who seems to be getting frisky and frantic and wild in his late days as England manager. He changed not just personnel but the team's shape, with Sturridge and Vardy on and that so-so diamond plonked into place.
Still, there was no pattern to England's attacking as Dele Alli and Wayne Rooney struggled to find any precision in their combinations in front of a packed defence. As against Russia, this was an England team that passed a lot but somehow could not seem to find a pass; that ran a lot but still seemed never to be moving much.

Sturridge's movement can be spellbindingly good when he is on his game, a test of not just the opposition but also his team-mates' ability to follow his tail feathers. So it proved to be here with moments left, and Wales on the verge of taking Group B by the horns. England shuttled from side to side. Sturridge dropped into his left-sided pocket, played a sniping give and go, skated left and then produced a high-class, low-backlift finish into the near corner.
Again that little pocket of calm and cool. Hodgson and his staff came barrelling off their bench, hugging like lottery winners, as England's clone army of centre-forwards bundled by the corner flag.
There had been a lot of talk in the build-up about the need to show passion and heart. All a chimera, of course: the way to win at sport is to play cold, to seize in a state of transcendent calm whatever glimpse of space is offered. Sturridge did exactly that, just as Bale had with his only real shot on target, a punted, knuckleball free-kick that dipped away and left Joe Hart overstretched, feet in concrete like a batsman done by late swing.
Beyond that it was an occasion to enjoy off the pitch and to leave a little sigh of foreboding on it. Even the skies rose to the occasion. By kick-off those who had cast Lens as a rain-drenched lump of grey were forced to eat their words as the clouds lifted and the city was transformed into a sun-drenched lump of grey. There were flags and banners from a shared sporting home all around this open-ended stadium and in the lunchtime sun a real feeling of festivity after the idiocies of the past few days.

For now England top the group. Looking ahead to Saint-Étienne and Slovakia, Sturridge deserves to keep his spot, having put in the best 45 minutes of any of the famous five. As does Vardy, who just looks to have that menacing razor edge about him. Even in victory, though, England were a ragged team and also quite a strange one, their attack the attack of a manager who rather prefers defence, thanks very much, but finds himself instead a little giddy with the other stuff.
England managers have been known to make grand tactical strokes mid‑tournament. Bobby Robson switched to a sweeper system. Alf Ramsey ditched the wingers. Perhaps Hodgson's revelation could be just to stumble on an unlikely but workable front two. As it was, rescue came in the final details: indefatigable energy, Wales's defensive exhaustion and that little pocket of calm amid the fury.
Slideshow: Most beautiful football WAGs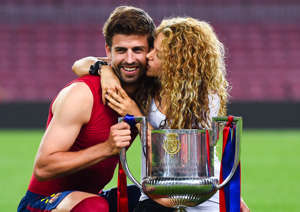 The most beautiful football WAGs on the planet